5 Last-Minute DIY Christmas Decoration Ideas From TikTok!
12-21-2021 by Melissa Morales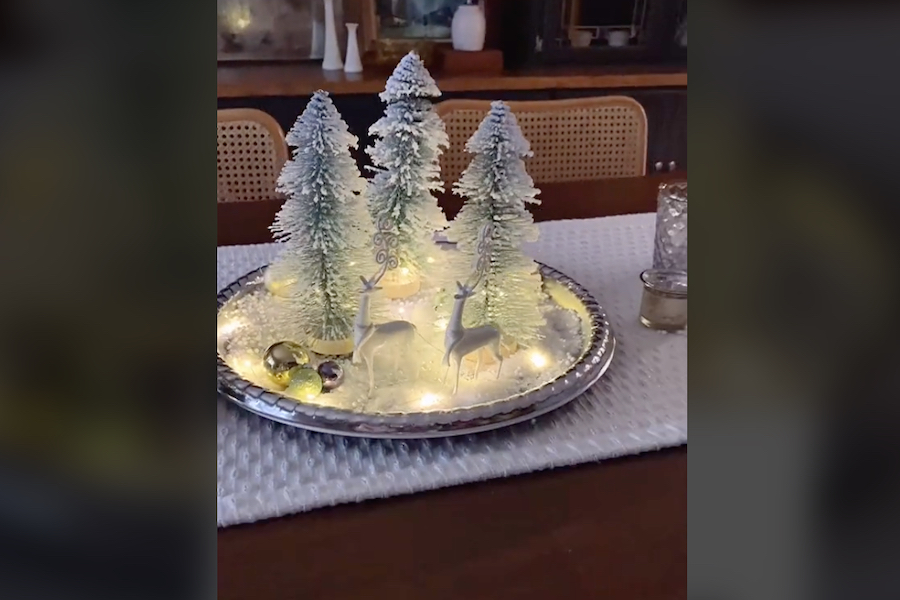 (TikTok/@averagebutinspired)
Reindeer and snowmen and elves, OH MY! Christmas is this weekend, and you still don't have your decorations out yet?! That sounds pretty unsettling to me, but no worries! As always, TikTok users have us equipped with quick and easy last-minute DIY Christmas decorations to set up before your friends and family come over to celebrate. Come on, let's go to the stores and get decorating!
First up, we have a very beautiful and affordable Christmas centerpiece from TikTok user @averagebutinspired. Using some bottlebrush trees, blocks, deer ornaments, faux snow, and fairy lights all from Dollar Tree, the end result is a stunning winter wonderland centerpiece perfect for dining tables to admire with families at dinner.
Next is TikTok user @floralfay, who gives us a pretty DIY decoration of a star, perfect for hanging up on walls or ceilings, and even great for New Year's Eve! Using just cardboard paper, a pen, scissors to cut and fold at exact points, glue, and gold spray, it's something so clever and yet I definitely wouldn't have thought of it!
Looking for something a bit more intricate? TikTok user @makeitwithmicah gives us just that! Using some supplies from Dollar Tree such as pool noodle foam, LED tealight candles, shower curtain rings, cardboard cups, glitter ribbon tape, and a step-by-step process, we are left with absolutely gorgeous candles that are SO aesthetically pleasing for pictures!
What about for Christmas parties? TikTok user @tannermmann shows us a DIY for a super creative and easy Christmas centerpiece to apply at a table! Using just a glass, candy canes, and bags of Hershey kisses, this is just great to have for people to take a treat as they pass by!
Lastly but not leastly, TikTok user @bre.pickett shows us a cute and perfect decoration for front doors! Perhaps the simplest decoration yet with just a red ribbon and red bow, she creates a "Door Present" which is actually pretty clever! I should definitely try this one next year!
Well, what are you waiting for?! Let's make our homes festive before Christmas comes! And of course, Merry Christmas to all and to all a good night!