5 Celebrity Mental Health Advocates We Are Grateful For!
05-18-2020 by Andi Ortiz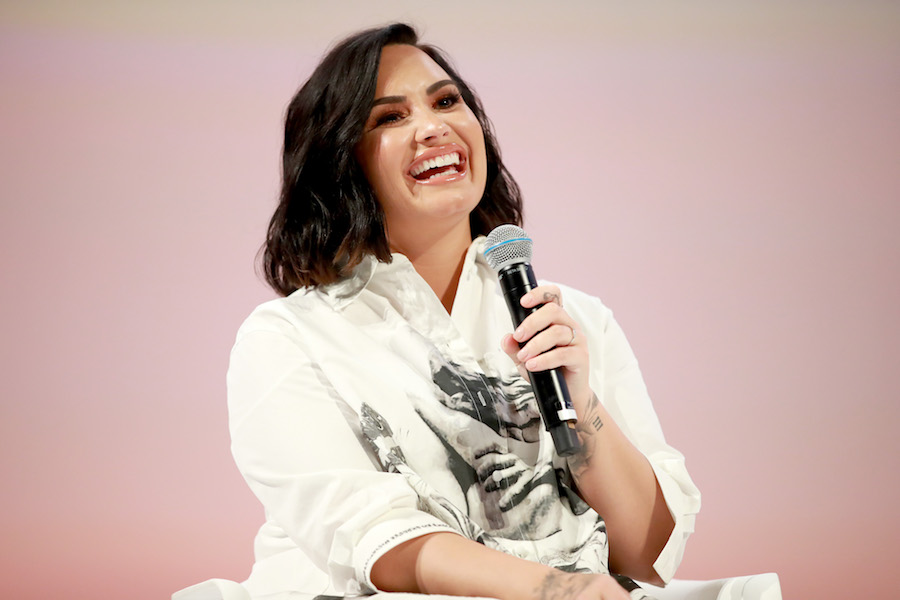 ( © Rich Fury/Getty Images for Teen Vogue)  
Let's face it: time is a bit of a wonky concept right now. To be honest, I'm not even totally sure what day it is. I do know we're in the month of May, though, and that's an important one. This year, it might be more important than ever.

May is Mental Health Awareness Month. It's meant to destigmatize and raise awareness about the importance of mental health. And as we near double-digit weeks of quarantining, it's definitely something we should be talking about.
The cool thing is, lots of people are talking about it. The conversation is spreading wider and wider, thanks in large part to some of our favorite celebs being more vocal about their struggles and using their platforms to help people.
So, let's take a moment to celebrate a few of them, shall we? Here are five mental health advocates to look to this month:
1. Miley Cyrus
Throughout quarantine, Miley Cyrus has been a huge force for good, just by using her Instagram. While other singers and actors have provided solace in streaming performances and readings, Cyrus has launched an entire talk show on Instagram called "Bright Minded". Simply by sliding into people's DMs, Cyrus has gotten some huge names on her show to discuss a variety of topics.
In one episode, Cyrus reunited with fellow former Disney Channel star – and former on-screen nemesis – Selena Gomez.

During the episode, Gomez opened up about her bipolar diagnosis, while Cyrus asked insightful questions about how to best connect with people you love during this time. It was an important, intelligent conversation – much like all the other "Bright Minded" episodes – and it's something to look forward to in this quarantine.
2. Demi Lovato
Of the many guests that have appeared on "Bright Minded",Demi Lovato was one of the first.
Together, she and Cyrus discussed how out-of-the-ordinary the industry they work in is, and how they've been forced to handle it. But Lovato has been a pioneer when it comes to publicly discussing her mental health. She's been open and real about her struggles for years. She's talked about her experiences on talk shows, in her official documentary, and with fans.
One of the most powerful performances of hers came at the Grammys this year, as she performed live for the first time since her relapse.
Demi Lovato has always been honest and authentic, and she's helped countless people because of it.

3. Chris Wood
You might know Chris Wood as Kai Parker, a psychotic villain out of "The Vampire Diaries". Or you might know him as Mon-El, the formerly scummy Prince of Daxam from "Supergirl". But you might not know just how big a voice he's been when it comes to destigmatizing mental illness.
Back in 2017, he launched the I Don't Mind campaign. The idea is to open the conversation on mental health, with each piece of merch indicating that you don't mind having a frank discussion about your mental health or supporting someone who wants to talk about theirs. To date, IDONTMIND has raised over $350,000 for mental health organizations across the US.
4. Chyler Leigh
Chris Wood isn't the only "Supergirl" star who's been a strong mental health advocate. Chyler Leigh has too. Back in December, the former "Grey's Anatomy" star revealed that she lives with bipolar disorder.
Since then, Leigh has continued to be open about her diagnosis and how it affects her life. Together with Be Vocal, Leigh has been working to help people who might also be suffering from bipolar disorder to realize that they are not alone, and there are ways to get through it.

She may not technically have any powers on "Supergirl", but if you ask us, she's still pretty super.
5. Pete Davidson
Like Demi Lovato, Pete Davidson has been incredibly vocal about his struggles, albeit in a different way. Davidson has leaned into comedy in discussing what he's gone through.
Now, he's going a step further. Davidson will star in a film called King of Staten Island, set to hit VOD this June, that's said to be "a surprisingly personal film that stops just short of being a literal autobiography." For whatever reason, Davidson has taken much more heat than others when it comes to discussing his mental health, and yet, he keeps at it. Because he knows just how important it is.
Thank you to all these celebs for fighting the good fight!