4 New Podcasts From Female Comedians You Have To Check Out!
04-11-2021 by Heather Barette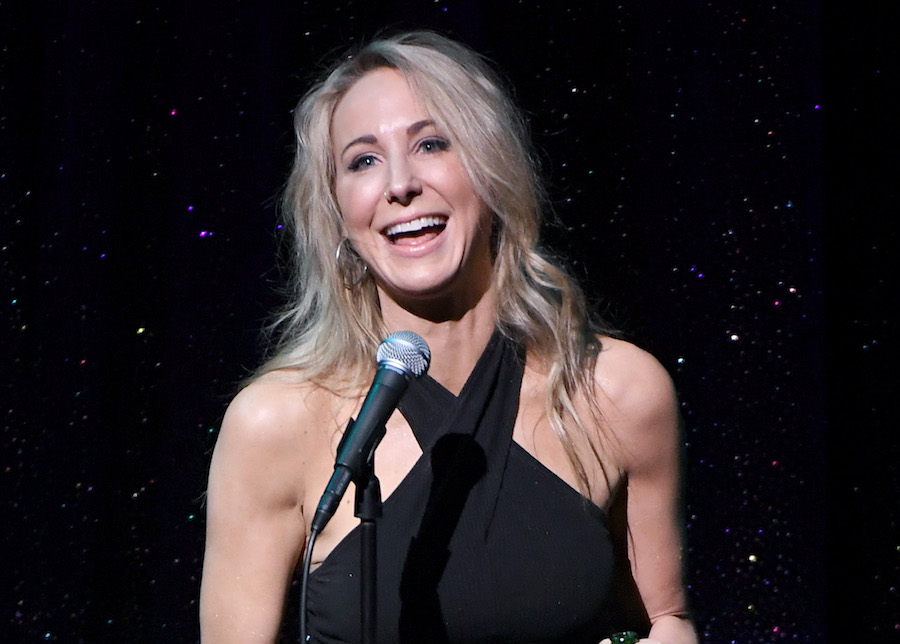 ( © Ethan Miller/Getty Images)  
Comedy is everything to me, and I would be lost without some of my favorite comics. There are so many good ones, but today I want to shine the spotlight on my favorite women in comedy. Many of these women aren't just hilarious on stage – a lot of them are making waves off stage as well. Podcasts aren't a new phenomena by any means, but I think with COVID, a lot of artists and creatives have been able to dip their toes into these auditory waters.

So without further ado, here are the newly released, comic-led podcasts from 2020 and 2021 that you should definitely be adding to the queue!
1. "Bloodbath w/ Annie, & Esther, & Khalyla"
If you don't know Annie Lederman and Esther Povitsky, you're missing out hard. These women are insanely funny individually, but together they're unstoppable. Add in their social media superstar friend Khalyla Kuhn to the already-powerhouse duo, and you have yourself a damn entertaining podcast. No topic is off limits on this show, and somehow Annie, Esther, and Khalyla are equal parts mega famous and relatable as hell. You truly feel like you went to high school with all three of them – Khalyla the gorgeous popular chick that is also unfairly nice, incredibly down-to-earth and impossible to dislike; Annie, the class clown who isn't afraid to "go there" with your second period Geometry teacher; and Esther, the girl who appears shy and silent on the outside but who everybody secretly knows is pee-yourself hilarious. They talk about whatever they want to on their podcast, and so far I'm loving every second of it. Anybody know how I can get in on this clique?
2. "The Sarah Silverman Podcast"
Another major dose of refreshing, Sarah Silverman continues to crush it in this medium. If you ask me, her "raunchy female comic" tag could not be any more reductive and lazy – Sarah Silverman is so much more than that. Whether she's sharing her eye-opening thoughts on the lack of proper Jewish representation in Hollywood, her witty responses to fan voicemails, her candid takes on the state of our current political climate, or even a more light-hearted recap of what she and her bf Rory Albanese are watching on TV these days, it's all quality content. Even more impressive, she is somehow able to show love, empathy, and compassion toward even the most despicable people and occurrences. I just so admire Silverman's thoughtful approach when discussing just about anything. Clearly she's a better person than me. Most people are. Keep doing your thing, Sarah!
3. "The Nikki Glaser Podcast"
TheNikki Glaser/Andrew Collin duo is hard to beat, and these two are back post-Glaser's stint on Sirius XM's "You Up? With Nikki Glaser" to chat about things going on in pop culture, their personal lives, and just about everything in between. But unlike the others on this list, Nikki and Andrew can be heard four times a week! The two of them are an odd couple in all the best ways, and even though this podcast is brand new (the first episode was released on March 22nd of this year), I have a feeling it's going to last a while. And P.S., can we take the "raunchy comic" label off of Glaser too while we're at it? Of all the comedians mentioned on this list, she was the only one featured heavily in the new FX documentary Hysterical, and while, yes, she does talk about sex a lot, she's also super insightful and incisive about different issues that I think a lot of women would identify with. Anyway, great documentary, great comedian, great show — great great great. Set aside an hour of your time a day for "The Nikki Glaser Podcast", you won't regret it! (And be sure to also check the excellent Hysterical doc, available to stream on Hulu!)
4. "Don't Ask Tig"
This podcast is a little bit different than the other ones I mentioned.Tig Notaro has celebrity guests on her weekly show, and after spending some time chatting with the guest in question, she and this guest answer advice-related questions that fans have emailed in. I don't know about you, but I can think of just about a billion quandaries that I could use Notaro's advice on, especially considering that she and her guest always give such detailed and thought-out answers to even the most ridiculous questions. Speaking of which, Tig threw in this great segment where she and the guest answer real concerns given in the advice columns of real newspapers from long ago, adding even more humor and intrigue to the already laugh-out-loud funny show. Need an episode to start with? Allow me to suggest the Sarah Paulson one — my ribs hurt for days afterward. The pairing is one for the ages, I swear.
All of the women that host these podcasts are endlessly entertaining, whether you listen to them on Spotify, Apple Music, YouTube, or wherever. And these are just the women whose podcasts were released in the past year! There are so many other great female-comic-led podcasts — Whitney Cummings's "Good For You Podcast with Whitney Cummings", Iliza Shlesinger's "Ask Iliza Anything", and Amy Schumer et al's "Amy Schumer Presents: 3 Girls, 1 Keith" come to mind, among others — and if you have no social life like Yours Truly, may I suggest checking them all out! Laughing is so so important, especially given the year we've had, and these podcasts will boost those endorphins big time. Get listening, everyone!