2014 Golden Globes: Upsets, Fashion, DiCaprio, Oh My!
Written by Katie Marzullo. Published: January 13 2014
It was a night of refreshing upsets… And even the winners we were expecting were still delightful!
American Hustle appeared to be the big champ of the night, winning Best Motion Picture Comedy or Musical and earning hardware for its lady stars Jennifer Lawrence and Amy Adams! Other shows/movies that enjoyed multiple accolades included: "Breaking Bad", winning Best Drama Series (for the first time ever) and Best Actor in a Drama Series for Bryan Cranston (for the first time ever), which I think we can all agree was not only well-deserved but WAY overdue; the dramatic movie actors categories were OWNED by Dallas Buyers Club, with stars Jared Leto and Matthew McConaughey both getting awarded for their work in the film and thereby becoming shoe-ins for Oscar nominations; and rookie sitcom "Brooklyn Nine-Nine" was perhaps the biggest shocker of the night, beating the likes of "Modern Family" and "Girls" for Best Comedy Series and star Andy Samberg stoppingJim Parsons's winning streak by taking home Best Actor in a Comedy Series! Yes, we now live in a world where "Golden Globe winner Andy Samberg" is a reality. (Congrats, Andy!)
Here are some other extremely notable moments:
-Tina and Amy… Need I say more? Misses Fey and Poehler made their 2nd appearance as Globes co-hosts, and they did not disappoint, from their hilarious opening monologue (which proves that extravagant skits and opening numbers are not necessary if you have top-rate writers) to their skewering of other A-listers like George Clooney,Michael Bay, and Leonardo DiCaprio, the latter of which we can't even repeat here! The night got even better for Amy, though, when she took home Best Actress in a Comedy Series for her amazing work on "Parks and Recreation" – and celebrated by making out withBono!!! I mean, wouldn't that be the first thing YOU would do too? Also, Seth Meyers announced on the red carpet that his former "Weekend Update" co-anchor is confirmed as his first guest when he takes over "The Tonight Show" next month!
- Speaking of Bono, the U2 frontman was honored with the Golden Globe for Best Original Song thanks to his beautiful track "Ordinary Love" from Mandela: Long Walk To Freedom. Anyone else catch his Diddy snub? #scandalous!
- Despite "Breaking Bad" having their moment in the sun, Aaron Paul was denied the Best Supporting Actor award, going instead to Jon Voight for his role in Showtime's "Ray Donovan". It was actually the veteran actor's 4th Globe win, but even he, by his own admission, was still nervous! Glad to see that 50 years in the biz hasn't jaded this great star!
 - Another elder states(wo)man who got their moment to shine wasJacqueline Bisset, who, for those kiddies out there thinking "uhhh, who?", Ms. Bisset is an English actress who has had a career just as long as Mr. Voight and, after 4 previous Golden Globes nominations, finally emerged the victor last night (as Best Supporting Actress in a TV Series, Mini-Series, or TV Movie). And apparently, it meant a lot to her. Like, for reals. In one of the most bizarre moments of the evening, Jackie's long, rambling speech, replete with dramatic pauses and tears, reminded me of Norma Desmond at the end of Sunset Boulevard (look it up). It was weird, but girlfriend earned it.
- Gladiators everywhere did a double-take when their girl Kerry Washington was left empty-handed for Best Actress in a Drama Series in favor of Robin Wright, who collected her first-ever Globe for her work in the Netflix original series, "House of Cards".
- Jim Carrey's Shia LaBeouf joke. 'Nuff said.
- The Wolf of Wall Street, though up for several awards, saved its juice for lead Leonardo DiCaprio, who took home only his 2nd Globe ever, after being nominated a total of NINE times over his career. Maybe this will convince the AMPAS to finally grant him one of those ever-elusive Oscar nominations, hmmm??? Also, Leo had probably one of the best speeches of the night, as he focused less on himself and more on his directorMartin Scorsese and the other folks who helped bring the film to life. Classy.
- Speaking of Leo, was it just me, or did he look a bit disappointed when he had to read the name Cate Blanchett instead ofKate Winslet? And let's be honest, we were kinda hoping for that too… I mean, Leo has worked with them both, but Leo & Kate will always have a place in our hearts! (which will go on… you know)
- It seems pretty much every buzzy movie this award season got at least SOMETHING, which was the case for Her, which got to take home the award for Best Original Screenplay, by Spike Jonze.
- Likewise for Gravity, whose director Alfonso Cuaron was rewarded for his amazingly innovative efforts on this captivating film!
- And although none of the actors, including Michael Fassbender and breakout stars Chiwetel Ejiofor and Lupita Nyong'o, got to take home hardware, the film itself won the ultimate prize of Best Motion Picture Drama, making it, along with American Hustle, the frontrunner at the Oscars!
-Emma Thompson is EVERYTHING. The nominee for her role in Saving Mr. Banks pretty much embodied everyone's Id last night when she decided to present with her Louboutins in one hand and a martini in another. Perfection.
- The night wasn't without its glitches. For starters, whoever arranged the seating charts was a little off their game, as some of the winners seemed to be sitting in another hotel entirely judging by how long it took them to get to the stage. Then there was the prompter issues that tripped up Jonah Hill andMargot Robbie, who, to their credit, recovered gracefully and didn't just walk off stage (ahem)…
Okay, now let's talk FASHION. It's unavoidable. And it's also kinda fun. The big trend for the evening seems to be random accents and higher-than-usual hemlines, the latter being sort of a blessing considering a sprinkler exploded and flooded part of the red carpet.
If I had to pick a winner, I'd have to go with Lupita Nyong'o, whose sleek, caped Ralph Lauren gown was both simple and stunning, the red-orange color fabulously complimenting her gorgeous skin. Just beautiful.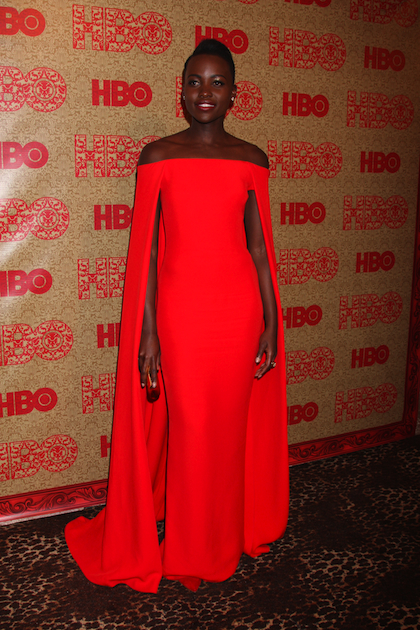 Other ladies who hit the bulleye include: Emma Thompson, who blew me away with her two-tone Lanvin and tousled platinum pixie cut, WOW; winnerElisabeth Moss in a gorgeous, sparkly, Art Deco-inspired J. Mendal gown; Zooey Deschanel in her typical quirky but elegant Oscar de la Renta with a flower-accented side-bun; and obligatory fashion risk-takerEmma Watson had jaws dropping everywhere in her Dior gown with a twist – what appears as a run-of-the-mill red gown from the front opens in the back to reveal… black pants! What the what?!? Leave it to Emma to keep us guessing!
Other fashion notables: the girls of "Modern Family", in particular Sarah Hyland and Ariel Winter. The former, who admittedly shows a lot of skin and dresses quite mature on most red carpets, kept it simple and age-appropriate in a pink Georges Hobeika. Meanwhile, Ariel had us picking our jaws up off the ground, and not because of her dress… the soon-to-be 16-year-old has, ummm, blossomed quite a bit, if ya get my drift. Wow,Sofia Vergara is gonna have some serious competition soon, just sayin'!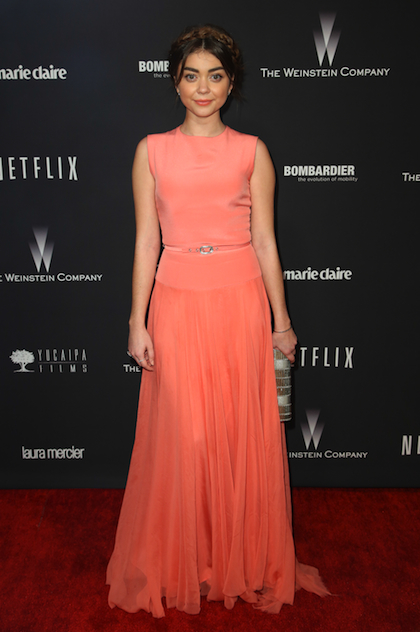 Meanwhile, Amy Adams chose to stay in character, donning a rather '70s-inspired Valentino frock with a plunging neckline and an earth-toned color palette. Her co-star Jennifer Lawrence served Chinese Lantern Couture realness in a white Dior ensemble with a rather odd silhouette if you ask me, but her hair and make-up were on-point, as always. Zoe Saldana's Prabal Garung was hella confusing, with a mish-mash of accents and fabrics that kind of made my brain hurt and I still can't decide if I actually liked it or not. And Julianna Margulies played it safe in a brown Andrew GN Resort 2014 with shoulder accents that made her look like a Twitter background theme.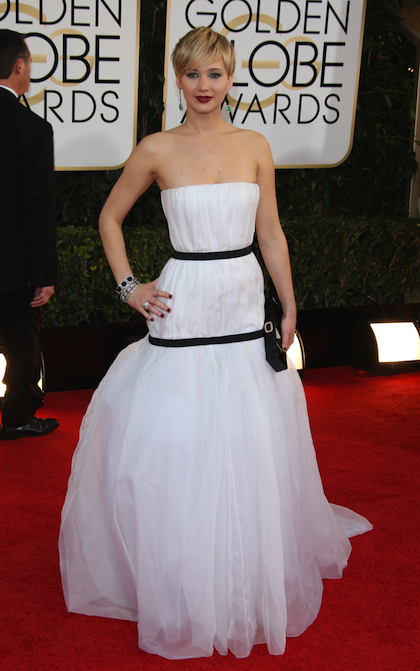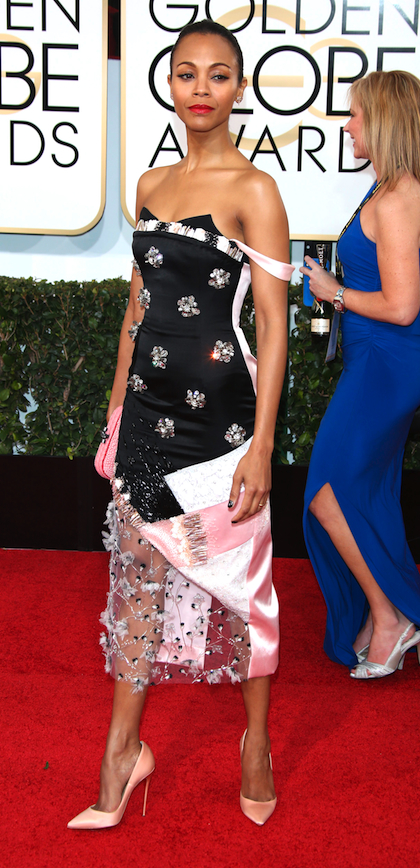 A few high-profile baby bumps made appearances on the red carpet too! Kerry Washington, Olivia Wilde, and Drew Barrymore were each sporting the ultimate accessory to the event, and out of the three, I have to give it to Olivia, who rocked the three G's: Gucci, Green, and GLOWING. Because of the sequins. And also the pregnant. As much as we love Kerry, her dress felt a bit underwhelming – we've come to expect A LOT from her on the red carpet – and Drew just looked a little too kooky.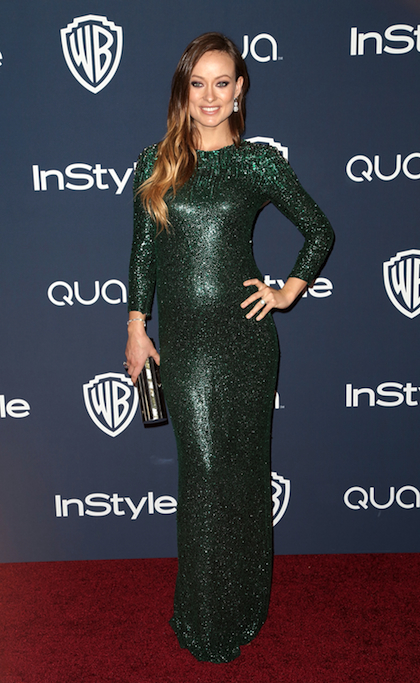 Welp, on that note! It was definitely an interesting night, and though it makes the Oscar race a tad more clearer, there are still plenty of surprises in store I am sure! Stay tuned!
- Katie Marzullo, YH Staff Editor