2 Stars, 1 Weekend: Remembering Peter O'Toole & Joan Fontaine
Written by Sarah Osman. Published: December 18 2013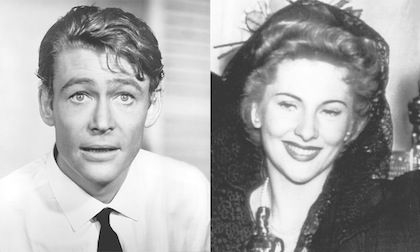 Heaven gained one heck of a leading pair over the weekend.
This past Saturday, one of Hollywood's greatest stars passed away.Peter O'Toole was most well-known for his acclaimed role as Lawrence in the classic film, Lawrence of Arabia, for which he received his first Oscar nomination. He went on to receive seven additional Oscar nominations, and currently holds the record for the most Oscar nominations without a win. He did go on to win an honorary Academy Award in 2003, as well as a BAFTA, an Emmy, and four Golden Globes.
In addition to being an accomplished film star, O'Toole was a gifted Shakespearean actor, classically trained at the Royal Academy of Dramatic Art and appearing in a series of dramatic plays before making his film debut in 1959. O'Toole went on to share the screen with some of cinema's most beloved stars, including Peter Sellers and Elizabeth Taylor, as well as work with great directors such as Laurence Olivier. Although he was primarily known for starring in dramatic roles, O'Toole wasn't above a breezy comedy now and then, including Woody Allen's quirky farce, What's New Pussycat?. He even appeared the 1984 cult filmSupergirl!
O'Toole continued to act up until his retirement in 2012. He voiced Anton Ego, the daunting food critic in Pixar's Ratatouille, and starred in the second season of Showtime's "The Tudors". He is survived by his three children.
But O'Toole wasn't the only Hollywood great we lost this weekend. Just a day after his passing, Joan Fontaine followed at the ripe age of 96. Fontaine was an Oscar-winning actress whose career spanned six decades. She was highly-regarded for her role as Rebecca in Alfred Hitchcock's adaptation of Daphne DuMaurier's novel. She went on to work with Hitchcock again inSuspicion, for which she won an Oscar. Fontaine shared a bitter rivalry with her older sister, Olivia, and they remain the only two sisters to ever both win lead acting Oscars. (You can read more about their famous feud here.) In addition to being a talented actress, Fontaine was a licensed pilot and an interior designer -- a rich, full life indeed! She is survived by her two children.
Both these stars will be greatly missed, but their contributions to cinema are invaluable. Hit up your nearest Redbox or fire up your Netflix account to check out some of their classic performances!
(Photos via WENN)
- Sarah Osman, YH Staff