'That Awkward Moment' Stars Offer Some Holiday Tips!
Written by Raffy Ermac. Published: December 17 2013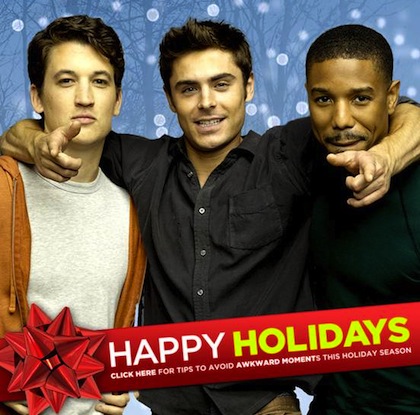 Next month, some of this generation's biggest screen heartthrobs (the likes of which include Zac Efron, Michael B. Jordan, and Miles Teller) will band together to star in a new romantic comedy – aptly entitled That Awkward Moment – about a group of guys navigating through the ups and downs of relationships and how to cope when you take a pledge of bachelorhood with your buddies but you really,really want to hook-up with a girl you like. Obviously, hilarity (of the naked Zac Efron variety) ensues.
In anticipation for the January 31 release, the guys of That Awkward Moment have compiled some awesome tips to survive the holidays, and make this season the least awkward/difficult, and most enjoyable one to date!
Tip #1: Don't overindulge
This almost goes without saying. Although it is the holiday season, and you should enjoy yourself, keep all things worth indulging in to a nice moderation and don't go overboard… otherwise you'll end up horizontal on a toilet, as evidenced by Teller and a scantily-clad Efron.
Tip# 2: Never hang mistletoe in the bathroom
Unless you enjoy uncomfortable family conversation at the dinner table, please make sure there are no hook-ups of any kind whatsoever at home. Especially in the bathroom of all places. And if you can't control yourself, please lock the door. Jordan, Efron, and Teller's characters had to learn this the hard way.
Tip# 3: Always check the dress code
Double- and triple-check with the party host/hostess about the proper dress code for an event, otherwise (like Zac showcases) you'll end up looking incredibly stupid wearing a college Halloween-nspired and oh-so vulgar costume to a classy get-together. Looks like Zac got the meaning of "dress-up" party confused.
Tip #4: Always look your best
Who doesn't want to look their best during the holidays? Just make sure to properly read all the labels to any beauty products you use. Shout-out to Michael for exemplifying why it's good to know which products to use on your (ahem) body.
Tip #5: Don't get carried away
This is another one of those tips that simply just goes without saying. Don't do the most, especially since no one likes a try-hard. Sorry Miles… Hopefully that hit by a taxi won't leave too bad of a scratch.
Check out the video below for visuals on these fabulous holiday tips, as well as the red band trailer and our Studio chats with the 3 stars, but more importantly, be sure to check out That Awkward Momentwhen it hits theatres on January 31.
(Photo via FilmDistrict)
- Raffy Ermac, YH Staff