Miley Cyrus inducted into bowling Hall of Fame
Written by . Published: August 16 2011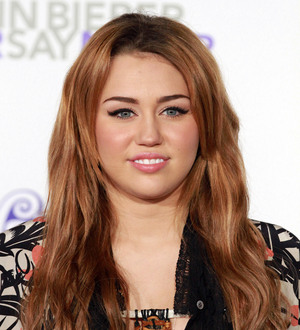 Actress/singer Miley Cyrus has triumphed over Kim Kardashian and Justin Bieber to bowl her way to a bizarre new accolade - she has been inducted into the International Bowling Hall of Fame.
Last month (Jul11) officials at the Bowling Proprietors Association of America (BPAA) gave the public the chance to vote for their favorite celebrity bowler, with names including Kim Kardashian, Justin Bieber, Lil Wayne, Lady Gaga and Jeff Bridges.
And now Hannah Montana star Miley Cyrus has been named as the winner, after securing 42 per cent of the votes. Meanwhile, Bieber lost out after landing in the number two slot for the second consecutive year.
Steve Johnson, executive director of the BPAA, says, "We knew that with megastars such as Miley Cyrus and Justin Bieber in our lineup that this year's race would be a close one.
"Fueled by the passion and support of her supporters and bowling fans worldwide, Ms. Cyrus rose to the occasion scoring an incredible comeback victory. We are honored to welcome her into the Hall of Fame and grateful for her support of the great sport of bowling."
Last year (10) Taylor Swift was inducted into the bowling Hall of Fame.