Articles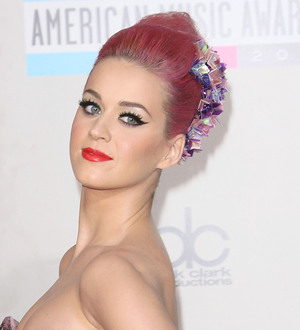 Katy Perry pokes fun at Pippa Middleton on Saturday Night Live
Pop star Katy Perry showed off her acting skills this weekend (10Dec11) by dressing up as Christina Aguilera and impersonating Catherine, Duchess Of Cambridge's sister Pippa Middleton as the guest host of comedy show Saturday Night Live.
The I Kissed A Girl hitmaker joined series regulars, including Kristen Wiig, Andy Samberg, Seth Meyers and Bill Hader, to stir up a few laughs in her first stint as show host.

She poked fun at Aguilera in a spoof of the new star-studded romantic comedy New Year's Eve, titled The Apocalypse, and mimicked Florence + The Machine's Florence Welch to perform a comedic rendition of Dog Days Are Over.

But Perry's comedy highlight occurred during Samberg's Best Friends digital short, when they were joined by surprise guests Matt Damon and Val Kilmer, who donned wigs and dishevelled disguises to perform in the musical sketch.

The singer also tried out her British accent in a wacky portrayal of royal bridesmaid Middleton, turning her into a foul-mouthed, Cockney-speaking socialite as she made fun of her famous derriere in a skit with Fred Armisen as a vulgar Queen Elizabeth II and Hader as Prince Philip.

Perry, Damon and Kilmer weren't the only stars featured on this weekend's episode - Alec Baldwin also made an appearance to joke about his recent plane trouble, when he was booted off a flight for refusing to stop playing a word game on his cell phone while the aircraft was preparing for take-off.