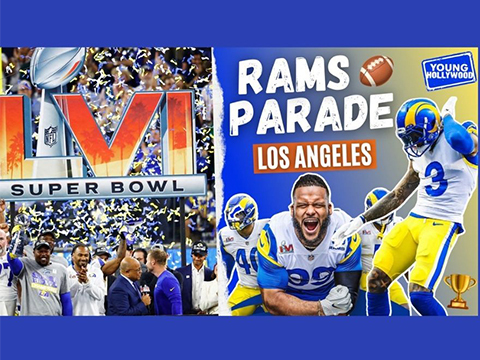 Fans & USC Players React To LA Rams' Super Bowl Victory
The city of Los Angeles is in full party mode following the hometown L.A. Rams' incredible victory in Super Bowl LVI at SoFi Stadium, and Young Hollywood hits the streets of USC during the team's victory parade to chat with local (and not-so local) fans who have come out to celebrate and support the home team! We catch up with superfans and casual fans alike, as well as USC Trojan football players Kyle Ford, Kyron Ware-Hudson, Tahj Washington, Prophet Brown, and Domani Jackson, who tell us their favorite players from the team (shout-out Super Bowl MVP Cooper Kupp!) and demonstrate their best "Griddy"!
Adriana Lima's #SelfieSunday Tips
YH catches up with Victoria's Secret Angel Adriana Lima at DirecTV's Super Saturday Night pre-Super Bowl bash in San Francisco where the supermodel offers some tips for #SelfieSunday.