Your Guide to the Most Heavenly Met Gala Ever!
Written by Ali Shannon. Published: May 08 2018
Known to all as "fashion's biggest night out", the Met Gala is the black tie  extravaganza held on the first Monday in May that everyone has their eyes glues on. It's the biggest celebrity who's-who of the year, mixing pop culture, film, television, art, and music into one night to celebrate the Costume Institute's annual fashion exhibition, and this year was a virtual religious experience...
MET GALA BASICS
The theme this year was "Heavenly Bodies: Fashion and the Catholic Imagination", with an exhibit meant to create a dialogue between religious works of art and the fashion world. The exhibit has received the approval of the Vatican itself and will display more than 40 garments from the Roman Catholic Church HQ along with 150+ designer pieces that have been inspired and paid homage to Catholicism. The heavy-hitters who make this night possible include the curator for the exhibit, Andrew Bolton, andVogue editor and Gala chairwoman since 1995, Anna Wintour. The other co-chairs this year includeDonatella Versace, Amal Clooney, and Rihanna. Wintour herself sets the guest list, and designers choose which stars they would like to dress for the night. If you don't think that's exclusive enough, tickets are upwards of $30,000 each. All of the money from the Gala secures the funds for the Costume Institute at the Met for the entire next year.
Okay okay, on to the fashion!
BIGGEST WOW MOMENTS
Rihanna
Are we even surprised? Every single year, she doesn't just come to wow us -- she does her homework and pays homage to the theme to the fullest capacity. This year, she's not only the co-chair of the evening, she shut the whole thing down with probably the most on-theme look of the night. Wearing Maison Margiela with John Galliano at the helm of her saintly piece, the outfit, including an iconic bishop's hat to go with the be-jeweled gown and flowing overcoat, was an unbelievable construction. You are never going to forget Rihanna when she comes through to the gala, and this year was no exception.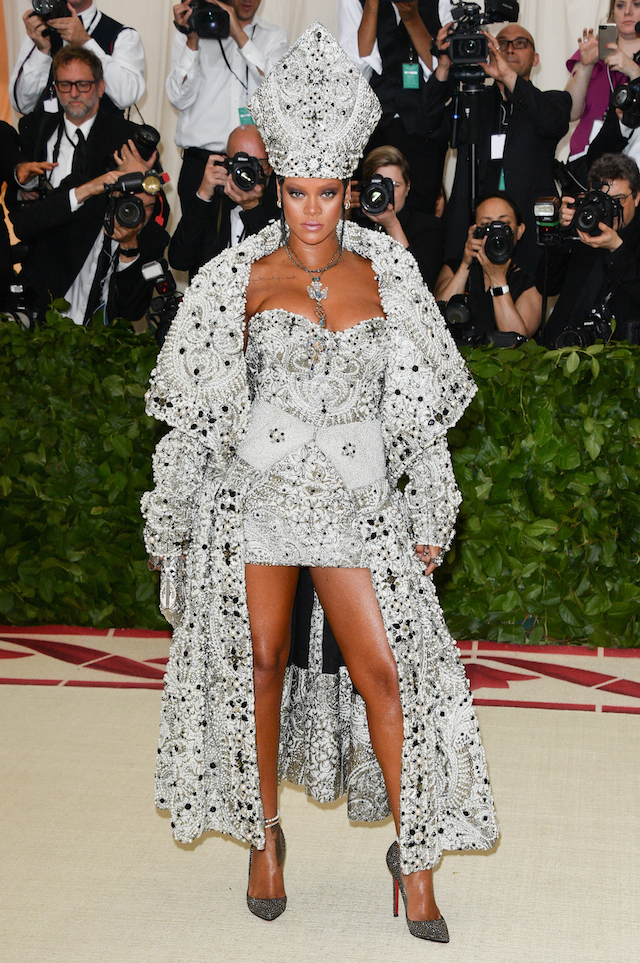 (

George Pimentel/Getty Images)
Sarah Jessica Parker
As much as the Met is Rihanna's space, Sarah Jessica Parker is equally the epitome of the Gala. She's the face of New York City elite (Carrie Bradshaw, duh), a forever style icon, and always delivers whimsical style moments on the red carpet. Wearing Dolce and Gabbana and a Neapolitan Nativity scene headpiece, SJP's tenth Met, alongside date Andy Cohen, was another year of her smashing the themes and remaining the most important Met gala OG.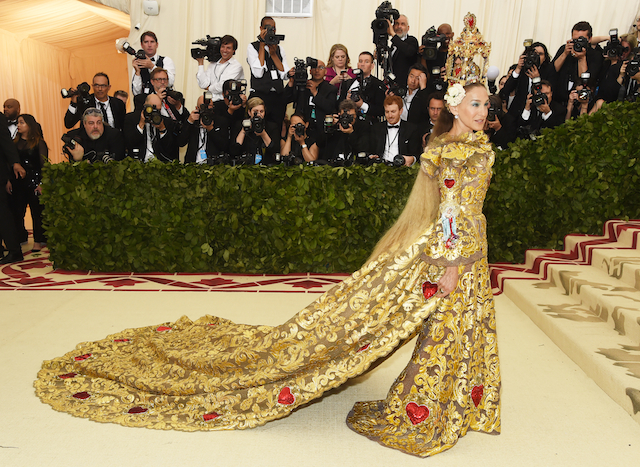 (

Jamie McCarthy/Getty Images)
Jennifer Lopez
Joined by arm-candy Alex Rodriguez, The Bronx's own J.Lo wore an intricate Balmain piece featuring an embellished cross and a thigh-high slit to add to the drama. The never-aging icon's dress was reminiscent of stained glass, its feathery and jeweled piece perfectly on trend with the theme and landing her on everyone's Best Dressed lists.
                                                                                                                                                                                        (

Jackson Lee/Getty Images)
Katy Perry
No one had a crazier time getting to the Met than Ms Perry, who made quite an entrance in an open white vintage Rolls Royce in order to keep her ensemble in tact. She's known for rocking some insane outfits, but this time she took the theme to a whole new level, wearing a gold Versace minidress, matching thigh-high boots, and massive custom-made angel wings. She probably would have stood out of the crowd without the wings, but it certainly caused Katy the spectacle she loves.
                                                                                                                                                                                   (

John Lamparski/Getty Images)
Blake Lively
Blake Lively traded in husband Ryan Reynolds for shoe designerChristian Louboutin as she floated up the Met stairs in a richly embellished burgundy dress with embroidered skirt. Wearing Atelier Versace, $2 million in jewels, and a dress that took over 600 hours to make, Blake out-sold, out-stunned, and out-legended.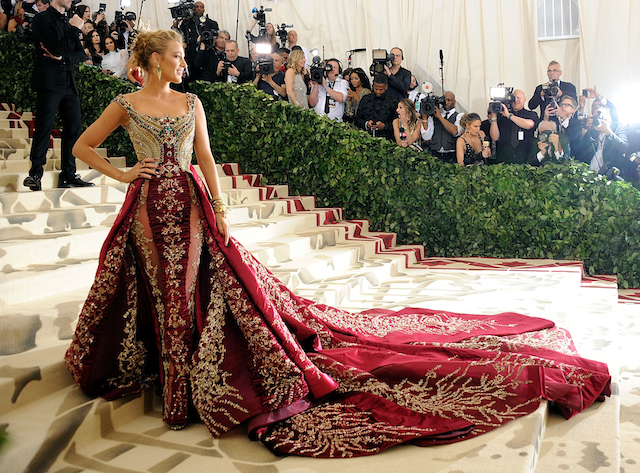 (

Rabbani and Solimene Photography/Getty Images)
YOUNG LOVE & FIRST-TIMERS
2 Chainz and Kesha Ward
Rapper 2 Chainz got down on one knee on the famous Met stairs to propose to his longtime love Kesha Ward! The rapper previously proposed to his lady in 2013 at the BET awards, but made it official last night! What a way to make a debut!
                                                                                                                                                                                          (

Sean Zanni/Getty Images)
Hailey Baldwin and Shawn Mendes
Aw how sweet! The two both wore Tommy Hilfiger as they made their debut as a couple on the red carpet!
                                                                                                                                                                                      (

Dia Dipasupil/Getty Images)
Kylie Jenner and Travis Scott
Probably the most anticipated of the Kardashian clan was Kylie, but viewers also got to see her and baby daddy Travis Scott walk their first red carpet together. The pair left baby Stormi at home to rock all-black Alexander Wang ensembles, giving us such a fresh look for Mom and Dad's night out!
                                                                                                                                                                                   (

Taylor Hill/Getty Images)
Yara Shahidi
Yara is one of the most exciting young movers and shakers stirring up Hollywood, so it comes as no surprise that she makes the super-selective list to this year's event. Yara always knocks it out of the park, whether on the red carpet, passionately speaking at an event, or just keeping it real, but she stepped it up in a major way. Not only did the young activist/actress/world-changer dress in a whimsical tailored piece by Chanel, she brought her mom as her date and hooked it up with the label for her too!
                                                                                                                                                                              (

Kevin Mazur/MG18/Getty Images)
Ariana Grande
In her Met Gala debut, Ariana Grande looked like a walking Renaissance painting, wearing a Vera Wang in a Sistine Chapel patterned gown with a massive bow in her hair. Paying homage to Michelangelo and his work in the Chapel, Grande made herself right at home on those steps and on everyone's Best Dressed List.
                                                                                                                                                                                        (

Karwai Tang/Getty Images)
Letita Wright
The Black Panther star was the celebrity newcomer to beat this year, and did she bring it! With childhood friend John Boyega (they used to attend the same drama school in London) hyping her up, Letita dazzled in a custom Coach gown inspired by Ethiopian Orthodox Christianity.
                                                                                                                                                                                  (

Jamie McCarthy/Getty Images)
PERFECT PAIRS
Lana Del Rey and Jared Leto
These two did not come to play. Somehow, this odd-seeming pairing was a perfect fit on the carpet, wearing Gucci and posing with Gucci designerAlessandro Michele for their moment -- Leto, looking like young Jesus, and Lana, wearing a seven swords-inspired piece from Our Lady of Sorrows. Incredible, and another perfect example of stars that did their homework.
                                                                                                                                                                                  (

Jamie McCarthy/Getty Images)
Anne Hathaway and Frances McDormand
These Oscar-winning ladies can do no wrong as individuals, but together they are iconic. Anne, a red-carpet showstopper almost yearly, donned a signature red Valentino piece by Pierpaolo Piccioli and took her dress's meaning to new levels. It reflects her deep closeness with the fashion house, and there was no question who she would be wearing to this year's event. McDormand, on the other hand, was A #MOOD. She stole the show in a turquoise piece with a massive Philip Treacy headpiece and shook social media to its core. The two together stunned on the red carpet and became the dynamite duo we never knew we needed!
                                                                                                                                                                                  (

Neilson Barnard/Getty Images)
Zendaya and Versace
Much like Hathaway and Valentino, Zendaya is incredibly close with fashion house Versace, whom she wore for the night. The two have worked together since the beginning of her career, and this year's gala shows how trusting she is of how they transformed her into a Joanne of Arc goddess for the event. If Rihanna is the Pope of the Met Gala, Zendaya is the Patron Saint of Fierceness.
                                                                                                                                                                                 (

Neilson Barnard/Getty Images)
Cardi B and Jeremy Scott
This pair was simply living on the red carpet, wearing matching outfits and really showcasing Cardi B's growing bump! Scott has said that his main goal for the look was to celebrate Cardi's pregnancy, since nothing was more heavenly and divine than a pregnant woman. This is her year and he elevated her even more!
                                                                                                                                                                                            (

Taylor Hill/Getty Images)
MEN WHO BROUGHT IT
Chadwick Boseman
No man killed it on the red carpet harder than Chadwick Boseman. Wearing the night's most avant-garde men's outfit by Versace, Boseman's ivory cape with gold-beaded crosses and matching embellished suit was absolutely divine.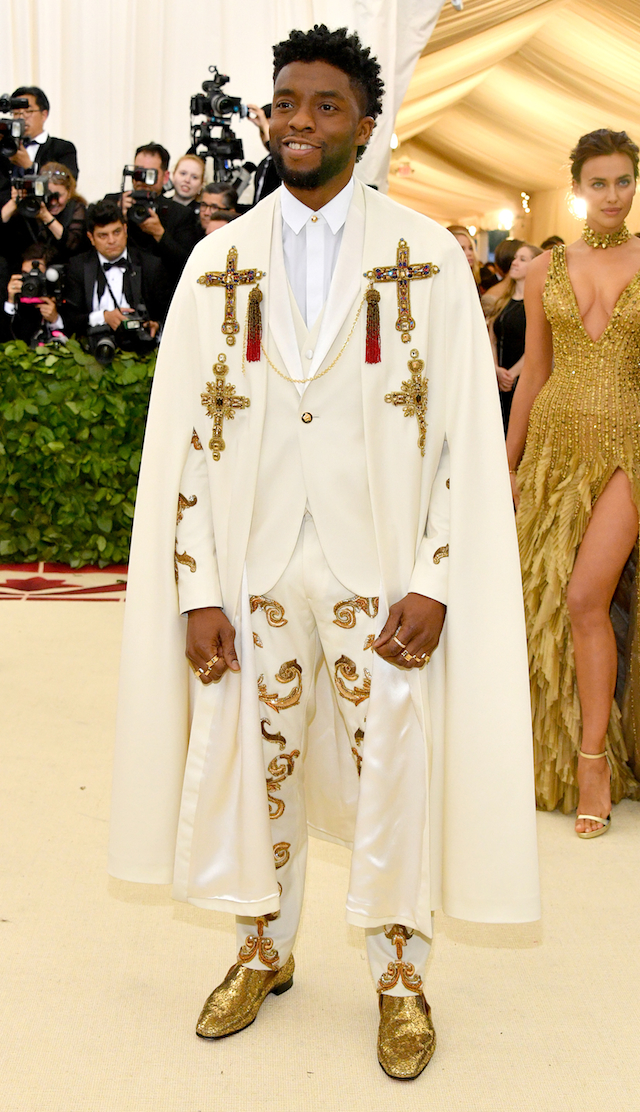 (

Dia Dipasupil/Getty Images)
Childish Gambino
From the front, Donald Glover's Gucci suit could be considered different simply because it wasn't the typical black suit but purple. Then he turned around to show off a jeweled golden triangle-eye, with rays coming out of it. Glover/Gambino is having one insanely successful year, so naturally he kills the red carpet as well.
                                                                                                                                                                                            (

Taylor Hill/Getty Images)
Migos
The Migos brothers made their debut with their hit song "Versace", so of course it made sense for the men to wear matching Versace suits to the Gala. The bright, boldly-patterned fabric, which is often synonymous with the fashion house, was a perfect way to stand out amongst so many of fashion's elite.
                                                                                                                                                                                      (

Dia Dipasupil/Getty Images)
SPECIAL SHOUT-OUT TO THIS YEAR'S MET MVP
Donatella Versace, one of the co-chairs this year, practically dressed half of the show-stopping attendees. To recap some of the biggest moments of the carpet, she dressed Blake Lively, Katy Perry,Cindy Crawford, Kim Kardashian,Gigi Hadid, Gisele Bundchen, Migos, SZA, Zendaya, Chadwick Boseman, ANDIrina Shayk. That's a lot for any designer to take on during fashion's biggest night when the typical average for designers is 3, not to mention her own self who rocked a navy and gold dress of her own design. She has cemented herself as a fashion rockstar and living legend by tackling the impossible and looking darn good doing it.
                                                                                                                                                                                           (

Taylor Hill/Getty Images)
Another whirlwind of Met Gala insanity has come and gone, but it won't quickly leave our social media sphere as we are bound to get a storm of memes from the night! It might have been the strongest Gala fashion-wise in a long time, with so many more actresses and actors really incorporating and studying the theme in a very real way. There are more incredible looks than can even be mentioned, but the real show-stoppers of the night were the women (and men!) who went past looking pretty and being on trend to showcasing the theme that had been chosen and being creative on the most avant-garde red carpet of the year.
(Top image via

Sean Zanni/Getty Images)
- Ali Shannon, YH Contributing Writer