Your Fall Colors Style Guide!
Written by Rita Korkounian. Published: November 16 2013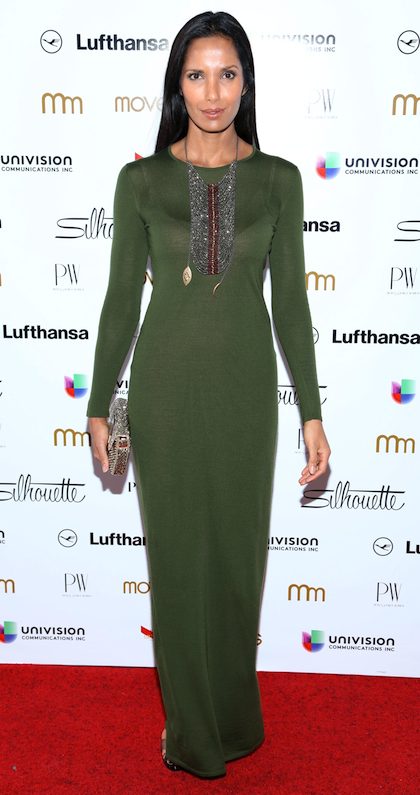 Dear Friends,
I'm writing to tell you that it's officially... Sweater Weather. Cue the excitement!!! Ahh, sweater weather -- the two most magical words to grace my ears. Time to pack away those Summer clothes and bring out the scarves, mittens, beanies with the little pom poms, chunky knit sweaters, knee-high socks, boots, etc. Let's layer up, bundle up, and cozy up. And let's take Fall fashion for a ride!
Fall fashion is all about the colors. When it's cold outside, what colors speak to you the most? You may gravitate toward the deeper, darker, richer colors like burgundy, emerald, navy, black, brown, or mustard yellow. But don't be afraid to try neutrals and pastels during the Fall and Winter months too. I personally love beige, white, grey, and especially olive green. As for pastel colors, you may associate them with the spring and summer months, but feel free to wear them year-round!
Fall fashion also calls for a variety of textures, prints, and layers. You can wear an angora, cable knit, wool, or cashmere sweater and pair it with corduroy, velvet, denim, or leather pants. How about a plaid, sequin, wool, or leather skirt? Be sure to layer up and and make a statement with your coat too! Yes, a cape it is! Isn't Fall fashion the bee's knees? Wait till you see how these bloggers have styled our favorite fall colors/trends!
Our first three looks show you how to incorporate olive green into your wardrobe. Blair of Atlantic-Pacific pairs her olive green skinnies with leopard pumps, a white tee, a trench coat, and a scarf. So chic, right?Jacey of Damsel in Dioradds an olive green jacket to her black and white ensemble. This damsel is super stylish. And for our third look, I styled my olive green jacket with a striped sweater and skinny jeans. Don't forget to top off your look with a baseball cap! Something I learned from Blair (well, one of many things)!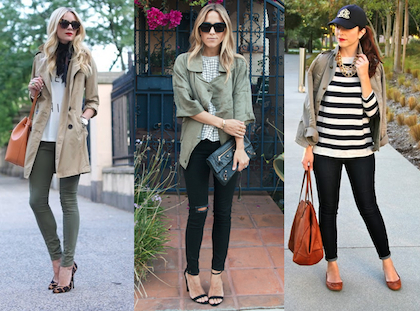 Our next three bloggers show y'all how to style mustard yellow. Grasie of Style Me Grasie has embodied the statement "go big or go home" with her outfit. From her statement necklace to her eye-catching leopard booties -- she's nailed this look! Sheryl of Walk In Wonderland is rocking this ultra feminine white flared skirt with a yellow blouse and killer ankle strap pumps. If I were Tom Cruise -- and I saw her outfit -- I would be jumping up and down too. Doesn't she look gorg?! AndSasha of Moiology has mastered the art of effortless styling! I'm dying over her Zara funnel neck top, Célinebag, and Valentino 'Rockstud' heels! I could totally see her roaming the streets of New York in this outfit!
The next three looks showcase one of my favorite colors, a color that goes by many names: oxblood, bordeaux, burgundy, maroon, wine, etc. Our first blogger, Christine of Hello Fashion, rocks her beautiful bordeaux jacket with skinny jeans and patent pointy-toe pumps. Simplicity at its best! I live in jeans, so any ideas on how to style them everyday are welcome. The next look comes from the ever-so-stylish Blair of Atlantic-Pacific. The gold sweater with the feather skirt and leopard pumps is absolutely brilliant! Perfect holiday outfit. The last blogger, Anh of 9 to 5 Chic, stuns in her black and bordeaux ensemble! That fur snood is definitely on my wish list!
And for our last set of looks, I bring to you... Plaid. Guess who's back? Back again? The '90s are back. Tell a friend. Who better than the beautiful Ashley of Pursuit of Shoes to show us how to put a modern twist on a 90s trend? Tying a plaid shirt around your waist is the new "in" thing, and I'm ecstatic over it! You can totally go grunge with your look or give it a classy, sassy, contemporary flare like Ashley! Our next look is from -- wait for it -- Blair of Atlantic-Pacific! But, of course. In case you haven't noticed, I'm a Blair Eadie Fangirl. #damnproud She's killing it in this school girl-inspired outfit! And our final look is from Mary of Happily Grey. All in favor of this outfit, say aye! AYE!!!! I'm all about oversized plaid shirts, skinny jeans, and boots! Mary has captured the essence of fall with her outfit.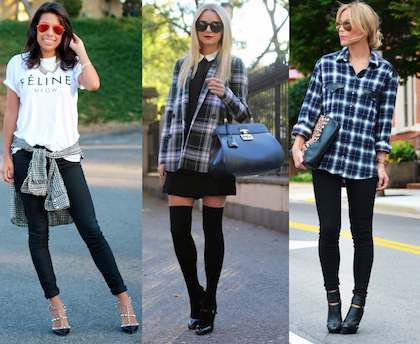 Well, it's been great chatting all things Fall fashion with y'all! I think it's time to climb under the covers and turn the heater on full blast. I declare it nap time! Happy November!
(Padma Lakshmi photo via Andres Otero/WENN)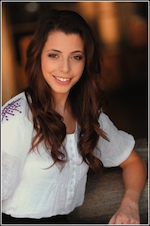 Rita Korkounian is a blogger from Los Angeles. She is shy and introverted, but her personality shines through her quirky writing style. She is a lover of all things food, fashion, and music.
Coast on over to her blog for life/style inspiration or follow her on Twitter @RitaKorkounian.