WOMEN WE LOVE: Aimee Carrero
06-22-2022 by Annel Then and Katie Marzullo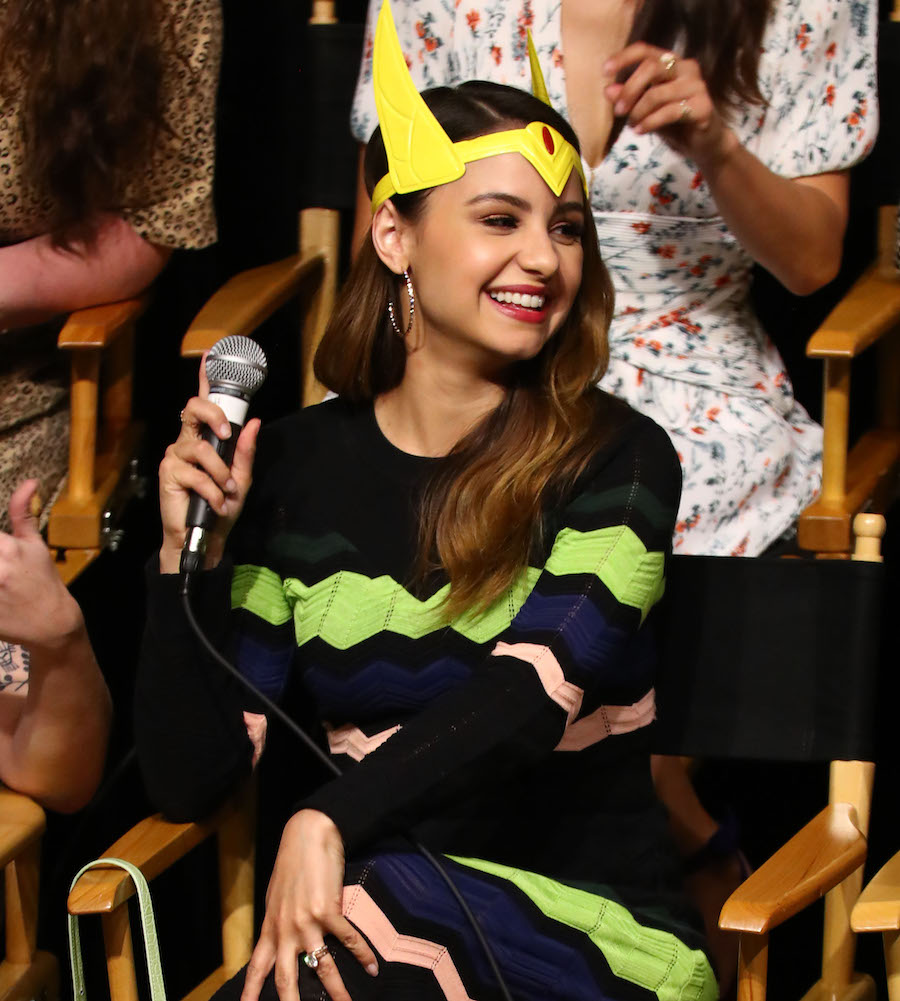 ( © Joe Scarnici/Getty Images for DreamWorks Animation Television)  
Chances are, you have probably watched Aimee Carrero on some of your favorite TV shows like " Young & Hungry", "The Maid", and even on Cartoon Network's " Level Up". She is a bright and refreshing actress you must definitely be following along in her career. Aimee is a Dominican-American actress from Santo Domingo, Dominican Republic, which makes her part of the Hispanic community. Her impact in this community is immense since she is one of few Dominican-American actresses out there.  She is the voice behind the FIRST Latin-American Disney Princess, Princess Elena of Avalor! Now that is Impressive!
Although the Disney Channel series came to an end after 3 seasons in July 2020, Aimee has kept very busy. She was the voice of the lead character in Netflix's animated reboot of "She-Ra and the Princesses of Power", and she was recently a part of the hit Netflix drama series "The Maid" as Danielle, along with co-star Margaret Qualley. 
Aimee is also an activist and is not afraid to speak her truth on subjects she cares for, which we think is very important nowadays. Using your platform to advocate for issues that matter to you is essential to bring light and change. Way to go, Aimee!
The actress also recently took part in the Geffen Playhouse production of Edward Albee's classic Who's Afraid of Virginia Woolf? where she took on the role of Honey. We are so excited for her and know she put in an AMAZING performance. Her co-stars in the cast were Zachary Quinto, Calista Flockhart, and Graham Phillips. If you have ever read the Albee play, you know how it portrays themes of family dynamics, childishness, and secrecy, which makes for an intense play that keeps you on your toes. 
Aimee can also be seen in Paramount+'s recent limited series "The Offer", about the making of the classic film The Godfather, where she appears as Rosie Molina. You can also see her Fox Searchlight's comedy-horror The Menu, starring Ralph Fiennes and Anya Taylor-Joy, this Fall, as well as an updated comedic version of Charles Dickins's classic A Christmas Carol, titled Spirited, with Ryan Reynolds as Scrooge, which will presumably drop over the Holidays.
Be sure to follow Aimee on her socials because things are only going up for this talented actress!