Why We Love Amy Poehler's 'Moxie' (And You Will Too)!
03-10-2021 by Julie Fenske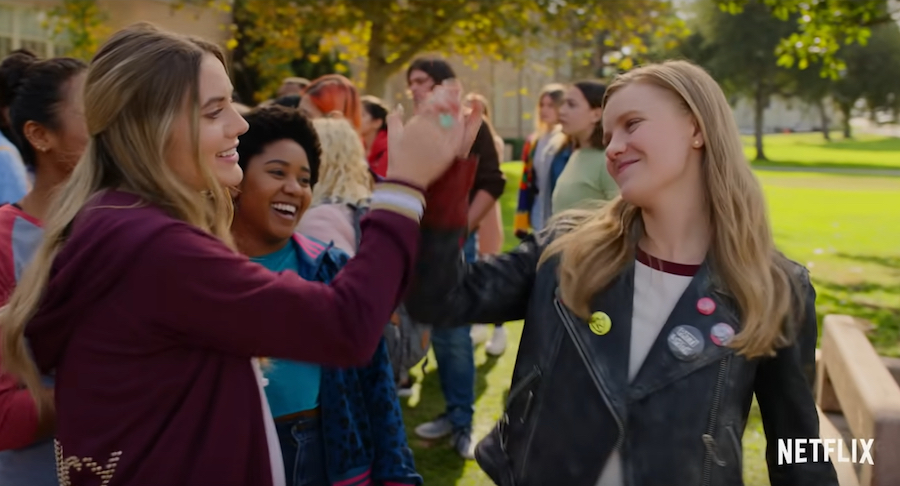 ( © Netflix)  
In case you missed it, Amy Poehler's new movie Moxiedropped on Netflix last week, and we loved it! Adapted from the novel by Jennifer Mathieu, it follows Vivian (Hadley Robinson, who you may have seen make an appearance in Greta Gerwig's Little Women), her old friend Claudia (Lauren Tsai), and new friend Lucy (Alycia Pascual-Peña) as they become disillusioned with the misogyny and discrimination running unchecked in their Portland high school. 

Inspired by her mom's (Poehler) past as part of the Riot Grrrl movement, Vivian decides to start a feminist zine calling out the injustices around her - but no one knows she's the one who started Moxie. As the notoriety of the zine grows, so does the number of girls who feel empowered to speak out. 
We love the way Moxie doesn't just tell us about the problems women face in their daily lives; the movie shows several moments where the girls of Rockport High face injustice. When new student Lucy makes a suggestion that her English class should read more books by women, people of color, and queer authors, she has to face the backlash from Mitchell (Patrick Schwarzenegger), the most popular (and most powerful) boy in their school. In another instance, Kaitlynn (Sabrina Haskett) is sent home because she's wearing a "distracting" tank top. Vivian, previously someone who just sat back and tried not to get in the way of the status quo, is angered by the inequalities and flippant dismissals of these girls, sparking the idea forMoxie. 
We love Vivian's relationship with her mom, and Moxie shows us that, despite generational divides, we're really all fighting for the same thing. Being passionate feminists brings Vivian and her mom together as they inspire each other through their actions. We want Amy Poehler to be our mom too!
We also love Vivian's relationship with Seth (Nico Hiraga, who also appeared in Olivia Wilde'sBooksmart) who is the perfect example of a dream love interest. He shows support for Moxie by participating in all their demonstrations and acts as a true gentleman in all the ways that count: asking for consent, taking Vivian on cute dates, and lifting up her passions. We all need a Seth in our lives! 
One of the most inspiring elements of Moxie is the way the girls of Rockport High band together, despite facing consequences like suspension or even expulsion. Vivian, Lucy, Claudia, Kaitlynn, and others work to nominate Kiera (Sydney Park) for a prestigious sports scholarship against Mitchell. We love the way they lift her up intentionally with their campaign, getting the school involved and informing the student body about how hard Kiera works as the captain of the soccer team. 
In another scene, to resist the ridiculous dress code the school has in place, the girls decide to all wear tank tops to school. They decide later on in the movie to walk out in support of an anonymous girl who confides to Moxie that she has been sexually assaulted by a boy at the school. She is later revealed to be Emma (Josephine Langford of After fame), the head cheerleader. 
These moments show how support and empowerment can lift up every woman and that intersectionality is key to breaking barriers for all women, in high school and beyond. 
With a fantastic cast of young talent telling a story that will resonate with all of us, Moxie should absolutely be the next movie on your list!