Who You Gonna Call? The All-Female 'Ghostbusters'! (Maybe)
Written by Kevin Donaldson. Published: August 06 2014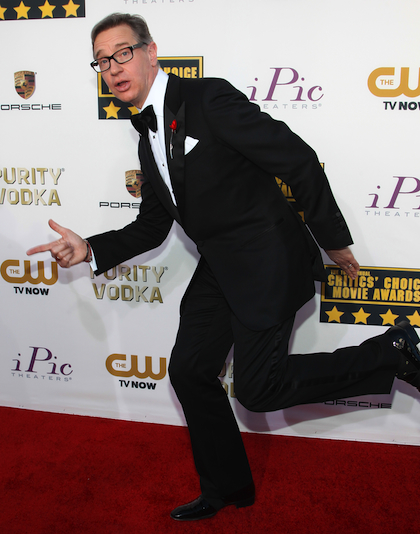 The wildly successful comedy film director and "Freaks and Geeks" creator,Paul Feig, has been rumored to use his directorial skills to direct a new Ghostbusters film. Since the death of the original Ghostbusters writer and actor,Harold Ramis, earlier this year, talk of a thirdGhostbusters installment was kicked into high gear. After months of fans asking, "Will there be a third one?", reports recently came out that not only will there be a new aGhostbusters film, but it will be a reboot with an all-female cast. Whether or not Paul Feig will be the director is still in talks; however, given his track record of late with films like Bridesmaids and the female buddy cop film The Heat, Feig seems like he'd be the right man to direct a rag-tag ghost-hunting group of ladies.
Sony Pictures has refused to comment on all of this, but there are a few things we have learned are true. For starters, yes, there will be an all-female cast reboot of Ghostbusters -- someday. Secondly, Ethan Cohen (writer of Men in Black 3) was brought on board in 2012 to get started on scribingGhostbusters 3. Could it be that the Ghostbusters 3 script he was working on is actually this all-female reboot? As of right now, we can only speculate.
But will the characters be more or less the same? Will we see a female version of Peter Venkman? I think that it's safe to say that the script will be pretty different from the original, and the characters will be written to suit the voices of the actresses involved. Let's face it, Bill Murray is Bill Murray. Man or woman, nobody can be Bill Murray except for Bill Murray. He improvises half the time in his films anyways. You just can't replicate him with anybody else, man or woman. Plus, why would you when there is so much other unique female talent out there? Which brings me to…
Who will star in it? Right now, it's just speculation, but an obvious choice to carry a proton pack would have to be Melissa McCarthy. She is known for starring in bothBridesmaids and The Heat, so on top of being a full-blown force in comedy these days, she also seems to work well with Paul Feig. Also, just like Bill Murray, Melissa McCarthy is Melissa McCarthy. She improvises half the time in her films too but does it in her own unique way. Two other Bridesmaids stars I could see busting some ghosts are Kristen Wiigand Rose Byrne. Wiig is, of course, a seasoned comedy vet at this point. And in case you didn't seeNeighbors a few months back, Rose Byrne played a key part in the ensuing hilarity of that film. The fourth lady Ghostbuster is quite a melon-scratcher. It really could be anybody. Maybe it'sMaya Rudolph, maybe it's Ellie Kemper, or maybe we'll get a curve ball thrown at us and a new star will come to rise! Who knows? By Gozer, I sure as some parallel hell dimension don't know. But I'm sure the good people at Sony Pictures have at least a vague idea.
Bonus: Who will play Ghostbusters rival Walter Peck? I'm hoping thatWilliam Atherton will reprise his role, although it made him quite unpopular with the public. But it would be cool to see a female play "Wanda" Peck. How about if, say,Anjelica Huston tried to stop the new Ghostbusters at every turn?
Whom would YOU cast in an all-female version of Ghostbusters?
(Photo via FayesVision/WENN)
- Kevin Donaldson, YH Staff