When Arya Met the Doctor: Maisie Williams to Appear on "Doctor Who"!
Written by Kevin Donaldson. Published: April 02 2015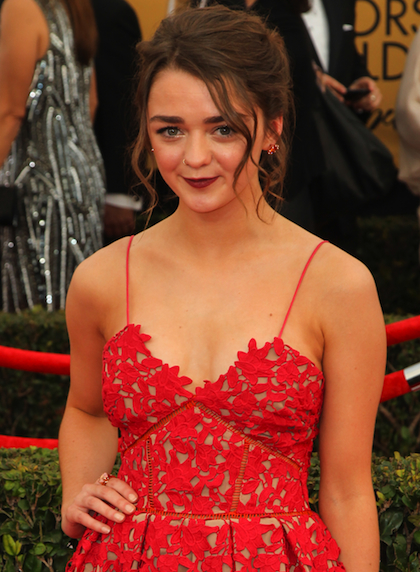 Hey Whovians! If you're also into "Game of Thrones", then we've got some intriguing news for you! Maisie Williams, AKA Arya Stark, is going to making a multi-episode appearance on "Doctor Who" this upcoming season. Given that she is young and energetic, it is safe to say that she will clash hard with Peter Capaldi's old and crotchety Doctor, so nonetheless this will be a lot of fun to see.
Outside of the fact that Williams will be appearing on the show, it is unclear at this point what her role will actually be. We only have a few details on what she'll be up to. Though showrunner Steven Moffat confirmed my suspicions that Williams will annoy the hell out of the Doctor by saying, "[Williams] is going to challenge the Doctor in very unexpected ways. This time he might just be out of his depth, and we know Maisie is going to give him exactly the right sort of hell." (She's got all Seven of them ready for him, amirite?)
Also, recently a picture of her smiling face inside the Tardis was released online, so it seems like she will have some sort of role assisting the Doctor. Now, I am not telling you that she will be the new companion, but there is a chance. It is well-documented that the people behind "Doctor Who" go to great lengths to keep that stuff under tight wraps, even from their actors and actresses.
In fact, whenKaren Gillan auditioned for the part of companion Amy Pond a few years ago, she said she went in for an audition for something called "Panic Moon." She then said that "Panic Moon" was just an anagram of the word "companion", which is used as a ruse to not allow anybody auditioning for the companion to have any idea of what they're in their for. That's how top secret the people behind "Doctor Who" like to keep things, so saying that Williams only has a couple of episode appearances but not saying when could mean the end of the season and then BAM! she's the new companion. Or, they could just be lying about how many episodes she's in. That works too to cover your tracks.
In any case, this should be fun to see Williams on "Doctor Who" sometime in the fall of this year. What's also going to be a good time is seeing Williams kick some butt in Free City of Braavos next weekend on Season 5 of "Game of Thrones". Remember folks, it's April 12 at 9PM on HBO. Tune in, or Arya Stark will stick you with the pointy end of her Needle!
(Photo via FayesVision/WENN)
- Kevin Donaldson, YH Staff