Walter White's Big Night: AMC's "Breaking Bad" Sweeps 2014 Emmys!
Written by Katie Marzullo. Published: August 26 2014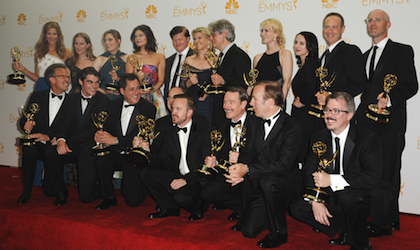 If you thought "Felina" marked the actual end for Walter White and "Breaking Bad", think again.
The much-lauded AMC drama has always been a favorite among fans and the TV Academy alike, but last night, that love came rushing in like Walter and Jesse's meth van. In its last year of eligibility, "Breaking Bad" swept – SWEPT!!! – the Emmy Awards last night, taking home all the major prizes it was up for, including Outstanding Drama Series, Lead Actor (Bryan Cranston), Supporting Actor (Aaron Paul), Supporting Actress (Anna Gunn), and Writing (Moira Whalley-Beckett for the brilliant "Ozymandias" episode). If it had had anyone up in the Lead Actress category, I'm sure it would have won that as well.
To top it all off, Cranston (sporting an Errol Flynn-esque mustache) got to show off his lighter side in a couple humorous bits, including his presentation with Julia Louis-Dreyfus in which she tells him he reminds her of a dude she kissed on "Seinfeld" once – spoiler alert! It was him! This later culminated in Bryan, ahem, reminding her on her way to accept her Emmy for Lead Actress in a Comedy Series by grabbing her and laying a big, juicy wet one on her. Oh my! He IS the danger!
So, kudos to everyone involved with "Breaking Bad". They could not have gotten a more generous send-off.
Other than that, the evening was sort of Business As Usual, amirite? There were no real surprises or upsets – "Orange Is The New Black" went away empty-handed, as did "Game of Thrones", while Jim Parsons, Ty Burrell, Louis-Dreyfus,Julianna Margulies, and Jessica Lange all experienced a fair amount of déjà-vu as they accepted awards that they've won in the past. "Modern Family" won its 5th straight Emmy for Outstanding Comedy Series, tying the record set by "Frasier". Congrats to everyone and all, but… ho-hum.
Luckily, the monotony was broken up by some funny bits and jokes, thanks to hostSeth Meyers and a few celeb accomplices, including a funny Q&A bit that saw Melissa McCarthy putEdie Falco on blast, Jimmy Kimmelroasting Matthew McConaughey (and Ricky Gervais), and a bonkers man-on-the-street segment that had me crying from laughing.
But the big moment of the evening had to be "Weird Al" Yankovic's performance, wherein he composed lyrics to popular show theme songs. Starting with "Mad Men", the performance culminated in an epic rendition of the dramatic "Game of Thrones" theme, complete with Andy Samberg dressed as King Joffrey and the very apt lyrics "Don't get too attached to a certain guy / Have a backup, have a backup, have a backup!" You ain't kidding, Al… Check out the whole performance below:
What was YOUR favorite part of last night's Emmys?
(Photo via Apega/WENN)
- Katie Marzullo, YH Staff Editor