VIRAL ALERT: Us The Duo
Written by Amanda Baltazar. Published: May 10 2014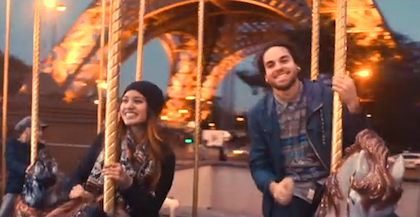 The emerging artists behind Us The Duo are finally picking up some momentum. They will be headlining their first shows in New York City and Los Angeles! I am sad to say that all of the shows are sold out, but this just goes to prove the huge popularity and fan base that supports the couple.
The duo consists of husband and wife, Michael andCarissa Rae Alvarado. The couple started out covering songs on YouTube and eventually put out original music, as well.
Their melodious voices and harmonies bring pleasure to the ears, and in this song, you can really hear their beautiful tone stripped down to just a simple guitar melody to back up their voices.
Both are very versatile in their song styles. Each can play various instruments, and Michael does a killer beatbox. You can hear this a lot in theirVines where they have over three million followers and counting!
Their creative covers and talent have brought them the success over the years. One of my faves is their cover of Carly Rae Jepsen's "Call Me Maybe":
They mix those Carly Rae lyrics to a Mumford and Sons vibe. After I heard this, I was convinced. This duo was amazing and I needed to hear more. Shortly, I found their "TV Show Medley" and it was over. I was a fan for life.
Did you hear that beatboxing? YES.
They are probably one of the cutest couples EVER. Don't believe me? They even showed their wedding/proposal on their YouTube channel. Here's the proposal. Oh, the feels.
Although this dynamic duo sounds wonderful together, you can also check out their talents without their better half. Each have their own solo skills as well.
For the latest Us the Duo news, check out their website and follow them on Twitter!
(Screenshot via YouTube)
- Amanda Baltazar, YH Staff