Top 5 New TV Shows for 2014-'15 (PART ONE)
Written by Sarah Osman. Published: May 09 2014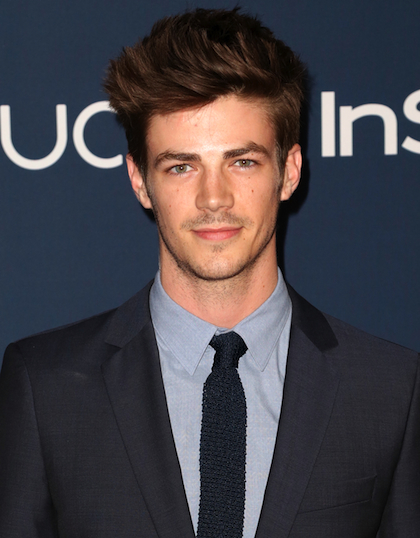 I always tend to feel a little melancholy this time of year. As a teacher, I only have a few more weeks left with my students before they go on to their next adventure. I love Summer, but I miss the cool Spring days. And as an avid watcher of television, it's always sad to know that there will not be new episodes of my favorite shows for three months. During this time period between students and new episodes, I hit the beach, try to read everything on my Amazon wishlist, and take a look at the new shows for next season.
It's that time of year again -- the networks have ordered an inordinate amount of new shows, all of which will be hitting our TV screens this September. These fresh shows vary from heartwarming comedies to kick-ass superhero dramas, and everything imaginable in between. I present to you, my dear readers, my first 5 of 10 picks that I can't wait to see air next year:
1. "The Flash" (The CW): It's finally happened! One of my favorite superheros is finally getting his own show! The CW has created a show entitled "The Flash", based on the DC Comics character of the same name. "Glee"'s dreamy Grant Gustin is set to star as Barry Allen, an ordinary scientist who gains the power of speed thanks to a freak accident (natch). The CW has done justice to other great superheroes with "Smallville" and "Arrow", so I have faith that "The Flash" will be just as strong. (I wanted to make a fast joke there but I could not think of one. Leave me yours via Twitter!)
2. "Mary Me" (NBC): If you were as upset about "Happy Endings" getting canceled as I was, then I have some good news for you -- "Happy Endings" creator David Caspe is back with a brand new comedy, this time focusing on the trials and tribulations of being engaged. Casey Wilson andKen Marino star as the couple in question, who find that, while being in a long-term relationship has its perks, it has its drawbacks as well. I adore Wilson; her physical comedy was hilarious in "Happy Endings" and in the film Ass Backwards, and I believe that Marino is a comic genius. If you don't believe me, watch the show "Burning Love". He not only starred in it, he also co-wrote it with his wife!
3. "Red Band Society" (Fox): This one-hour dramedy may be this season's most unusual show. It focuses on a group of teenagers who become unlikely friends as they spend time in the pediatric ward of a hospital. The show boasts an impressive cast, including Oscar winner Octavia Spencer,Charlie Row, and none other than Steven Spielberg on the production side. I've been a fan of Spencer since her "Ugly Betty" days, and since I work with teenagers every day, I'm always curious to see how television handles them.
4. "The Astronaut Wives Club" (ABC, midseason): Sadly, we're going to have to wait until 2015 for this show. However, it sounds so cool enough to warrant a mention. "The Astronaut Wives Club" is based on the book of the same name by Lily Koppel, which focuses on the wives of the American astronauts during the great American space race of the 1950s and 1960s. I've read the book, and the stories are fascinating. I found these women's lives to be captivating, as they and their husbands went from everyday joes to celebrities overnight. The book is full of inspiring stories of sisterhood, as well as interesting little tidbits about their husbands. The show, which will be penned by Stephanie Savage, is currently undergoing casting (a few of the primary roles have already been cast). We need more shows that focus on women's roles in history, as well as more challenging roles for talented actresses. I believe that "The Astronaut Wives Club" will fulfill both of those needs. In the meantime, I urge you to go read the book -- you won't regret it!
5. "Angie Tribeca" (TBS): Cop shows have always been en vogue, but comedy cop shows are starting to take off thanks to Fox's brilliant "Brooklyn Nine-Nine". The latest cop comedy will come from Steve and Nancy Carelland will be a single-camera comedy about a female cop in the LAPD, played by Rashida Jones, who works in the "RHCU" (AKA Really Heinous Crime Unit). Considering how funny "Brooklyn Nine-Nine" is, I have high hopes for "Angie Tribeca". Jones plays a great straight woman, and it will be interesting to see a female cop as the lead.
Which of these new shows are you most excited to see? Be sure to stay tuned for my next set of picks!
(Photo via Brian To/WENN)
- Sarah Osman, YH Staff