VIRAL ALERT: Hot Ones
Written by Kevin Donaldson. Published: September 06 2016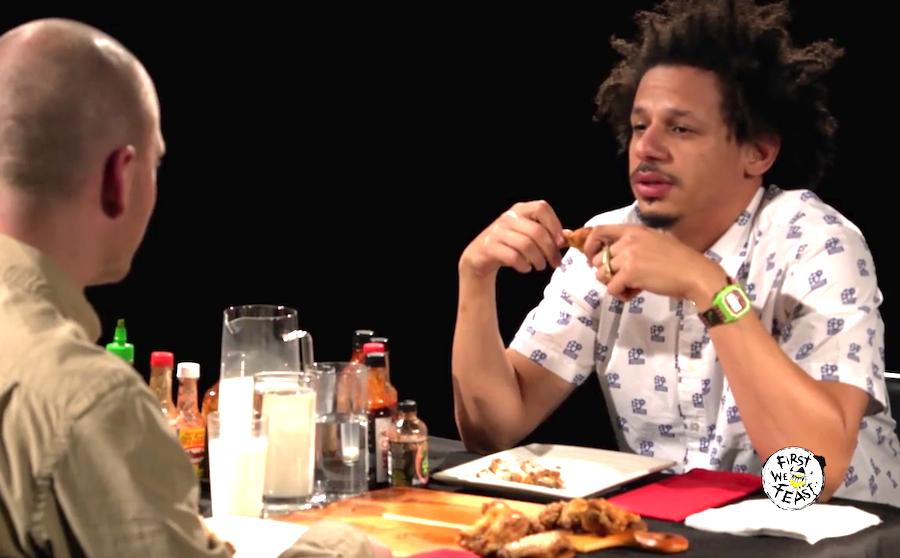 A YouTube show that seems to be picking up steam lately is one called"Hot Ones" on the First We Feast channel. The show is kind of like your typical sit-down-and-chat-with-celebrities talk show, but the difference is, along with the host, the guests eat hot wings with varying degrees of heat, which adds an element of even more pain to the interview than a barrage of question-answering already does.
As "Hot Ones" stands right now, they have interviewed the likes of Eric Andre,Eddie Huang, Rob Gronkowski,Jim Gaffigan, Rob Corddry, andWu Tang Clan's own RZA, among others, including a very special case of David Cross, whose latest comedy special Making America Great Again!was recently uploaded to Netflix. It's curious that Cross would do this since a lot of his stand-up, and most blatantly his first directorial feature Hits, points to a man who despises the rise of YouTube entertainment. Nevertheless, the "Arrested Development" star came on and endured the wings, which may have been less painful than the fan trivia for "Arrested Development" he had to answer.
But still, how does a show like "Hot Ones" get these guests? And why do people watch it? The first question is hypothetical but most likely true -- somebody on the "Hot Ones" staff is connected enough they can pull in these folks. The second question gets us thinking deeper about two topics that are huge in America: celebrity and torture.
"Hot Ones" seamlessly blends them both together. In a crazy mash of asking famous people questions and a delicious American delicacy enjoyed around the nation, this show has figured out how to secretly torture celebrities for our amusement. Let's be honest, as much as our culture worships celebs, a big part of us wants to see them vulnerable. "Hot Ones" is a fun experiment that works for me and I hope you enjoy it too! Below I give you the Eddie Huang episode where the chef and "Fresh Off The Boat" creator takes a different approach to the wings than most. See if it works! Enjoy!
(Screenshot via YouTube)
- Kevin Donaldson, YH Contributing Writer