VIRAL ALERT: Dude Perfect
Written by Amanda Baltazar. Published: April 13 2017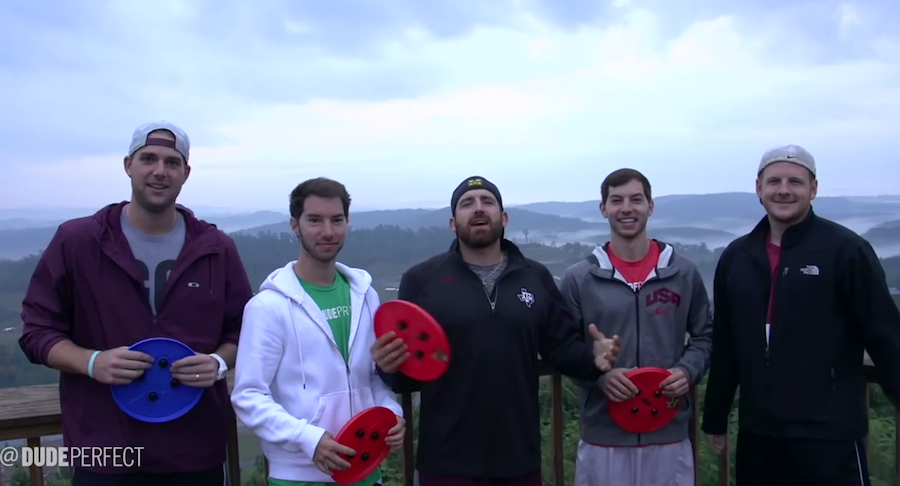 Just 5 friends and a panda.
Dude Perfect a group of dudes who love sports and entertaining the masses with their amazing trick shot videos!
That was extreme!! 
Dude perfect is made up of Tyler Toney, Garrett Hilbert, Cody Jones, andCoby and Cory Cotton. The group started out playing basketball in high school and later became collage roommates at Texas A&M. They came together and started filming basketball trick shots in Tyler's backyard.
They've come a long way since then with over 16 million subscribers on YouTube and billions of views. They've collaborated with huge brands and awesome athletes! 
EvenCoach Carroll has still got it! 
It's pretty easy to see that these guys are pretty competitive.
These guys are crazy!! It's no wonder that CMT picked them up as a television show called "The Dude Perfect Show". They completed Season 1, and although CMT did not renew them for a Season 2, Nickelodeon saw what a perfect combination Dude Perfect and Nickelodeon could be. After all, Dude Perfect loves their slime.
Season 2 is supposed to premiere this summer and it's going to be EPIC! 
For anything and everything Dude Perfect, check out their site!
(Image via Dude Perfect/YouTube)
- Amanda Baltazar, YH Contributing Writer