Up Close with "Nikita"'s Tiffany Hines
Written by . Published: September 10 2010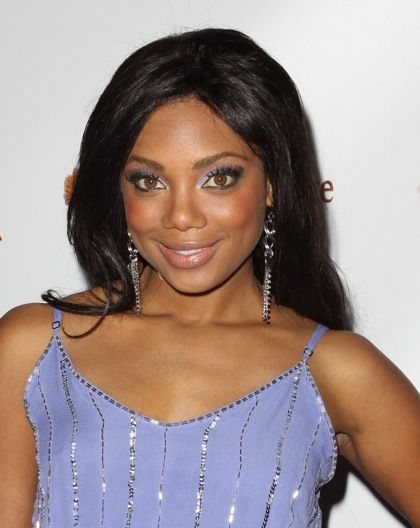 Tonight (September 9), the CW premieres their new action-packed, drama-filled thriller, "Nikita."
If you've been watching television or noticed some of the billboards in Los Angeles, you know that the show revolves around a female character and seems to be much different than other CW shows like "Gossip Girl" and "90210". We got the chance to sit down withTiffany Hines, who plays Jaden on "Nikita", and learn about the show, her character, and Toronto!
---------------------------------
YH: What is the story line of "Nikita"?
TH: It's a reboot of the Luc Besson French film, La Femme Nikita. What's cool about this story is that we focus on the the life of the Nikita character [Maggie Q] after she is no longer with the agency who trained her to be a spy and assassin. Now she has escaped the corrupt government agency known as Division and is exacting revenge on them for killing the man she loved. Division also continues to develop and train new recruits like Alex [Lyndsy Fonseca], Thom [Ashton Holmes], and my character, Jaden, to become cold hard killers and assassins. They find these criminal youths who are broken and don't have many ties to the outside world, fake their deaths, and give them an ultimatum where they must choose between life as a trained killer or death.
YH: How would you describe your character, Jaden?
TH: My character, Jaden, has been training at Division for about 2 months. She is tough as nails and she isn't afraid of a fight. When other people run from a fight, she's running towards it, and to be honest she probably started it [laughs]. She is definitely the antagonist in the Alex-Thom-Jaden storyline, and she definitely has a lot of attitude. At times, that cockiness can get her into trouble at Division. But, underneath it all, there's this girl who wants to be loved. I think this side comes out most when she's dealing with Thom, another recruit at Division. Thom is definitely her kryptonite. It was really important to me for Jaden to not just be your typical mean girl. That's one side of her that people may think of when they first meet her, but there are so many different sides to her and it is so much fun to play a character that has that kind of dynamic.
YH: Do you relate to your character at all?
TH: In some ways, I do relate to Jaden, and in others, I don't. I completely understand that competitive side to her nature and her strong desire to succeed. But there's a side to her that is very different than myself. Jadencan suppress her emotions in a way I would never want to do. It is why she can tap into that cold-blooded killer side of her personality and be so nonchalant about it. At the end of the day, she is just trying to survive this experience and she's not afraid to do what she has to do to make sure that happens. However, I believe that if she is triggered in the right way, all those emotions she is pushing down could rise to the surface. It would be interesting to see what she would do once that happened. I am sure it would be something explosive.
YH: How have you enjoyed filming in Toronto?
TH: I actually really love Toronto. I didn't think I was going to like it at first because it is straight-up CITY living! I am a Cincinnati, Ohio, girl who grew up with lots of trees and land around me. Even in Los Angeles, I live by lots of trees and grass and front yards. But I am so proud of myself! I'm actually starting to get the hang of streetcars and subways, and [gasps] I actually walk places instead of driving my car! [laughs] Downtown Toronto is such a beautiful city and I love exploring it and just walking everywhere! I don't know how well I will keep that up once the winter comes though. You may want to ask me again in December [laughs]. But for now, I can honestly say I love the city.
YH: If you were to recommend 3 places in Toronto to go to, what would they be?
TH: (1) Definitely the CN Tower. It's the tallest building in the world and the view is absolutely breathtaking. I'm not kidding, I actually gasped when I went! (2) My favorite restaurant is called Harbour 60 Steakhouse. So far, it is the absolute best dining experience I have ever had in Toronto and their desserts are ridiculously good too, so if you have a chance to go, make sure you save room! (3) Take a tour of Casa Loma! It is a beautiful historic Castle with beautiful gardens and 98 rooms. If you are a museum person, you will be in heaven with this one!
YH: This isn't your first time on screen; what other productions have you appeared in?
TH: I played Michelle Welton on Fox's "Bones" and the role of Birdie Scott on Teen Nick's "Beyond the Break". I think that's where most people know me from. I've also had roles on shows like "Grey's Anatomy", "CSI: Crime Scene Investigation", "Heroes", etc. I feel so blessed to have had the opportunity to work with so many talented people so early in my career. I'm grateful to have learned so much, and I can't wait to learn more.
YH: Anymore projects underway?
TH: Since it's the first season of "Nikita", and we just started filming in July, I don't really have much time for anything else at the moment. However, Fox's "Bones" did leave the storyline open for me, so I may return again this season in the role of Michelle Welton, but we are still trying to work out scheduling. "Nikita" films in Toronto and "Bones" films in Los Angeles, so it can be challenging!
YH: Fashion Week is this week; how would you describe your personal style?
TH: I would describe it as fun and flirty with a touch of edginess. I like to walk a thin line between that classic, girlie look and a more edgy look. I like both trends, but I don't want to go too far in one direction. That being said, depending on the mood I am in that day, I am not afraid to take risks and can change up my style at a moment's notice.
YH: If you could play any character from a previous movie or TV show, who would it be and why?
TH: I would want to play The Bride from the Kill Bill Volumes 1 and2. I love strong badass female characters like the oneUma Thurman portrayed in that movie. Action films are my absolute favorite genre! And after filming "Nikita", I have to say that I am addicted to the adrenaline of doing my own stunts. And of course working with the brilliant genius that is Mr.Quentin Tarantino wouldn't be half bad either.
YH: If you were to star in a romantic comedy, who would be your ideal co-star?
TH: I am down to work with anyone really. There's not one actor in particular that sticks out more in my mind than any other. I guess if it was a romantic comedy, I would just want a co-star I really connect with, who can keep me laughing between takes, and if he was cute, I wouldn't hate on Casting either.
YH: What was your favorite thing about growing up in Cincinnati?
TH: Hands down, Skyline Chili. If you're from Cincinnati you totally get what I'm saying right now. If you're not, you need to visit 'cause it is amazing. I have lived in L.A. for six years now, and I beg people all the time to send me cases of it! Now that I am shooting in Toronto and I'm closer to home, I will probably jump on a plane and fly down just to get my Skyline Chili fix. They say, you know, someone is from Cincinnati if you say the phrase "3-way" and they get hungry.
YH: Halloween is around the corner; what will you be dressing up as?
TH: Oh wow, thanks for reminding me! I haven't really thought about it. Last year, I went as Storm! I had this super cool white wig and white contacts, which took me like 45 minutes to stick into my eye! But yeah, not sure who I will go as this year. Maybe Nikita?
-------------------------------------
Without a doubt, it appears that Tiffany has landed a wonderful role and worked her way up to it. Be sure to check her out tonight, as well as every other Thursday, at 9:00pm EST/8:00 pm CT!
(Image via FayesVision/WENN)
- Tyler Biddle-Barrows, YH Staff