SUNDAY MUSIC VIDS: P!nk
Written by Katie Marzullo. Published: August 15 2010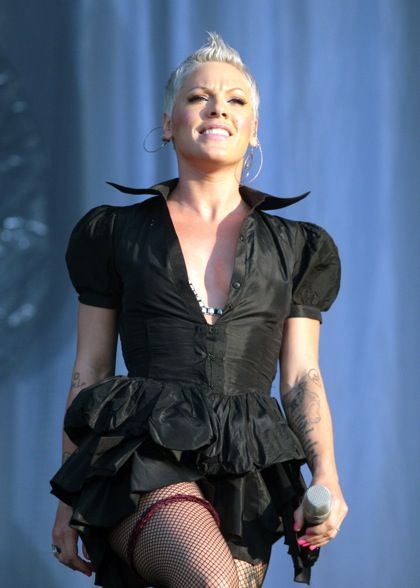 We all know 3 things about P!nk right off the bat: She's got killer pipes, she is crazy creative, and you can grate cheese on her abs.
All these things are a given. But what I personally love about P!nk (née Alecia Moore), and what I feel she doesn't get enough credit for, is her uncanny understanding of the human psyche and relationships. Songs like "Don't Let Me Get Me," "Dear Diary," and "Whataya Want From Me" (sung by Adam Lambert but written by P!nk) present truly unique and brutally honest portraits of the complex inner workings of human emotions. Anyone can sing a song about the heartbreak of splitting up with your honey, but how many can write lyrics like, "I forgot to say out loud / How beautiful you really are to me / I can't be without / You're my perfect little punching bag / And I need you / I'm sorry"? Epic.
Ms. Moore didn't really get to explore these frank and personal subjects until her sophomore album, Missundaztood (2001), following her much more radio-and-club-friendly debut, Can't Take Me Home (2000). I, for one, couldn't be happier that she has been allowed that creative freedom!
And with awesome songwriting comes, naturally, awesome music videos. I have four for y'all today, some of which are a little NSFW, so use caution!
"Try" had people talking for months due to its heart-wrenching interpretative dance -- not to mention P!nk's mind-blowing flexibility!
"Leave Me Alone (I'm Lonely)" was released as a tribute to her fans. Anything that pays homage to silent movies, I am totally all in for.
"Please Don't Leave Me" is another great example of P!nk's on-the-mark perspective of relationships. With great passionate love oftentimes comes great passionate loathing. This video is insane. And AMAZING.
"Just Like a Pill" - Again, we've all been there..."on the floor, where you left me." The funky camera work aptly conveys that sketchy feeling P!nk refers to in the song when you realize the object of your affection is becoming a danger to your health. BTW, P!nk is rocking the all-black look!
"Stupid Girls" - Probably P!nk's most talked-about and controversial video but that doesn't make it any less true. No Hollywood hot mess is safe from this one! This is P!nk's angry tirade against girls who fail to live up to their potential. If they can look up to anyone as a role model, it sure as hell can be this lady!
(Image via WENN)
- Katie Marzullo, YH Staff Editor