TRACK BY TRACK: Taylor Swift's 'Fearless (Taylor's Version)'
04-14-2021 by Madison Murray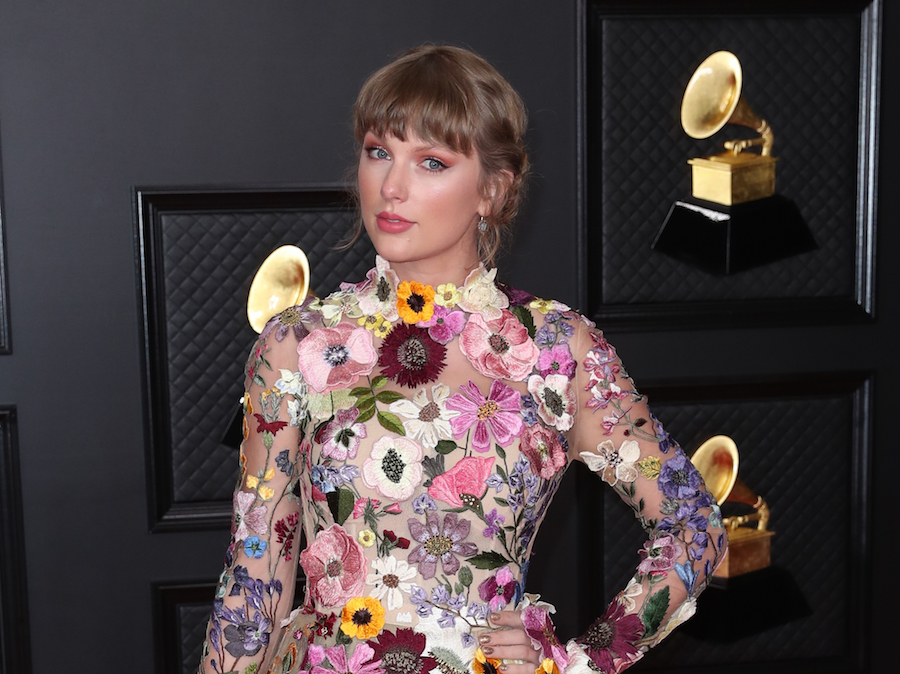 ( © Jay L. Clendenin / Los Angeles Times via Getty Images)  
Taylor Swift officially started taking back what's hers with the release of Fearless (Taylor's Version), the re-recorded version of her 2008 album Fearless. Taylor is recording new versions of her first 6 studio albums -- everything from her self-titled 2006 debut to her triumphant 2017 recordreputation - to regain ownership of her work after Big Machine Records sold her master recordings. 

Taylor's Version reimagines the Fearless album with new, stronger vocals and six new "From The Vault" tracks that she cut from the original record! She even recruited Maren Morris and Keith Urban to appear on 3 different vault songs, making it a fun celebration of her work and the friends she made along the way.
Let's jump in "head first, fearless" and take a closer look at the album!
1. "Fearless"
Fearless opens on a romantic note, with the title track describing a romantic, rainy night that gives Taylor more confidence. You can practically hear the smile on Taylor's face as she sings "it's fearless" to welcome fans to the album, making it even cuter than the original!
Favorite lyrics: "There's something 'bout the way the street looks when it's just rained / There's a glow off the pavement / You walk me to the car and, you know, I wanna ask you to dance right there / In the middle of the parking lot…" 
2. "Fifteen"
"Fifteen" was always one of the most nostalgic, emotional songs onFearless, but lyrics like "in your life, you'll do things greater than dating a boy on the football team" hit closer to home now that Taylor's one of the biggest names in music! The song talks about Taylor's high school experience (which her music career ultimately cut short) and her friend Abigail Anderson, who she's still besties with to this day.

Favorite lyrics: "Back then I swore I was gonna marry him someday, but I realized some bigger dreams of mine…"
 v
3. "Love Story"
"Love Story" was the first taste we got of Fearless (Taylor's Version)-- she released it in February to announce the album! The old version was one of Taylor's first breakout hits, making Taylor's version the best kind of trip down Memory Lane with gorgeous new vocals. It reimagines the classic story of Romeo & Juliet with a happy ending where the two lovestruck teenagers get married.
Favorite lyrics: "I got tired of waiting, wondering if you were ever coming around / My faith in you was fading / When I met you on the outskirts of town, and I said 'Romeo, save me, I've been feeling so alone…'"
4. "Hey Stephen"
"Hey Stephen" is a cute ode to Taylor's old crush on Stephen Barker Liles, the frontman of country group Love & Theft. They met while playing a show in Portland, Oregon, and Taylor wrote this song about it -- little did she know, he felt the same way! Stephen wrote a song called "Try to Make It Anyway" about his crush on her. We also love Taylor's little giggle at the end of the bridge!
Favorite lyrics: "Hey Stephen, I could give you fifty reasons why I should be the one you choose / All those other girls, well, they're beautiful / But would they write a song for you?"

5. "White Horse"
Just two songs after "Love Story", "White Horse" tears apart any fairytale romance Taylor had in mind. It describes a guy Taylor thought was her Prince Charming disappointing her and returning with fake apologies, until she realizes she deserves better and walks away. Going from wanting someone who "might actually treat [her] well" to dating actor Joe Alwyn for the past 4.5 years is the glow-up we were all rooting for her to have!
Favorite lyrics: "I'm not your princess, this ain't our fairytale / I'm gonna find someone someday who might actually treat me well / This is a big world, that was a small town / There in my rearview mirror, disappearing now…" 
6. "You Belong With Me"
"You Belong With Me" became one of Taylor's biggest crossover songs alongside "Love Story", describing a situation where her crush is stuck with a girl who doesn't appreciate him. It earned Taylor her first nomination for Song of the Year and Record of the Year at the Grammys, and its video won awards like the MTV Video Music Award for Best Female Video. Aside from critical success, it's also just a fun, catchy song!
Favorite lyrics: "I'm the one who makes you laugh when you know you're about to cry / I know your favorite songs and you tell me about your dreams / Think I know where you belong, think I know it's with me…" 
7. "Breathe" (feat. Colbie Caillat)
"Breathe" was the first collab Taylor ever did with another artist, recruitingColbie Caillat for fluttering back-up vocals. The song describes saying goodbye to a friendship even when it hurts, since you know it's best for you and the other person. It's such an emotional track that aged beautifully, and Taylor and Colbie's vocals sound better than ever!

Favorite lyrics: "Music starts playing like the end of a sad movie / It's the kind of ending you don't really wanna see…" 
8. "Tell Me Why"
"Tell Me Why" lets Taylor call out demeaning behavior from her boyfriend, filled with her signature wordplay and a side of sass. It's one of the most country-sounding songs on the album, making it one of the more nostalgic tracks for longtime fans. You can also hearCaitlin Evanson on violin -- Caitlin was part of Taylor's band for her tours in support of Fearless,Speak Now, and Red, so they've known each other for over a decade!
Favorite lyrics: "Why do you have to make me feel small so you can feel whole inside? Why do you have to put down my dreams 'til you're the only thing on my mind?"
9. "You're Not Sorry"
"You're Not Sorry" is a piano track about a guy who gives Taylor insincere apologies to save her view of him, though it clearly hasn't worked. This song is 4 minutes and 22 seconds of harsh jabs and tender hurt, making a stunning contrast that brings the story to life.
Favorite lyrics: "Looking so innocent, I might believe you if I didn't know / Could've loved you all my life if you hadn't left me waiting in the cold…" 

10. "The Way I Loved You"
On "The Way I Loved You", Taylor worries about her feelings for her ex after she starts seeing someone new. She can't help but compare her current relationship to her previous romance, making her feel bad for her new partner and scared about what this might mean for their future.
Favorite lyrics: "My heart's not breaking 'cause I'm not feeling anything at all / And you were wild and crazy, just so frustrating / Intoxicating, complicated / Got away by some mistake…" 
11. "Forever & Always"
"Forever & Always" embodies the frustration present in a relationship that's falling apart. Taylor questions why her lover is starting to act distant and wishes to "back up" to a time when they were happier. Her more mature voice can hold the notes much better than she did on the original, making it a re-recording you can't miss!
Favorite lyrics: "Here's to everything coming down to nothing / Here's to silence that cuts me to the core…" 
12. "The Best Day"
"The Best Day" is Taylor's emotional tribute to her mom,Andrea, which she recorded as a surprise Christmas present for her. Taylor's improved vocals make it sweeter, knowing how much she's been through in the spotlight and that her mom has been there every step of the way. It's especially emotional after hearing her 2019 track "Soon You'll Get Better", which she wrote about Andrea's cancer diagnosis.

Favorite lyrics: "I love you for giving me your eyes / For staying back and watching me shine / And I didn't know if you knew, so I'm taking the chance to say / That I had the best day with you today…"
13. "Change"
Taylor originally wrote "Change" about her early experience with Big Machine Records, an independent label based in Nashville, but after her battle for her masters, it feels like she's changing the meaning to describe her relationship with her fans. "These walls that they put up to hold us back fell down" perfectly describes all the obstacles she's faced throughout her career, including public feuds, the media trying to tear her down, and her fight to own her work, which she's beginning to "finally win"!
Favorite lyrics: "The battle was long, it's the fight of our lives / But we'll stand up champions tonight / It was the night things changed…" 
14. "Jump Then Fall"
"Jump Then Fall" is an adorable song Taylor wrote to win over a crush, promising she'll support him no matter what he goes through. The mixing is better on this version than the original, letting Taylor's vocals and the sweet lyrics take center stage.
Favorite lyrics: "I've never been so wrapped up, honey / I like the way you're everything I ever wanted…" 

15. "Untouchable"
"Untouchable" is a cover of Luna Halo's 2007 song of the same name, with a few small lyric changes. It's the only cover she's ever included on a studio album, and it's so pretty and ethereal! Her 2017 track "...Ready For It?" used similar imagery, making it a fun nod to "Untouchable".
Favorite lyrics: "In the middle of the night, when I'm in this dream / It's like a million little stars spelling out your name…"
16. "Forever & Always (Piano Version)"
While the original, electric "Forever & Always" feels spiteful and angry, the piano version showcases the sadness hidden in the lyrics. It's such a beautiful rendition that adds even more meaning to the song!
Favorite lyrics: "Here's to everything coming down to nothing / Here's to silence that cuts me to the core…" 
17. "Come In With The Rain"
On "Come In With The Rain", Taylor gets tired of putting more effort into a relationship than her boyfriend and vows to let him be the one to try to fix things. Her vocals are so smooth on this one, showing off how much she's improved over the years!

Favorite lyrics: "I could stand up and sing you a song, but I don't wanna have to go that far…" 
18. "Superstar"
"Superstar" is perfectly ironic in retrospect, with Taylor describing how she's "invisible" to a celebrity crush. It's fairly similar to "Hey Stephen", but the object of her affection feels even further and more unreachable, making it harder on her.
Favorite lyrics: "You'll never see, you sing me to sleep every night from the radio…" 
19. "The Other Side of the Door"
Taylor really shows off her songwriting chops on "The Other Side of the Door", describing the aftermath of a fight with a lover. She especially goes off in the outro, which details the fight in question with quick, rampant lyrics!
Favorite lyrics: "The conversation with the little white lies / And the faded picture of a beautiful night / You carried me from your car up the stairs / And I broke down crying, was she worth this mess? / After everything and that little black dress..."

20. "Today Was a Fairytale"
"Today Was a Fairytale" never appeared on a Taylor album (until now), but it did appear in the 2010 movie Valentine's Day, which Taylor starred in as a teenager celebrating the holiday with her boyfriend. It hits differently now that Taylor is in a long-time, happy relationship with Joe Alwyn! It's also a nice way to round off the fairytale references throughout the album, including the ones from "White Horse" and "Forever & Always". 
Favorite lyrics: "Can you feel this magic in the air? It must have been the way you kissed me…" 
21. "You All Over Me" (feat. Maren Morris) [From The Vault]
Fans fell in love with "You All Over Me" after Taylor's demo leaked online years ago, now they finally get an official version! Like her 2014 song "Clean", it compares a relationship's impact to a stain you can't ignore, with backing vocals from country superstar Maren Morris.
Favorite lyrics: "I lived and I learned / Had you, got burned…" 
22. "Mr. Perfectly Fine" [From The Vault]
"Mr. Perfectly Fine" is the snarky sister of "Tell Me Why" and "Forever & Always", with Taylor calling out a guy who broke her heart and got out unscathed. She nicknames her ex things like "Mr. 'Change of Heart'" and "Mr. 'Everything Revolves Around You'" to paint a clever picture of how he treated her in the relationship.

Favorite lyrics: "I hear he's got his arm around a brand new girl / I've been picking up my heart, he's been picking up her / And I never got past what you put me through / But it's wonderful to see that it never phased you…" 
23. "We Were Happy" [From The Vault]
Ironically, "We Were Happy" is one of the saddest songs on Fearless, seeing Taylor reflect on a crumbling relationship. Taylor describes flashbacks to nights sneaking into the circus and watching the circus to show how much she misses the early days of their romance with her signature detailed flair.
Favorite lyrics: "I hate those voices telling me I'm not in love anymore / But they don't give me choices and that's what these tears are for / 'Cause we were happy…" 
24. "That's When" (feat. Keith Urban) [From The Vault]
"That's When" is an adorable song about a couple who lovingly take each other back after a break. The Keith Urban feature is a fun full-circle moment -- Taylor opened for some of Keith's shows during the Fearless era in 2009; now he's joining her to expand the Fearless universe.
Favorite lyrics: "That's when, you were waiting at the front gate / That's when, when I saw your face / You let me in and, baby, that's when..."
25. "Don't You" [From The Vault]
"Don't You" is the poppiest vault track on the record, featuring production from Taylor's friend and longtime collaborator Jack Antonoff. The song describes Taylor running into an ex when she still has feelings for him, telling him he shouldn't lead her on if he doesn't want her back.
Favorite lyrics: "Sometimes I really wish that I could hate you / I've tried, but that's something I can't do..."
26. "Bye Bye Baby" [From The Vault]
Taylor says farewell to a failing relationship on "Bye Bye Baby", which she wrote with frequent collaborator Liz Rose, who also worked on songs like "You Belong With Me" and "Tell Me Why". It's like a country version of her 2019 track "Death By a Thousand Cuts", alternating between soft, low vocals and stronger, higher notes.
Favorite lyrics: "Guess I never doubted it, then the here and the now floods in / Feels like I'm becoming part of your past…" 
27. "Love Story" (Elvira Remix)
The physical album comes to a close with an energetic remix of "Love Story" byElvira! The Swedish producer previously remixed Taylor's 2020 song "willow" and she has produced songs for artists like Tove Lo and Katy Perry.
Favorite lyrics: "I got tired of waiting, wondering if you were ever coming around / My faith in you was fading / When I met you on the outskirts of town, and I said 'Romeo, save me, I've been feeling so alone…'"