TRACK BY TRACK: Ariana Grande's 'thank u, next'
Written by Jordan Cioppa. Published: February 14 2019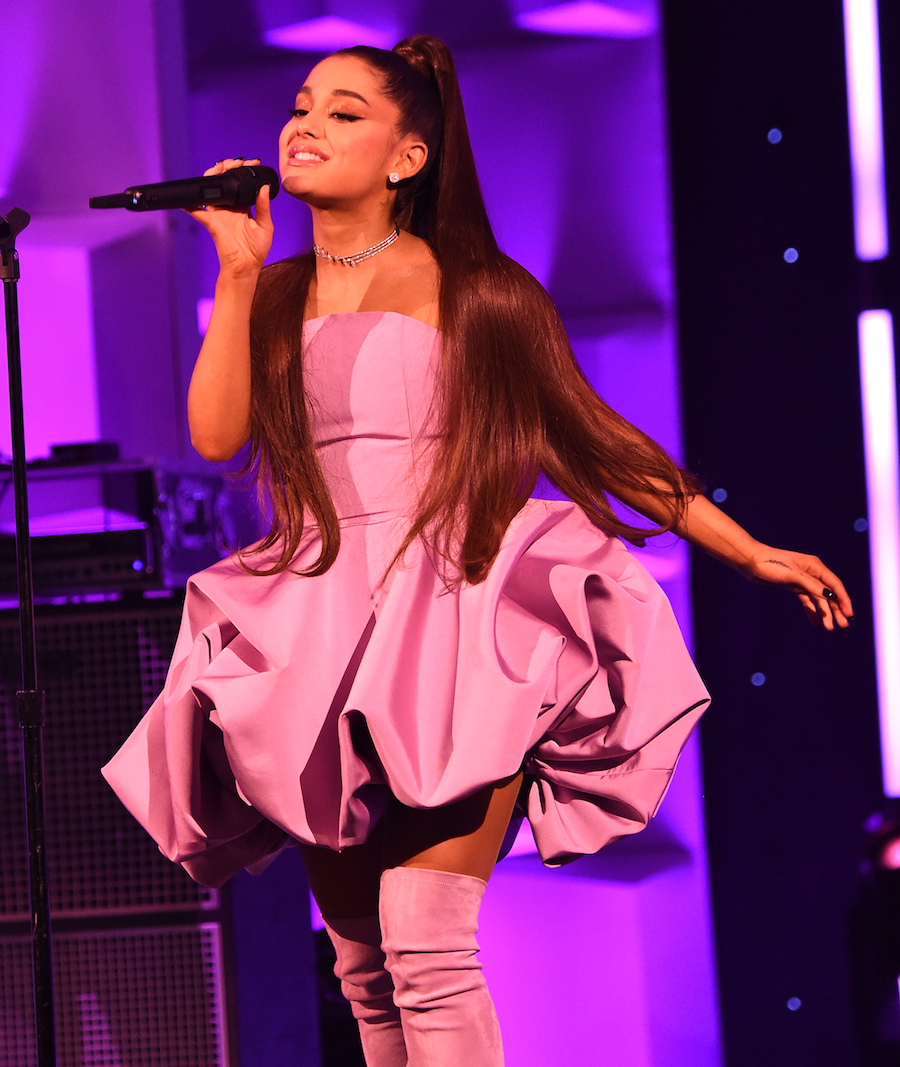 The spotlight was on Ariana Grande in 2018, for better and for worse. She dropped her recent GRAMMY Award-winning albumSweetener and gave us the best break-up anthem there ever was with her single "thank u, next". But things weren't always this bright for Ari. Her ex-boyfriend, Mac Miller, passed away from a drug over dose in September, and she and her fiancé at the time, Pete Davidson, went through a split that everyone was talking about. But despite the ups and the downs, Ariana proved to be as inspiring as ever and kept pushing through the pain…and with that, we have her latest album thank u, next. Named after her end-of-the-year single, the pop album dropped last week and includes 12 tracks, some new and some you have heard before. Each song is heartfelt and powerful, and you can hear almost every emotion she felt during the past few months through this music. This album is a reminder that, when times get tough, take a cue from Ariana andkeep your chin high... and your pony tail higher.
Let's break down thank u, next track-by-track!
(*=Explicit Lyrics)
1. "imagine" *
"Imagine", which dropped before the album, is my absolute favorite track fromthank u, next. This track is a slower one, with a soft and relaxing feel to it, similar to the scene she is describing. But that doesn't stop this one from being one of the most powerful and emotional songs on the album. Between Ari's incredible voice and the lyrics, I couldn't listen to this song without crying the first few times. Ariana seems to be singing to her significant other and imagining the little yet meaningful moments they had with each other, including staying in and ordering pad thai and their first kiss. Why does it make me cry? Well, listen to this song normally, then listen to this song again and picture she is singing about Mac Miller. Get it now? When Ari sings "imagine a world like that," it makes me think she is imagining a world where she and Mac are together again, sharing these moments. However you listen to this song, there is no denying its beauty. And how about those high notes at the end?!
Fave Lyric: "Kiss me and take off your clothes...", "We go like up til I'm 'sleep on your chest / Love how my face fits so good in your neck..."
2. "needy" *
Ari is keeping it so real with the second song of the album, and that is why we love her! We all know Ariana to be a very passionate person when it comes to relationships. When she loves, she loves hard! And there is nothing wrong with that, but in this song, she acknowledges what comes along with all of that passion and love she has to offer, and that's being needy. I love this song because it is such a relatable one, and she is being vulnerable and really putting herself out there by admitting this! It's one of those songs that makes you think, "okay good, I'm not the only one," when you listen. This song has a low-key, slower sound to it. The focus here is really on the lyrics she is singing. And she's not wrong when she said "it feels so good to be needed."
Fave Lyric: "And I'ma scream and shout for what I love / Passionate, but I don't give no f***s...."
3. "NASA"
In this track, Ariana identifies the importance of "me time", which pretty much completely contrasts everything she sang about in the previous song. "NASA" is basically about Ari telling her significant other, look, I love you, but you need to give me some space. Respect! I also love the beat of this song and how it is a play on the word "space" (hence the NASA reference). She goes on to say how she needs to be left alone for a while or else he will "drag her under." "Needy" and "NASA" are two moods, and we all know it is easy to switch from one to the other in seconds. Thank you for this, Ari!
Fave Lyric: "Baby, I can't really miss you if I'm with you / And when I miss you, it'll change the way I kiss you..."
4. "bloodline" *
Ari is taking no prisoners in this next song. Okay, that is dramatic, but this song is pretty savage. Here, Ariana is showing her sassy side when she tells the person the track is directed to that she is only trying to have a good time. A no-strings-attached type of deal. Ariana has no interest in falling in love and definitely isn't interested in letting this person in her "bloodline". I guess this means getting married? Whatever it means, Ariana is clearly over it in this song and doesn't have to apologize for saying it. Aside from the lyrics, I love the beat of this song, and it even has a similar feel to her hit "Side to Side", which featuredNicki Minaj.
Fave Lyric: "Don't want you in my bloodline, yeah / Just wanna have a good time..."
5. "fake smile" *
As I mentioned before, Ariana Grande has been through a LOT, these past few months. And on top of that, she has gone through it all while the entire world is watching. Well, "fake smile" gives us a little peak into what that must feel like. In this track, Ari is expressing how grateful she is for the love, but it's still hard for her to fake a smile after everything she has been through. I think people of all ages and backgrounds can relate to this, but especially celebrities. Everyone thinks their lives are oh so perfect and that they should be appreciative of what they have, but this song is a good reminder that they are human too! Although the lyrics are about a heavy topic, this song still has a light and upbeat tone to it.
Fave Lyric: "I'm happy for the love and all of the above / If I'm being honest, I done been through way too much."
6. "bad idea"
I love "bad idea"! This one definitely has a more pop vibe to it and sounds like it would be one of the songs from the album that makes it onto the radio. A similar theme as "bloodline", Ariana is clearly not ready for anything permanent when it comes to love and she tells this person she is temporary. Another theme this track explores is wanting something that you know is bad for you. Ari may have had a bad idea, but this track was definitely a good one.
Fave Lyric: "'Cause I don't wanna roll with it / Tryna get control of it..."
7. "make up" *
Breaking up and making up is the bulk of this song's lyrics, but the theme goes a little deeper than that. Ariana is basically saying that she likes fighting, because of what it leads to -- a make-up. What does this mean? Well, Ari definitely enjoys everything that comes along with making up. You'll just have to listen for yourself to see what I mean. Playful and fun, the lyrics and beats are the perfect combo!
Fave Lyric: "My energy and attitude don't really coincide..."
8. "ghostin"
There is not a dry eye in the room when this song comes on. Including mine! In a tweet responding to a fan, Ariana confirms this song is about loving someone different than who you're in a relationship with. When you listen to the heartfelt lyrics, one can assume she is referring to Pete Davidson and Mac Miller. Ari gives us all of the feels when she expresses how sorry she is for putting him (Pete?) through this, and appreciates him being there for her. Ari really ripped our hearts out when she said she wishes he were here instead (Mac?). I can't help but to think she is referring to her relationship with Pete after Mac died and how they were going to get through it. With his death, I could imagine old feelings for Mac probably flooded her, making her relationship hard. This song is raw and beautiful and is for sure one of my favorites on the album.
Fave Lyric: "He just comes to visit me when I'm dreaming every now and then..."
9. "in my head" *
"In my head" has an upbeat R&B feel to it and is really about putting someone on a pedestal and finding out they aren't who you thought they were. Could this possibly be about Pete? Well, with their whirlwind romance, engagement, and then break-up all within a span of about 6 months, it might be. But whoever it is about, it is deep and can strike a cord with anyone who is going through heartbreak.
Fave Lyric: "They see demon, I see angel / Angel, angel without a halo..."
9. "7 rings" *
So, I have to admit, this song is not my favorite, but it's definitely very fun and upbeat. A lot more light-hearted than the others! "7 rings" came before the album and is all about the finer things in life. After all, diamonds are a girl's best friend! This song is meant to sound like "My Favorite Things" from The Sound of Music, but it sparked controversy when multiple artists includingSoulja Boy claimed this song sounds a lot like their own. In a tweet, Ari explains this song is inspired by a day she and her friends had a little too much champagne and went shopping at Tiffany's. She then bought all of her friends rings. Can I get an invite on the next trip to Tiffany's?!
Fave Lyric: You like my hair? Gee, Thanks! Just bought it..."
10. "thank u, next" *
What wouldthank u, next even be without "thank u, next"? Even though I already touched upon this song before, and it has already made its mark on the world, it still deserves an honorable mention! Ari inspired so many with her vulnerability, growth, and learning she expressed throughout "thank u, next". And it is just to fun to sing along with too! Ariana stole all of our hearts with this song, as well as a spot at the top of the charts.
Fave Lyric: "I know they say I move on too fast, but this one gon' last / 'Cause her name is Ari, and I'm so good with that."
11. "break up with your girlfriend, i'm bored" *
This song is all anyone is talking about, and how can you not with a title like that?! Once again, Ari is putting it all out there with this fun track, as she sings about wanting someone so bad but is faced with one problem: his girlfriend. Aside from the catchy lyrics, the beat this song opens with is so good and I am obsessed! The music video is just as good, especially because the girlfriend in Ariana's way is made out to resemble her. It is definitely an interesting concept and a great song.
Fave Lyric: "Break up with your girlfriend yeah, yeah, 'cause I'm bored..."
"Thank u", Ariana, for this amazing and emotional album…we can't wait for the "next"!
(Image via Kevin Mazur/Getty Images)
- Jordan Cioppa, YH Contributing Writer