Top 5 Most Memorable 'Maze Runner' Moments (So Far)!
Written by Nicole Dzenga. Published: January 26 2018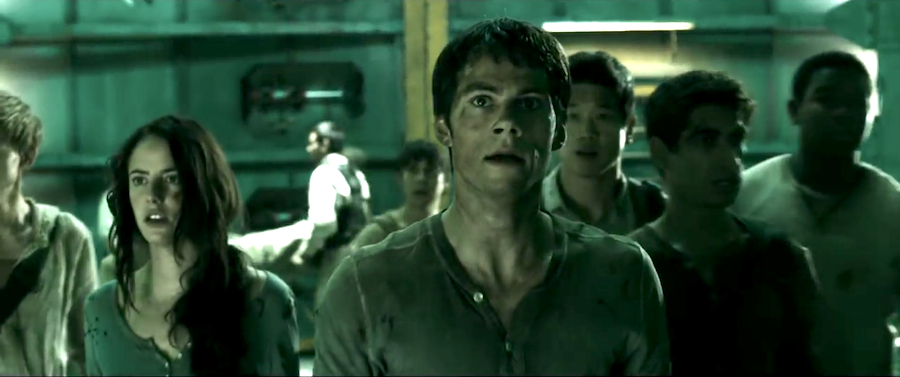 With the premiere of the third and final Maze Runner film, The Death Cure, opening today, it is only essential that we take a trip down Memory Lane and recount the great moments this film has given us so far. From the Thomas and Theresa dynamic, to the characters we can't help but like -- a.k.a our boy Newt -- it has been one heck of a ride and we can't wait to see how our minds will be blown one last time!
So here is a countdown of Maze Runner greatest moments! WARNING: SPOILERS AHEAD!
Thomas goes into the maze
Okay, we are pretty certain that if push came to shove and suddenly walls were closing in on you at the speed of lightning, the last thing you would do is run into them! Well, that is what separates Thomas (Dylan O'Brien) from the rest of us. His heroic mindset seems like it can get him killed at times, but somehow he always finds a way to survive, and even save a life here and there in the process! This scene was crazy scary, but the fact that Thomas was willing to risk his life to save someone he just met is even scarier. That is bravery at its finest, and also the start of a lovely budding bromance between him and Minho (Ki Hong Lee)! Consider it a win for us all!
Thomas versus Gally
This scene was far from easy to watch. There was a bit of trickery involved with the slow build-up to a crazy, intense fight scene, and of course Gally's persona did it justice! To be honest I don't think anyone was a true fan of the "Greenie" nickname; luckily all it took was Thomas taking a beating (literally) and the rest was history! The fact that he got to remember his name in such a cool but uncomfortable way really made the scene stand out. We love you, Greenie!
Theresa's betrayal
Talk about an insane plot twist! We were pretty sure Thomas and Teresa (Kaya Scodelario) were destined for one another and were basically our newest OTP. Nope! Turns out Teresa wasn't about it and chose to betray Thomas by sending out their location. Teresa may very well be Gale 2.0 (The Hunger Games), so the only question left is, has this ship officially sunk? Hopefully, The Death Cure will give us some answers and we can move in peace!
Thomas and Brenda/Teresa's Kiss
This may not have been the most romantic kissing scene -- in fact, it was pretty strange and made Thomas look very confused, but it definitely gave us butterflies! Even though it takes place in a weird party where everyone was heavily influenced, it was still a surreal moment and gave us a sneak peek into Thomas's vulnerable side and how indecisive he can be. Falling involve with two people isn't quite the answer, Thomas! 
Chuck's Death
This was definitely a tear-jerker. Why did it have to be Chuck (Blake Cooper)!!!??? The youngest and cutest of them all was taken way too soon and it is the saddest, most emotional scene of the entire film. This scene was powerful and a game-changer because it reinforced the message that no one is safe. The realness of the movie increased big time and Thomas's tears made it even more of a wake-up call. 
Woah, there are so many outrageous and exhilarating moments in these films that will leave a powerful mark on screen and in our hearts. Our only request is that Thomas makes it out alive because losing him too would just be too much to handle!
(Image via 20th Century Fox)
- Nicole Dzenga, YH Contributing Writer