Tom Hanks Bringing Lewis & Clark's Adventures to HBO
Written by Kevin Donaldson. Published: February 06 2015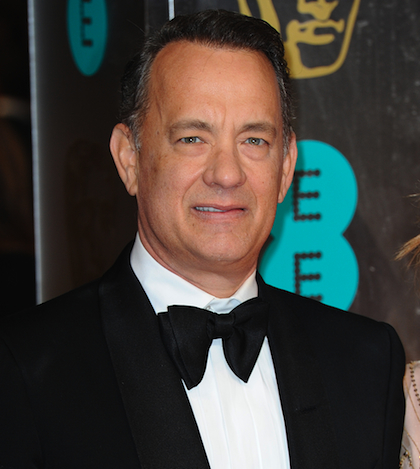 Tom Hanks, Brad Pitt, and Edward Norton are bringing Lewis and Clark to where they have never been before… HBO! The premium cable channel has announced plans to create a miniseries surrounding the adventures of the famous U.S. government appointed pioneers, but Hanks and company will not be acting in this and will only be producing it. Which is a shame, because I think Hanks would make an amazing Sacagawea, amirite?
Of course, this wouldn't be the first time that Hanks has gone into producing an American historical miniseries with HBO. In the past, Hanks produced the popular World War II miniseries "Band of Brothers" and "The Pacific" (appearing in the former and narrating the latter), along with the series "Big Love". Now that my hopes of Hanks trying a completely different kind of role by playing a Native American woman have been confirmed to not be happening, no word has been officially released promoting or denying the idea of Hanks narrating the project.
Instead of talking about the people producing this series (specifically Tom Hanks), how about we talk about who is actually playing Lewis and Clark? Casey Affleck and Rust and Bone'sMatthias Schoenaerts have been tapped for the roles, though we do not yet know who will be Lewis and who will be Clark.
This sounds like it'll be fun to see. I remember being a student and learning about Lewis and Clark. It was always a pretty cool story to me. I like how America sent a Captain named Merriwether Lewis and his Second Lieutenant friend namedWilliam Clark on a mission to find out what the rest of America looked like, among other things. It was well after the days of everyone believing that you could fall off the side of the flat Earth, but it's fun to think that there still might be some fear of that when going into uncharted territory back then. Also, I remember learning in some classes that Lewis and Clark wouldn't have gotten anywhere without Sacagawea (missing a huge role here, Hanks) and made accidental contributions to science. This has the makings of the original buddy comedy if you ask me. I'm sure it'll have a much more serious tone to it, which is fine, because in school all I had to watch on their story were some cartoon movies and documentaries the names of which I cannot remember. Certainly nothing like this was shown to me at any age.
No premiere date has been set yet nor has the official title been released. We do know that the show will be six episodes long and production will begin this summer. With that information one can assume that perhaps next winter it will be out, but we don't know for sure.
In the meantime, check out our YH Studio chat with Matthias Schoenaerts to find out how to properly pronounce his name!
(Photo via WENN)
- Kevin Donaldson, YH Staff