"The Walking Dead" at Comic-Con '16: The Subject Was Negan
Written by Katie Marzullo. Published: July 25 2016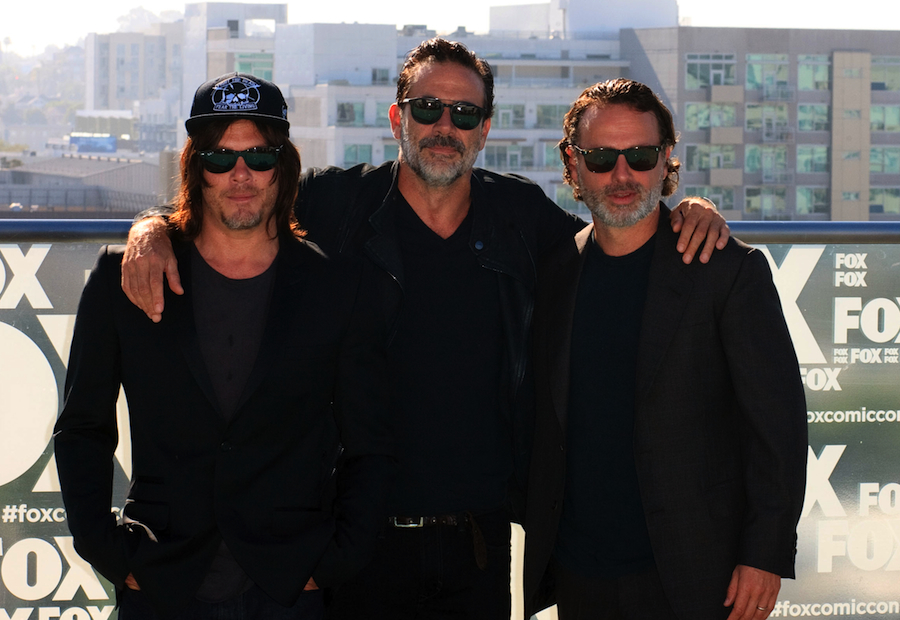 Following their panel in Hall H Friday afternoon, the cast and creators of AMC's "The Walking Dead" congregated into a little room at the Hilton Bayfront Hotel for what was essentially a much more intimate press-only panel -- so intimate, in fact, that they had to be split up into two groups since the room could not accommodate all panelists at once, which included Andrew Lincoln,Norman Reedus, Jeffrey Dean Morgan, Steven Yeun, Lauren Cohan, Chandler Riggs, Danai Gurira, Sonequa Martin-Green,Michael Cudlitz, Josh McDermitt,Christian Serratos, Ross Marquand, comic book creator Robert Kirkman, executive producers Scott Gimple, David Alpert, and Gale Anne Hurd, and director/EP/head of makeup Greg Nicotero. Here, they fielded questions from members of the press, but given the highly secretive nature of the upcoming Season 7 (where we all left off wondering which member of Rick's group new villain Negan pummeled to death with his merciless bat, "Lucille"), no one could give any real specific answers to anything. The hour was not wholly fruitless, however! Below are some highlights from the discussion:
- Robert Kirkman assured us that more characters from the comic books are coming, including the tiger Shiva (which he confirmed is pronounced "Shee-va".... for those who thought "Shi-va" and "Neh-gan", you're 0 for 2!), which will be entirely CGI due to, you know, certain safety concerns about having a live tiger on set.
- Steven Yeun explained how working on this show is more than just an acting role -- it's a "lifestyle". He cited how he was pretty much sequestered and isolated for a month during "Dumpstergate" last season in order to keep Glenn's fate a secret.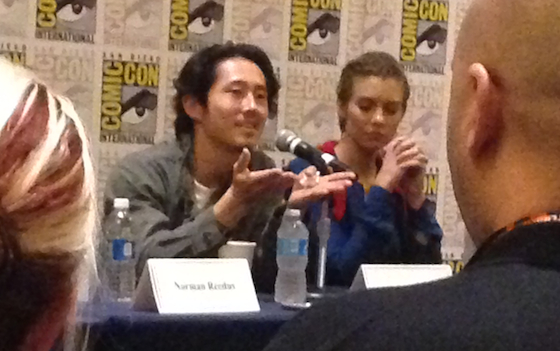 - Gale Anne Hurd explained that the reason they left Season 6 on a cliffhanger is because they wanted to extend the experience of Negan's unforgettable introduction a bit longer.
- Kirkman & Gimple talked about how they work hard to tell a good story for the fans and therefore "respect" their reaction to certain big events. Greg Nicotero added that the process of deciding which characters will die is an "agonizing" one, especially since it always changes the "atmosphere of the cast", and David Alpert stated that if a death on the show isn't upsetting, then they haven't done their job, but none of the deaths on the show are arbitrary.
- When it comes to season-ending cliffhangers, Kirkman says "Don't compare us to 'Game of Thrones'!"
- Most, if not all, of the cast have read the comics, even if the show does not strictly adhere to them. Alpert pointed out that the comic books are a "road map" but that the show needs to have "a life of its own". Even still, the actors seem to find it helpful to be familiar with the source material. Michael Cudlitz in particular revealed that he played Abraham's backstory with Rosita from the comics even though it was never really addressed in the show.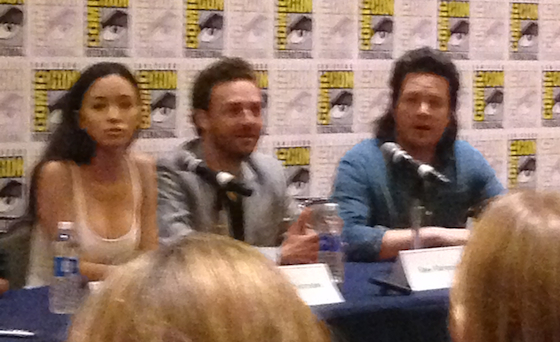 - The crew will be double-filming all of Negan's Season 7 scenes to include his comics-canon potty mouth for the DVD special features.
- Kirkman revealed that Rick ending up with Michonne had been discussed as early as Season 4 (in the comics, Rick ends up with Andrea).
- Jeffrey Dean Morgan talked about the warm and welcome response he's gotten at Comic-Con but fears that fans won't be so nice next year once Season 7 is said and done. He also spoke at length about how welcoming his co-stars have been and how they made it easy to integrate into their little family. "This role for me is really special," he said, adding in regards to his performance that there is "not a trace of Jeff in Negan."
- Andrew Lincoln said that as hard as it is to lose people on this show, it's not too difficult because they inevitably run into them again at Comic-Con: "All the dead ones show up here!" Greg Nicotero added that no one is every truly out of "the club" once their character has been killed off.
- Nicotero also talked about some of the exciting things in store this season in terms of the zombies themselves, and how his design team's ethusiasm has not waned in the slightest.
- Norman Reedus reflected on going back to the beginning of the series from time to time just to see how much certain characters have progressed and evolved, citing Carol as an example. Danai Gurira added that she knew Daryl had changed the moment he defended Glenn to Merle.
And that's all the stuff you didn't get to see because cameras were not allowed in the press conference! (Sorry for the crappy photos; the room wasn't very well-lit and there were a lot of heads in my way!)
Season 7 of "The Walking Dead" premieres on October 23.
(Top photo via Tony Forte/WENN)
- Katie Marzullo, YH Staff Editor