5 Best Moments from Meghan Trainor's Gig at the Greek!
Written by Alexa Armstrong. Published: July 25 2016
On Friday, July 22, the Megatronz herself, Meghan Trainor, took over L.A.'s Greek Theatre and Team Trainor took the stage. Meghan is currently in the middle of her Untouchable Tourbut, in case you missed the show -- or you have tickets for a future show and want a sneak peek of what to expect -- we're reminiscing on the 5 best moments of the night!
1. During her performance of "Friends", adorable videos of Meghan with her own real-life friends were projected onto the screen behind her. Everyone in the audience was definitely wishing that they were a member of Meghan's squad. "I know we about to have a good time / 'Cause I've got all my friends with me."
2. Meghan's father, Gary Trainor, joined the singer on stage to show off his moves during (of course) "Dance Like Yo Daddy", and Mr. Trainor definitely knows how to get down!
3. "Like I'm Gonna Lose You" was written as a duet with John Legend, but to everyone's surprise, Legend did not join Meghan on stage... instead, comedian James Cordendid! Between this and his "Carpool Karaoke" segments, we're left wondering why Corden doesn't have an album of his own.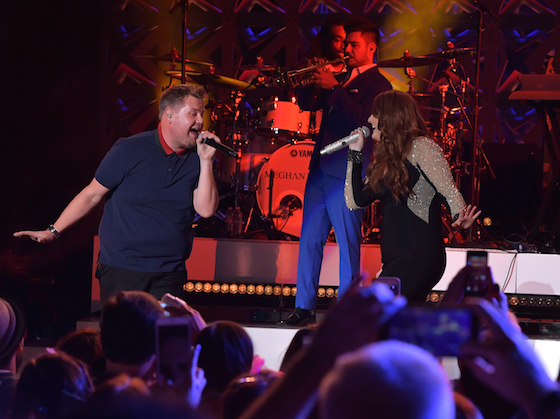 4. In addition to singing all of her own hit songs, Meghan even gave the audience an incredible cover of Drake's "Style".
5. To wrap up the show, Meghan sang "Thank You" as a tribute to her fans but went a step further by having a few fans on stage with her to help her sing the song!
(Photos via Getty Images for Epic Records)
- Alexa Armstrong, YH Contributing Writer