The Top 5 Best Moments of the San Francisco Giants Victory Parade!
Written by Nicole Koch. Published: November 04 2014
Yes! Yes! Yes!
The San Francisco Giants have done it again and have won their THIRD World Series title in the last FIVE years! I had faith that they would do it, not only because of their amazing talent, but because theytend to win on even numbered years -- 2010, 2012 and now 2014! Being a born-and-raised Bay Area girl, I just had to make the drive up to SF to witness the parade celebration (their colors are black and orange, and the parade fell on Halloween -- how perfect!). I couldn't make it during the last two wins, so this trip back to the Bay was particularly special. So much coolness surrounded me that day, but I've compiled a list of five major things that stood out!
5. The Players
Okay, #realtalk -- This team has the most attractive players I've ever seen. They KILLED it this series. I was right behind the metal gates, so I was up close and personal with these hotties. They each shared a double-decker bus with one other player, and their names were printed on the sides so we could see who was coming up next. I usually don't get starstruck, but seeing this winning team in the flesh was the pinnacle of the parade. The players are in the spotlight on a daily basis, yet they all seemed so excited and humbled to be taking part in such a cool event. 25-year-old pitcherMadison Bumgarner had his own bus and came out last. I mean, that only makes sense since he was named the 2014 MVP! He's very serious and hardly smiles, but if you look closely, it kind of looks like there's a smirk on his face! Hunter Pence, 31-year-old outfielder, can be seen at the top of the page, celebrating his victory after scoring 7 runs during the series!
4. The Pride
SF is known for sharing pride of ALL kinds. The fans taking it to a whole other level is an understatement! As I walked through a sea of black and orange, all I could think about was how proud everyone was to be a Giants fan. People were decked out in Giants colors and sported all types of jerseys, shirts, and hats. Panda heads and panda beanies (in honor of third baseman Pablo Sandoval) could be seen blocks away. Fans were sitting in trees and climbing on buildings just to see their favorite players. The entire Downtown area was full (to the dismay of SF residents, I'm sure) of these satisfied and overjoyed fans! It was incredible to watch, and the sounds of cheers echoed for hours.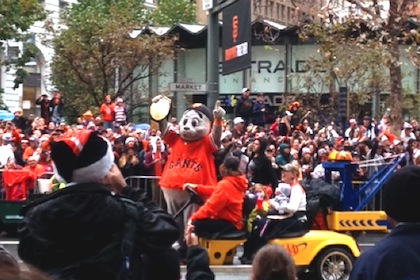 3. The Floats
There were so many floats at the parade, but I chose two that I absolutely loved. The first one had the three latest years of World Series wins blasted in huge numbers for all to see! As this one approached us, fans started getting louder and louder. I liked this one a lot because Dodgers fans are always telling me the Giants win out of pure luck. Those numbers right there show that they have pure talent! The other one that stood out to me was the Panda float. Pablo Sandoval's contract is up, meaning he's a free agent (Panda, don't go!). Fans recognize those Panda heads anywhere, and we're all hoping he stays with the Giants. And I'm obsessed with the sign, "Stay orange, Panda". It's so damn clever.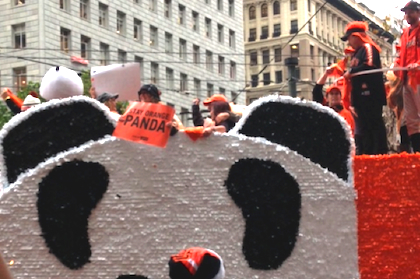 2. The Weather
Being a Bay Area girl, I look forward to having different seasons (especially Fall and Winter!). I've spent a year-and-a-half here in Los Angeles and haven't experienced anything below 75 degrees! I was SO excited to get back home, and the weather was the cherry on top! Dark clouds, overcast, 50-degree weather, and RAIN made the trip all worthwhile. The players and fans seemed to care less about the cold wind and sprinkles. Orange and black beanies and scarves were everywhere. I got to rock black boots and my leather jacket. Heaven.
1. Nostalgia For Home
I always miss home, and whenever I go back to visit, I end up staying for a few weeks. This time, I stayed less than 24 hours, and it was so bittersweet. The sights, the weather, my family, and friends were all worth the five-hour drive. Seeing AT&T Park brought back feelings of exhilaration and reminiscence. The Giants have another notch in their World Series belt, and I got to be a part of it. Can't wait to see what my boys do in 2015! Or should I say 2016?! #OrangeOctober #OctoberTogether #GoGiants!!!
(Photos via Nicole Koch)
- Nicole Koch, YH Staff