The Most Jaw-Dropping Looks From the MTV VMAs Black Carpet!
08-29-2022 by Amelia Gorman and Jazlen Patrick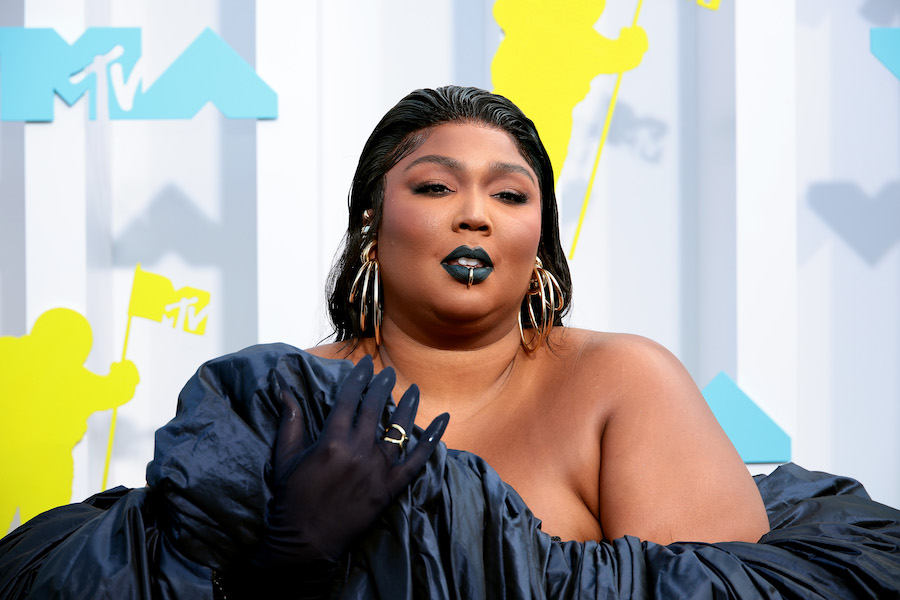 ( © Dimitrios Kambouris/Getty Images for MTV/Paramount Global)  
Last night, the 2022 MTV Video Music Awards hosted a plethora of talented stars to celebrate this past year of music and music videos. Apart from the wonderful performances from artists like Jack Harlow and Nicki Minaj, we couldn't stop thinking about all the fashionable and bold looks that many celebrities rolled up in. From odes to '90s VMA fashion and surprise album announcements (Swifties unite!), the night was filled with many iconic moments. We couldn't name them all (or else we'd be here all day), but here are just a few of our favorite outfits from last night's black carpet!
1. Lizzo
We couldn't possibly write this without mentioning Lizzo's amazing outfit. Her look may have sparked up some varying opinions, but we're declaring it a definite serve; we think it's safe to say that she stole the show. This gorgeous navy blue gown by Jean Paul Gaultier featuring lots of volume and stunning Jennifer Fisher jewelry had everyone's jaws on the floor. Pairing this dress with sheer navy Lael Osness gloves was the perfect, classy addition to the outfit. Lizzo was nominated for 5 awards and won the Video For Good Award for "About Damn Time". If we could give out a Best Dressed award, Lizzo would have definitely won!
2. Becky G
Becky G rocked a Zuhair Murad dress covered in gems that we just couldn't take our eyes off of. The longer you look at this dress, the more you discover, like the beautiful feature images throughout. The vertical cutouts going down her side was our favorite component. This gown hugged her petite body showing off her beautiful curves. With a red lip to finish, Becky G gave us edgy and couture all in one, and we're here for it.
3. Khalid
Giving us fun and funky, Khalid was like a ray of sunshine on this year's black carpet. The color scheme of the yellowish-orange and purple suit him well and give off an exciting yet chill vibe. He looks both stylish and comfortable in this Versace ensemble, which will no doubt come in handy when sitting through a long award show! Just looking at Khalid in this outfit would make anyone smile. Hands-down one of our favorite looks.
4. Sofia Carson
In our opinion, nobody could have worn this Carolina Herrerra dress as perfectly as Sofia Carson. This dark look matches her aesthetic completely. From her dark hair to her dark eyes, this look seems so effortless for the actor/singer. This strapless gown with an oversized hood was simple but elegant, making it one of our favorite looks from last night.
5. Chloe Bailey
We absolutely loved Chloe Bailey's silver sequin look. This custom Zigman gown was both elegant and futuristic at the same time. The sparkly, sheer corset was the focus of the dress but also had other features that we loved, like the high leg slit and the off-the-shoulder piece added to the top. Chloe showed up and showed out with this look, and we can't wait to see more from her.
6. Taylor Swift
Taylor Swift literally dazzled in a beautiful Oscar de la Renta Pre-Spring 2023 silver mini-dress that featured a stunning draped-jewel detailing, and fans couldn't help but point out the similarity between Swift's 2022 VMA look and the diamond bathtub in her 2017 video "Look What You Made Me Do".  In addition to her incredible look, Swift's "All Too Well (10-minute version) (Taylor's Version)" won Video of the Year and she announced her next album, Midnights, debuting this October!
7. Anitta
Brazilian singer-songwriter Anitta rocked a gorgeous Schiaparelli Haute Couture gown last night on the black carpet. The velvety red dress featured an asymmetrical corset top, with a sculptured heart detail on the left side. In conversation with Vogue, Anitta revealed, "The vein detailing over my heart signifies my love for Brazil." Fans also recognized the similarity between Anitta's look with Lil Kim's iconic 1999 VMA purple, asymmetrical jumpsuit. Even more impressive than her stunning look, Anitta made history as the first Brazilian artist to take home an award from the VMAs after winning the Best Latin category with her song "Evolver"!
8. Lil Nas X
Lil Nas X dropped jaws everywhere in a unique and dramatic Harris Reed look to accompany his impressive 7 nominations of the evening. Nas's look featured a stunning feathery headpiece and skirt, and certainly had all eyes on him as he walked the carpet. The rapper and singer's collaboration with Jack Harlow on "INDUSTRY BABY" earned 3 VMAs in Best Collaboration, Best Art Direction, and Best Visual Effects!
9. BLACKPINK
Unsurprisingly, all 4 members of BLACKPINK looked stunning in their perfectly coordinating all-black looks as they walked the VMA black carpet. The women of BLACKPINK looked equally elegant and edgy—the perfect combination, if you ask us. BLACKPINK was nominated for 2 awards last night and ended up winning the award for Best Metaverse Performance!
What were you favorite looks of the night?