The Legacy and Legend of Lauren Bacall
Written by Greg McIver. Published: August 13 2014
"Anybody got a match?" Those four little words were the first ones spoken by the character of Marie "Slim" Browning in a movie called To Have and Have Not, and they not only served to introduce that mysterious and seductive character but to also launch the career of one of Hollywood's greatest actresses: Lauren Bacall.
In 1944, at the age of just 19, she landed the lead role opposite the already-legendary Humphrey Bogart in in the classic film, after director Howard Hawkes's wife spotted Bacall on the cover of Harper's Bazaar. She was then a relatively unknown talent but would soon captivate millions of Americans, including her co-star Bogart, whom she would later marry in 1945. They went on to star in three more movies together until Bogart's death in 1957.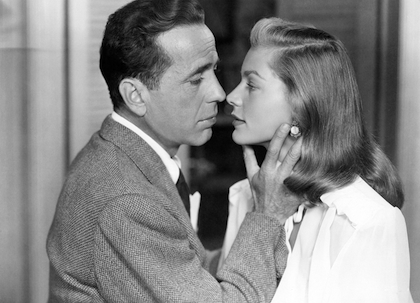 What was it about Lauren Bacall that set her apart from all of the other Hollywood leading ladies? Well, certainly she had a capacity for being seductive and emotionally enigmatic while still being able to play the character written, but ultimately I think it was her underlying mischievous quality and bold confidence that set her apart from many other leading ladies. She took great pleasure in the fact that she was a beauty and could use that to her advantage, but she never let you forget that she was just as strong as any man that she ever shared the screen with.
Bacall proved time and time again that she was a great talent by going on to star in such films as The Big Sleep, Key Largo (my personal favorite of the Bogie & Bacall films), Dark Passage and Murder on the Orient Express (my favorite Bacall role ever). Despite her great talent, Bacall's first Oscar nomination would not come until 1996 when she was nominated for Best Supporting Actress for the film The Mirror Has Two Faces. In 2009, she was awarded an Honorary Oscar for her wonderful contributions to the world of cinema. Sadly, Lauren Bacall's journey came to an end on August 12th when she died of a stroke at the age of 89.
If you are not that familiar with the works of Lauren Bacall, then I greatly encourage you to seek them out. The movies listed above are excellent choices to start with and are not hard to find. A wonderful actress and screen legend has been lost, but she will remain in the hearts of millions forever. Rest in peace, Lauren Bacall. Here's looking at you, kid.
(Photos via WENN)
Greg McIver can be found on Twitter @GregPMcIver. Check out his other reviews and articles at www.nerdtopiacast.com, and be sure to tune in to his weekly podcast Filmtopiacast 3000 which is currently available on YouTube, iTunes, and Stitcher.