The "Dead to Me" Season 2 Teaser Trailer Has Dropped; Everything We Know So Far!
04-15-2020 by Calissa Kirilenko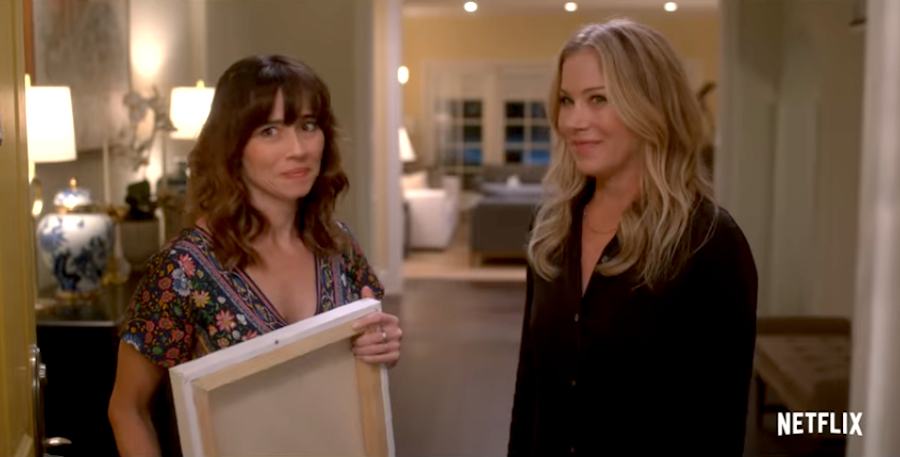 ( © Netflix)  
Your favorite dark comedy is coming back sooner than you think!
Netflix announced that the second season of Netflix's Emmy & Golden Globe-nominated series "Dead to Me" will be returning on May 8, so set a reminder in your phone right now to re-watch all of Season 1 before the premiere date.
Netflix also released a new teaser trailer for the show, which doesn't give much away as to what Season 2 has in store, other than we will be picking up from where Season 1 ended.
To re-cap, Jen (played by Christina Applegate) finds out that Judy (Linda Cardellini) is responsible for the hit-and-run that killed her husband. Then, on a massive cliffhanger, we find Steve, Judy's ex-fiancé, dead in a pool with Jen standing over him. We have plenty of questions, and I'm sure they will all be answered soon.
There are new characters this season too, including Diana Maria Riva, who plays Detective Ana Perez. In her role, she investigates what we assume to be the death of Steve, based on the trailer and Season 1 finale, leading Jen and Judy to take drastic measures to protect themselves, their family, and the deadly secret they now harbor together. This can only mean that their friendship is sure to grow, meaning more scenes of the two characters with witty dialogue that makes this show so amazing.
The show's creator Liz Feldman hasn't given much away other than the fact that we will see "further exploration" of Jen and Judy's relationship. We're all for that! She also reported that this season will not be "exactly what you think it's going to be." Does that mean Steve could still be alive? That maybe Jen didn't shoot him, as the show made it look like?
It seems like there are many options as to where Season 2 could lead, until then, we'll be anxiously awaiting our favorite binge-watch.