The Biggest Hollywood Event You've Never Heard Of!
06-13-2022 by Polina Skudskaya-Levant
  ( © Lauren Justice/Bloomberg via Getty Images)  
Being a celebrity in Hollywood isn't just about walking red carpets and doing interviews and posting to Instagram. Young actors, musicians, and influencers today are engaging with the world like never before. They invest in start-ups. They collaborate with non-profits. They use their voices to highlight important issues like climate change. They get involved and make an impact.
One of the premiere organizations dedicated to making a better, healthier world is the Milken Institute. Every year, at the Beverly Hilton Hotel, the Milken Institute holds a Global Conference that draws hundreds of the most important influencers, innovators, artists, and leaders from around the world. Just like the Oscars or Golden Globes, no tickets are sold for this event. To attend, you have to be invited. It's that exclusive. And, unlike most Hollywood events, fame isn't enough to get past the velvet ropes. Milken only invites people who are truly making a difference.
Some of the speakers, like Gwyneth Paltrow and Tiffany Haddish, have been part of Hollywood for years. Others launched companies that changed the world, like Eric Schmidt of Google. And some, like K-Pop artistEric Nam, are entrepreneurs who found new ways to inspire and help people. Not everyone who attends the conference is famous, but they are all similar in one way: they are recognized as the best in the world at what they do.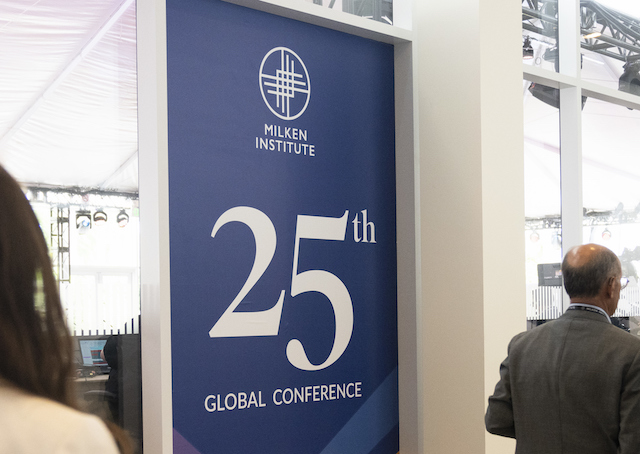 ( © Lauren Justice/Bloomberg via Getty Images)
Young celebrities and influencers know they have a powerful voice. They can reach millions of followers. The question is, how do they educate themselves so they can use their voice for good, not just to propel their own wealth and fame? The Global Conference is where influencers go to learn and get involved. In just 3 days, the range of topics covered is diverse and impressive. Clean energy. Artificial intelligence. The Metaverse. Crypto. Anything that is changing the way we work, play, and live.
The Milken Institute also makes a point of identifying rising talent. It has created a Young Leaders Circle that hosts events in cities like New York, Los Angeles, London, and Singapore. Just like the Global Conference, membership in the Young Leaders Circle is very exclusive – by invitation only.
At Young Hollywood, we cover all the big premieres and high-profile awards shows. The Milken Institute Global Conference might just be the biggest event in Hollywood you've never heard of – and far more exclusive (and game-changing) than any of them. Next year, we hope to take you behind the scenes, bringing you exclusive interviews with participants plus video content from the event itself. It's extremely rare that the biggest names in entertainment, tech, politics, and business all get together in the same place for a good cause. At the Global Conference, you never know whom you'll meet just walking the halls, and Young Hollywood wants you to feel like you're in the middle of the action.
In the meantime, check out milkeninstitute.org to see everything that happened this year!