The Best "Game of Thrones" Parody Videos!
Written by Kevin Donaldson. Published: April 09 2015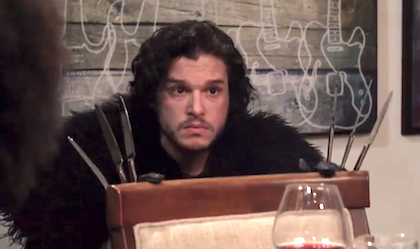 Winter is Coming, as so is Season 5 of "Game of Thrones"... which also means a noticable increase in "GoT" parody videos!
People have been making "GoT" parody vids pretty much since the show first premiered, but just in the last week alone, we have been blessed with three new ones that have us clicking the replay button over and over! Check them out below, followed by three more oldies but goodies!
Seth Brings Jon Snow to a Dinner Party – "Late Night with Seth Meyers"
Let's face it, Jon Snow would be the most depressing person ever at a dinner party (except maybe Dolorous Edd Tollett, for all you book fans). His life is just chock full of horrible stories and tragedies that nobody wants to hear over their brussel sprouts with pancetta. Geez, maybe learn a magic trick or something, because you obviously know nothing about entertaining guests, Jon Snow!
Game of Chairs – "Sesame Street"
Wow! Even "Sesame Street" has gotten into the "GoT" referencing game, because if there's one thing pre-schoolers love, it's a show about backstabbing, dragons, murder, incest, and boobs! But in all seriousness, this is actually pretty hilarious. Obviously, kids won't really get it, but it's always fun when these shows want to do something to keep the adults in the room entertained too.
If "Game of Thrones" Characters Lived Among Us – Mode/ Brash
"Game of Thrones" cosplayers interact with everyday people in L.A., and hilarity ensues! See Danaerys search for her dragons in an exotic pet store, Jon Snow enjoy a nice warm latte, the Hound get lots of attention from dog-lovers at Runyon Canyon, and Littlefinger and Tyrion ogle the ladies at the beach. Personally, after seeing this I'm a little upset I never walked into one of these folks. It's sure way to brighten any "Game of Thrones" fan's day... or completely terrify a non-fan.
Game of Desks – "Late Night with Jimmy Fallon"
I knew the entertainment industry was ruthless but who knew there was so much backstabbing, political intrigue, swords, and furs but surprisingly less incest than I expected. Just like Jay Lenobefore him, Jimmy Fallon had to play the game of desks, and, as evidence by the end of the video, Seth Meyers is in this game now as well. You better watch who you make friends with, Fallon, because when you play the game of desks, you win or you end up doing dinner theatre in Skokie, Ill.
"Game of Thrones" – Honest Trailers
They got the TV show and the books pretty darn good. Honest Trailers puts up a good argument that George R. R. Martin should be prosecuted for his crimes of systematically murdering all of our favorite characters. But Honest Trailers has reminded us the most important thing about "Game of Thrones"… Boobs! Without them, what would this show be? And if you saw this without having seen the first three seasons and are complaining about spoilers, sorry, you're pretty late to the game. Use the rest of Passover to catch up and see plenty of boobs!
"Medieval Land Fun-Time World" - Bad Lip Reading
For their take on "Game of Thrones", the folks over at BLR decided to do something a little different -- instead of just random scenes from the show featuring incorrect over-dubbing, they instead went all-out and created a fake trailer for a John Hughes-inspired teen comedy, starring Eddie Stark as the proprietor of a fledgling medieval theme park and all his wacky employees! Features a kick-ass soundtrack, and bonus clips you can check out here!
That's all, folks! I hope those videos had you howlin' like a direwolf! Do you have a favorite parody video that we didn't include? Let us know in the comments below!
Remember to tune into the real thing this Sunday, April 12, at 9pm on HBO, or else the White Walkers will get ya!
(Screenshot via YouTube)
- Kevin Donaldson, YH Staff; additional reporting by Katie Marzullo, YH Staff Editor