The 7 Hottest Red Carpet Looks at the 2018 MTV VMAs!
08-21-2018
  (©
John Shearer

/Getty Images)  
The MTV Video Music Awards were in the sparkling city of New York this year, and as usual the musical talent and famous faces that walked the pink carpet showed up to shock and stun.

In the past, the awards show has been used by artists as a platform to express their creativity through fashion: i.e.; Lady Gaga's meat dress in 2010, or that very uncomfortable looking cowgirl-romper getup from Katy Perry in 2008.

This year, the fashion was unique yet elegant, and just like the majority of the award winners last night (Video Of The Year & Artist Of The Year: Camila Cabello; Best New Artist: Cardi B; Best Pop: Ariana Grande, "No Tears Left to Cry"; Best Hip-Hop:Nicki Minaj, Chun Li), females were ruled the carpet game.

Check out our favorite looks, all worn by some of Hollywood's most famous women!

Jennifer Lopez (Versace)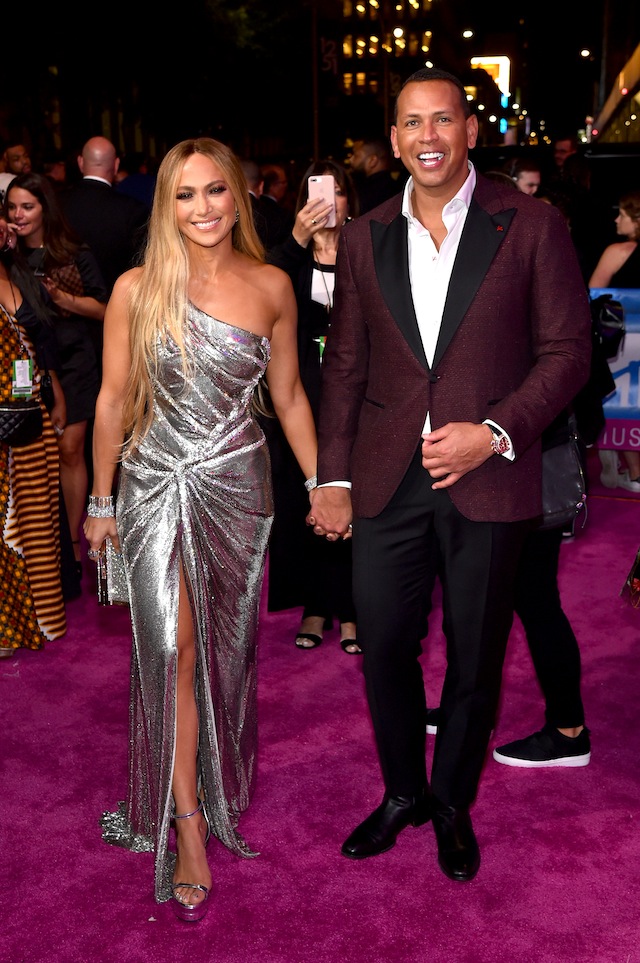 The woman of the hour, the recipient of the glorified MTV Michael Jackson Video Vanguard Award, J.Lo stood out in the crowd not just because of the flashy Versace dress she had hanging over her right shoulder, but also because plastered on her face was a gigantic smile and attached to her arm was her hunky boo, Alex Rodriguez. The duo, who have been together for over a year, and whom J.Lo called her "twin soul" during her acceptance speech for the Vanguard prize, looked very Old Hollywood glam with a modern spin. J.Lo's look in particular screamed "winner", which defines her perfectly.

Chloe x Halle (Iris Van Herpen Couture)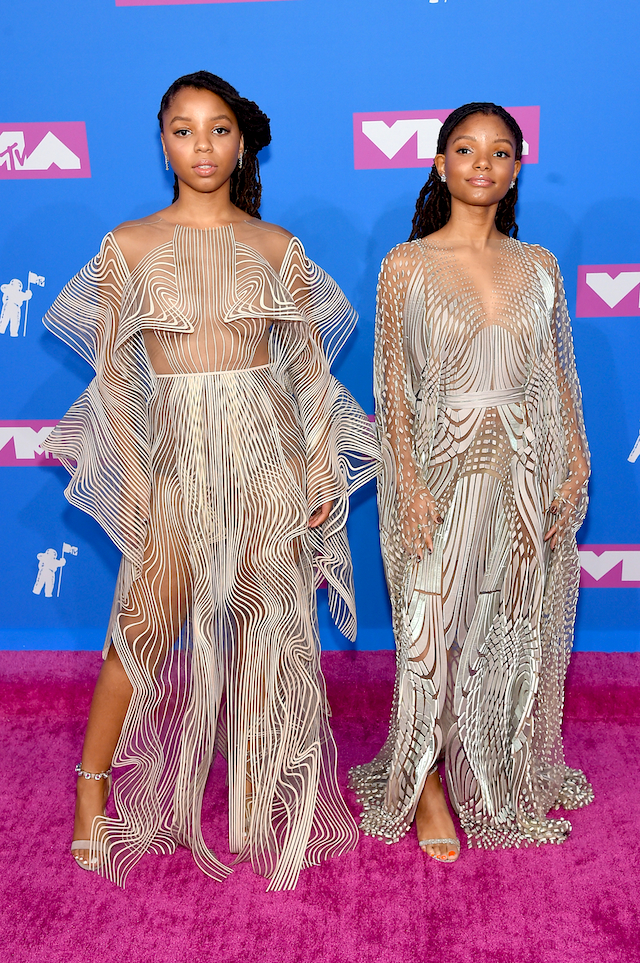 (©

Jamie McCarthy/Getty Images)
When you look at the Bailey sisters, you might think you're seeing double. Although they are two years apart and have their own unique looks, Chloe and Halle had me questioning my vision with these geometric, trippy Iris Van Herpen Couture gowns that seemed a bit like an optical illusion. Both of the beautiful dresses had extravagant patterns on finely crafted fabric that only added to the complexity of these high-fashion numbers. While they didn't take home a Moon Man last night, the girls definitely took a spot on our Best Dressed list.

Shay Mitchell (Nicolas Jebran)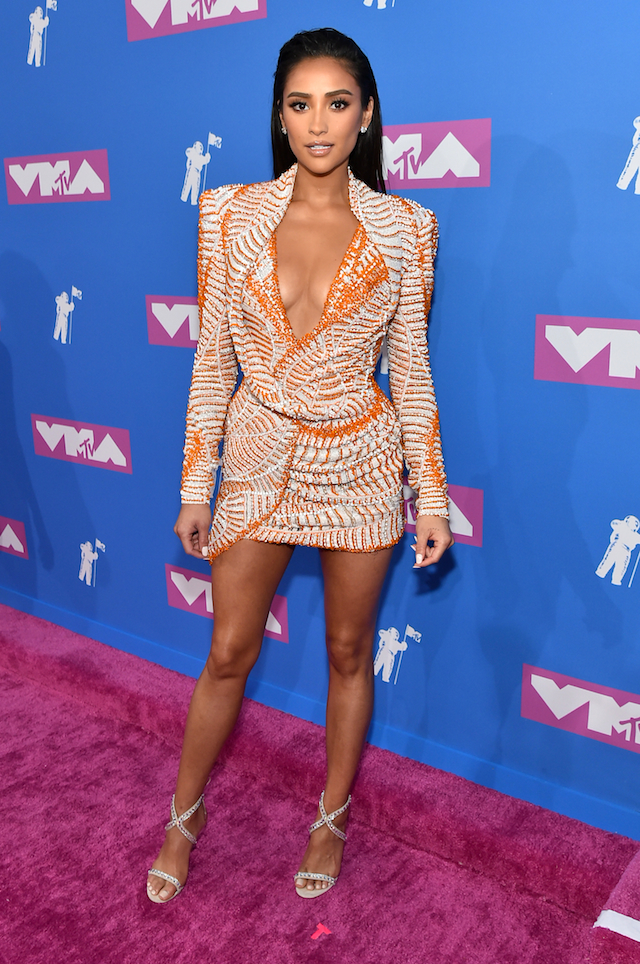 (©

Mike Coppola/Getty Images)
When I picture the color orange and an eccentric pattern, I usually picture a regal tiger with distinct stripes in the jungle. But last night, orange and stripes came together to create this unusual yet gorgeous mini-dress for Shay Mitchell to wear on the VMA carpet. This Nicolas Jebran dress had rouged fabric around the waist, a sharp Mandarin-like collar flowing into accentuated shoulder pads, and a plunging V-neckline. I'm not sure how such a creation could be envisioned and executed so flawlessly, but I am obsessed with this dress!

Winnie Harlow (Zuhair Murad)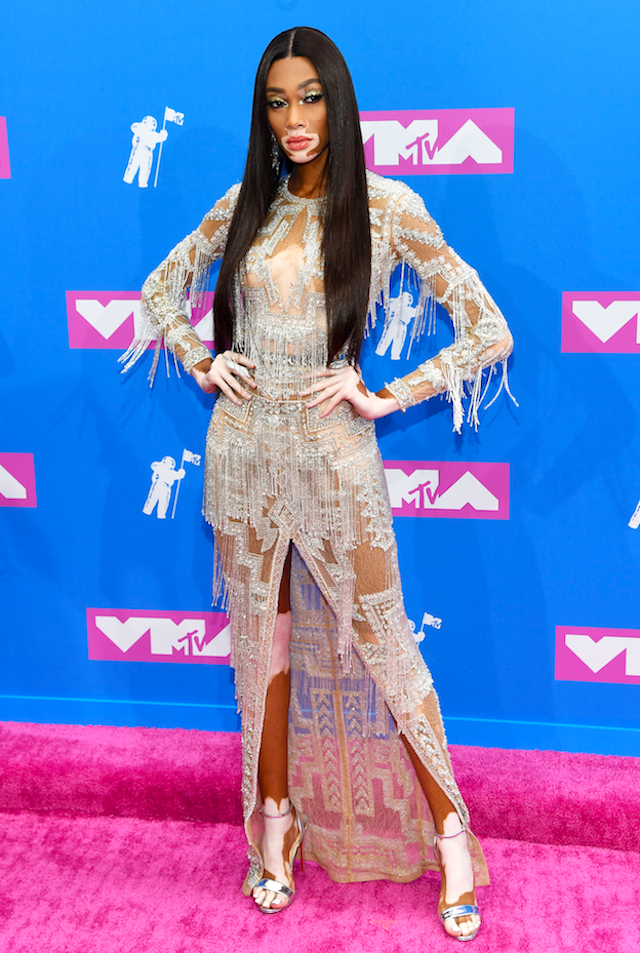 (©

Nicholas Hunt/Getty Images)
Okay, so, model Winnie Harlow actually had two looks for the carpet, but this white Zuhair Murad look is my personal favorite. Winnie's look is what I'd imagine would happen if the dress worn by our previously-mentioned Best Dressed Jennifer Lopez at the 2015 Billboard Music Awards and the dress worn by Kylie Jenner at the 2016 Met Gala got together and had a baby. The top of Winnie's dress featured a keyhole opening and tasseled long sleeves while the bottom was a geometric skirt with a triangular slit down the middle. Although the dress was a combination of several daring designs -- see-through material, patterns overlapping, and lots of extra fabric all over the place -- this piece looked amazing.

Kylie Jenner (Tom Ford)
                                                                                                                                                                              (©

Jamie McCarthy/Getty Images)
Did you think I would mention a fabulous Kylie Jenner look pre-Stormi but not put her on our Best Dressed list for the VMAs this year? Absolutely not! The almost-billionaire showed up to the VMAs looking very much the business woman she is in this simple fitted Tom Ford blazer jacket. Clearly cashing in on the last moments she has before Labor Day roles around and then suddenly the fashion world says "you can't wear white", Kylie's only pop of color was her platinum blonde tresses shaped into a tight bun. The cute jacket was synched with a plain belt that had a jeweled square center. I actually loved this modest Kylie look. She's not a regular mom -- she's a billionaire boss-mom.

Millie Bobby Brown (Rosie Assoulin)
                                                                                                                                                                              (©

Matthew Eisman/Getty Images)
Attention Rosie Assoulin, I need this jumpsuit immediately. Millie Bobby Brown can somehow pull off the most oddly designed yet aesthetically pleasing outfits I have ever seen. This jumpsuit, which looks like a top and bottom latched together by a simple swatch of fabric or a button, features a curved, hollowed waist. This made for a more avant-garde look than the traditional cut-out style we have seen in jumpsuits and rompers before. With flared black bows attached to her spaghetti-like straps, Millie's look was instantly balanced out and appeared age-appropriate.

Iggy Azalea (Fausto Puglisi)
                                                                                                                                                                                   (©

Nicholas Hunt/Getty Images)
The common theme amongst this Best Dressed list is the polarizing patterns designers challenged themselves to take on when making these carpet looks. Iggy Azaela had the coolest diamond-shaped leather-looking skirt that flared out in perfect waves. Looking like an amplified version of a diamond card from a deck of cards, the skirt had fun bubblegum pink, black, and white diamonds. Paired with a leather tank top that had linear stitching down the front, Iggy looked like she was ready to have fun at the awards show.

Shoutout to all these fabulous ladies who absolutely owned the awards show and the carpet. Let us know… who was your favorite look and why? Would you ever rock one of these outfits?
(Top image via Axelle/Bauer-Griffin/Getty Images)
- Caroline Thayer, YH Contributing Writer