The 2020 Oscar Nominations Are Here!
01-13-2020 by Kyla Killackey & Katie Marzullo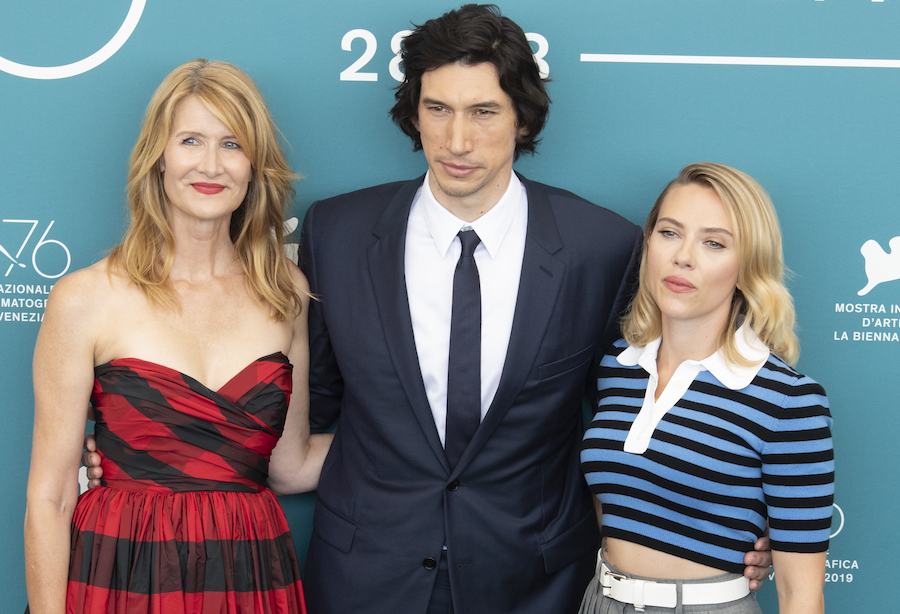 ( © Marco Piraccini/Archivio Marco Piraccini/Mondadori Portfolio via Getty Images)  
Issa Rae and John Cho took to the stage bright and early this morning to announce all the nominations for the 2020 Academy Awards, so the countdown to February 9 is officially on!
If the Awards Season so far has been any indication, it should come as no surprise that Joker, Once Upon A Time… in Hollywood, Marriage Story, and Parasite all racked up long lists of nominations, including Best Picture. Check out the full list of nominees below!
BEST PICTURE
Anywhere from 5 to 10 films can be nominated for the top prize of the night. This year, there will be 9 contenders in the mix, one of which being Joker, which leads this year's awards with 11 total nominations. Meanwhile, South Korea's Parasite is one of the few foreign language films over the years to be included in the Best Picture category (which makes it a shoe-in for Best Foreign Language Film).
Ford v Ferrari
The Irishman
Jojo Rabbit
Joker
Little Women
Once Upon a Time...in Hollywood
Marriage Story
Parasite
1917
DIRECTOR
A strong group here for sure, and every director listed could be a contender but for wildly different reasons, and many different visions and directing styles are represented here. Greta Gerwig could have made history as the first woman to become a two-time directing nominee, sadly it's going to be another year of all-male nominees for Best Director.
Martin Scorsese, The Irishman
Quentin Tarantino, Once Upon a Time in Hollywood
Bong Joon-ho, Parasite
Sam Mendes, 1917
Todd Phillips, Joker
ACTOR IN A LEADING ROLE
With the glaring omission of Golden Globe winner Taron Egerton (Rocketman) from this category, at this point this just feels like a race between Adam Driver and Joaquin Phoenix, who have both been trading off wins at other awards shows all season long. Joaquin came out on top at the Golden Globes and the Critics' Choice Awards; it will be interesting to see if he can carry that momentum into the SAGs as well, and then on to the Academy Awards to nab his second Best Actor trophy.
Antonio Banderas, Pain and Glory
Leonardo DiCaprio, Once Upon a Time...in Hollywood
Adam Driver, Marriage Story
Joaquin Phoenix, Joker
Jonathan Pryce, The Two Popes
ACTRESS IN A LEADING ROLE
Scarjo is making history as one of the few actors to be nominated for Actress in a Leading role and Actress in a Supporting Role in the same year! She is putting in work. Meanwhile, keep an eye on Golden Globes winner Renée Zellweger, who could very well pick up her second Oscar after 16 years...
Cynthia Erivo, Harriet
Scarlett Johansson, Marriage Story
Saoirse Ronan, Little Women
Renée Zellweger, Judy
Charlize Theron, Bombshell
ACTOR IN A SUPPORTING ROLE
You might be wondering why Tom Hanks is in the Supporting category for his role as the late Mr. Rogers, but the movie was actually not about him. It is indeed rare these days to see Hanks in the Supporting category, period, but it's always nice to have him around this time of year. Meanwhile, he's up against other powerhouses, all of whom, like himself, are past Oscar winners (but Hanks is the only multiple winner on the list!).
Tom Hanks, A Beautiful Day in the Neighborhood
Anthony Hopkins, The Two Popes
Al Pacino, The Irishman
Joe Pesci, The Irishman
Brad Pitt, Once Upon a Time...in Hollywood
ACTRESS IN A SUPPORTING ROLE
Laura Dern has been cleaning up this year for her role as the bulldog divorce lawyer in Marriage Story, so she's the frontrunner as of today. Though it would be great to see Florence Pugh pull off the upset -- it takes immense talent for a 24-year-old woman to convincingly portray a 13-year-old girl and she did it seamlessly!
Kathy Bates, Richard Jewell
Laura Dern, Marriage Story
Scarlett Johansson, Jojo Rabbit
Florence Pugh, Little Women
Margot Robbie, Bombshell
FOREIGN LANGUAGE FILM
As stated above, with Parasite making its way into both the Best Picture and Best Director categories, you can pretty much guarantee that they'll at least take home the Oscar in this category.
South Korea, Parasite
Spain, Pain and Glory
France, Les Misérables
North Macedonia, Honeyland
Poland, Corpus Christi
ORIGINAL SONG
Elton John's original piece for his own biopic took home this award at the Globes and there's no reason to think it won't happen again here. Elton won this award 25 years ago for his song "Can You Feel The Love Tonight" from The Lion King.
"I'm Standing With You", Breakthrough
"Into the Unknown", Frozen II
"Stand Up", Harriet
"(I'm Gonna) Love Me Again", Rocketman
"I Can't Let You Throw Yourself Away", Toy Story 4
ANIMATED FEATURE FILM
In a stunning turn of events, Disney's Frozen II was left off this category this year; but don't feel too bad for the mega-studio, as Toy Story 4 made the cut. However, Missing Link pulled off the big upset at the Globes; can they do it again at the Oscars?
How to Train Your Dragon: The Hidden World
I Lost My Body
Klaus
Missing Link
Toy Story 4
ADAPTED SCREENPLAY
This might be where Greta Gerwig has a chance to shine, but you can't deny the ingenuity of one Mr. Taika Waititi!
The Irishman, Steve Zaillian
Jojo Rabbit, Taika Waititi
Little Women, Greta Gerwig
The Two Popes, Anthony McCarten
Joker, Todd Phillips, Scott Silver
ORIGINAL SCREENPLAY
Quentin Tarantino always seems to dominate any writing categories he gets nominated in, but if there is any justice in Hollywoodland, this award will go to Rian Johnson for his immensely original spin on the murder mystery genre with Knives Out.
Marriage Story, Noah Baumbach
Once Upon a Time in Hollywood, Quentin Tarantino
Parasite, Bong Joon Ho, Jin Wan Han
Knives Out, Rian Johnson
1917, Sam Mendes, Krysty Wilson-Cairns
BEST ORIGINAL SCORE
With this nomination, John Williams becomes the most-nominated person in Oscars history second to only Walt Disney himself. Wow! He was first nominated all the way back in 1968 (Valley of the Dolls) and he won his first of five Oscars in 1972 (Fiddler on the Roof). He's only won this award for his work on Star Wars once, and that was for the first movie back in 1978. Winning this year would be a nice little cap on his long relationship with the space saga. In the meantime, though, Joker's Hildur Guðnadóttir made history by winning this award at the Globes and could very well do so again at the Oscars.

Joker, Hildur Guðnadóttir

Little Women, Alexandre Desplat
Marriage Story, Randy Newman
1917, Thomas Newman
Star Wars: The Rise of Skywalker, John Williams
BEST DOCUMENTARY FEATURE
American Factory
The Cave
The Edge of Democracy
For Sama
Honeyland
BEST DOCUMENTARY SHORT SUBJECT
"In the Absence"
"Learning to Skateboard in a Warzone (If You're a Girl)"
"Life Overtakes Me"
"St. Louis Superman"
"Walk Run Cha-Cha"
BEST ACHIEVEMENT IN CINEMATOGRAPHY
14-time nominee, 1-time winner, and legend in his field Roger Deakins pulled off some major filmmaking feats with his work on 1917, so don't be surprised to see him walk away with his 2nd trophy come Oscar night.

The Irishman
Joker
The Lighthouse
1917
Once Upon a Time in Hollywood
BEST ACHIEVEMENT IN MAKEUP AND HAIRSTYLING
Bombshell
Joker
Judy
Maleficent: Mistress of Evil
1917
BEST ACHIEVEMENT IN PRODUCTION DESIGN
The Irishman
Jojo Rabbit
1917
Once Upon a Time in Hollywood
Parasite
BEST ACHIEVEMENT IN VISUAL EFFECTS
Unfortunately, Cats did not make the cut. SIGH...
Avengers: Endgame
The Irishman
The Lion King
1917
Star Wars: The Rise of Skywalker
BEST ACHIEVEMENT IN COSTUME DESIGN
If Little Women doesn't win this one, then honestly why even have a Best Costumes category?!
The Irishman
Jojo Rabbit
Joker
Little Women
Once Upon a Time in Hollywood
BEST ACHIEVEMENT IN FILM EDITING
Ford v Ferrari
Irish
Jojo Rabbit
Joker
Parasite
BEST ANIMATED SHORT FILM
"Dcera"
"Hair Love"
"Kitbull"
"Memorable"
"Sister"
BEST LIVE-ACTION SHORT FILM
"Brotherhood"
"Nefta Football Club"
"Saria"
"The Neighbors' Window"
"Saria"
"A Sister"
BEST ACHIEVEMENT IN SOUND EDITING
Ford v Ferrari
Joker
1917
Once Upon a Time in Hollywood
Star Wars: The Rise of Skywalker
BEST ACHIEVEMENT IN SOUND MIXING
Ad Astra
Ford v Ferrari
Joker
1917
Once Upon a Time in Hollywood
The Academy recently announced that the Oscars will be going on without a host for the second year in a row -- we don't know who will be presenting yet, but with this list of nominees, it is sure to be quite the show! So plan your viewing parties, cast your fantasy ballots, and tune in February 9th on ABC for all the action!