SyFy's "Ascension" Imagines an Alternate Outcome of the 1960s Space Race
Written by Amanda Baltazar. Published: September 25 2014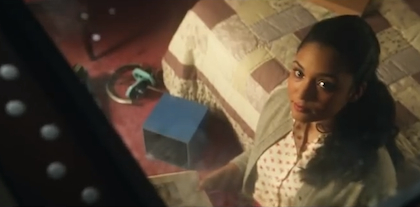 This November, a new 6-episode miniseries called "Ascension" will sir on Syfy, a fictional take on the real Project Orion under the administration of JFK. The setting is an alternate timeline where a space mission was launched in case of the Earth being destroyed from the fear that evolved during the Cold War. 600 men, women, and children got on a ship, the Ascension, to help save the human race and repopulate the new world, Proxima.
Sounds like a good plan, right? Well, 50 years into the mission, just as they are approaching the "point of no return", a young girl is murdered, which is the first homicide on board the ship.
Although the series is set in an alternate present, the trailer seems to give it a futuristic element that many sci-fi fans would be attracted to. The trailer also shows the new development in political control and power that, I'm sure, will play a big part in as the series progresses. Things like an alternate American flag and the pledge of allegiance really got my attention.
The series stars Brian Van Holt, Tricia Helfer, Brandon P. Bell, andAndrea Roth, among others.
The teaser trailer is definitely quite a tease. As a big Syfy watcher, I immediately wanted to know more. I already have so many questions and I can't wait until it airs. Unfortunately, we have to wait until November 24.
For more information, news, and even an aptitude quiz, check out thewebsite.
(Screenshot via YouTube)
- Amanda Baltazar, YH Staff