Sunday Music Vid: ANNIE LENNOX - CHRISTMAS EDITION
Written by Katie Marzullo. Published: December 25 2011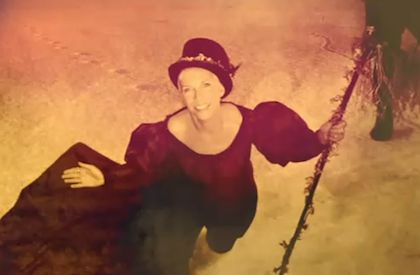 So this is Christmas... And since today also happens to be the birthday of singer Annie Lennox, it's a merry occasion to feature her holiday tidings for today's music video pick!
Lennox, formerly one-half of
'80s
New Wave duo
Eurythmics
, has always had a quirky
avant-garde
style when it came to her music, and the music videos she puts out are no different. Last year, she released her first full-length Christmas album,
A Christmas Cornucopia
, but she had already been somewhat associated musically with the holiday years before that, as the co-singer on "Put a Little Love in Your Heart", the theme song to offbeat Christmas flick
Scrooged
.
From the Cornucopia album came an intense, tribal drums-laden cover of the Christmas standard "God Rest Ye Merry
Gentlemen."
Armed with a big walking stick and garbed in an old-fashioned gown, Annie Lennox appears in the video leading the way to Bethlehem, belting out the religious song with disturbing over-zeal. Considering that Lennox identifies herself as an agnostic, one wonders if there isn't some irony sprinkled on this performance. Then again, there's always been a certain degree of irony and cheekiness to Lennox's work, so why should this be any different? It's still a cool video and a unique take on a solemn hymnal. Check it out below:
Happy birthday, Annie!
MERRY CHRISTMAS, EVERYBODY!!! 
(Image via Annie Lennox/YouTube)
-
Katie

Marzullo

,

YH

Staff Editor