STUDIO SPOTLIGHT: "Stranger Things"
Written by Brennon Barclay. Published: October 30 2017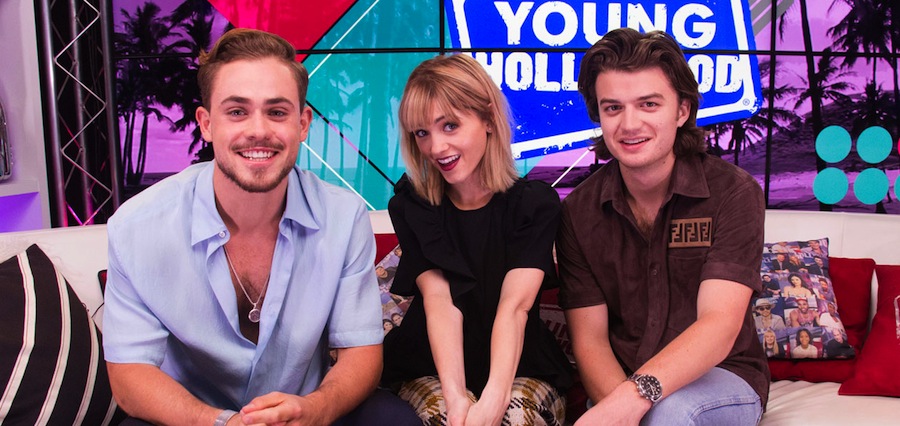 "Stranger Things" is all we've been able to think about since it was dropped on us in the summer of 2016 (what an eventful summer in terms of shows).
A lot has happened since then, and we have been dying for the new season. It has been a daily countdown game, and finally, the time has come as Season 2 (or, as it has been officially dubbed in nostalgic fashion, "Stranger Things 2") of the hit Netflix series was delivered into our queues this past Friday (October 27) just in time for Halloween!
The Universe has obviously been receptive to our obsession since we were recently able to experience some of the cast in the flesh. The first person to walk through the doors of the Young Hollywood Studio was Natalia Dyer, who plays the pensive and logical Nancy Wheeler. There was something majorly different about her this time, as she had shed her trademark long brunette locks in favor of an edgy blonde cut; a risky move, however she pulled it off effortlessly and looked more London than the Tennessee girl she is.
The next person I did not recognize right away was Dacre Montgomery, who makes his debut in Season 2 as the ruffian bully, Billy in season two. His energy was infectious, and he added a different accent to the room as he hails from Perth, Australia. He is probably best known for having starred in the 2017 reboot of the Power Rangers, but his profile is sure to explode after his appearance in "Stranger Things 2"!
Joe Keery, who plays Steve Harrington, was the third and final cast member to come into the room and sit down on the YH couch. His hair is almost as big as his personality. The energetic vibe between Dacre and Joe perfectly played off of Natalia's innate shyness; they were so comfortable with each other that they almost seemed like siblings. It was refreshing to get to know the older cast members as we have gotten to know the younger ones. I think its time for them to get more recognition, as they were some of the most fun guests I have witnessed in a long time.Millie Bobby Brown has received the lion share of attention as far as female cast members go, and rightfully so. However, I believe Natalia, in particular, is an It Girl waiting to happen, as her career will inevitably skyrocket in the near future. She exudes a maturity and poise that is far beyond her 20 years (yes, she was born in 1997!). During the Truth or Dare segment of the interview, she addressed our most burning question, and yes we are referring to #JusticeForBarb. Barb left such an impact on us in Season 1, and Natalia told us to stay tuned to find out what happens to Netflix's most beloved redhead.
Meeting the "Stranger Things" cast only intensified our love for the show and proved to us that the actors are just as likable and dynamic as the characters they play and we cannot wait to binge-watch!

Check out the 2-part interview below!
- Brennon Barclay, YH Contributing Writer