STUDIO SPOTLIGHT: "Good Trouble" Stars Sherry Cola & Zuri Adele
Written by Jordan Cioppa. Published: April 02 2019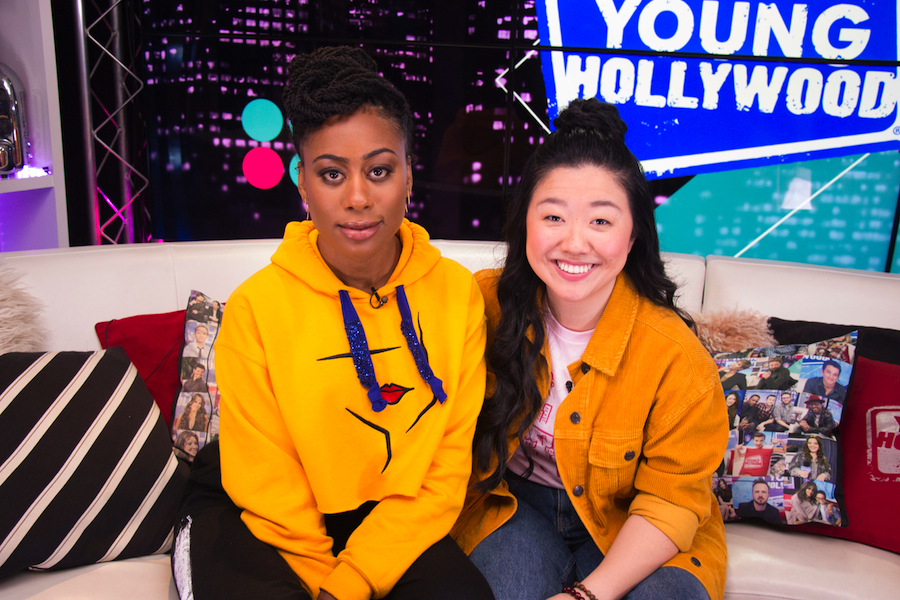 If we learned one thing from our interview with "Good Trouble" starsSherry Cola and Zuri Adele, it is to always stay true to who you are, even if it means looking like a "human noodle" while breaking down into your best moves for Instagram… as our friend Sherry does!
These two women brought all of the energy to the Young Hollywood Studio and we still haven't stopped laughing! All jokes aside, Sherry and Zuri shared with us just how real "Good Trouble" keeps it. Sherry takes on the role of Alice, a building manager who is trying to find her place in the world as a gay Asian woman, and Zuri plays Malika, a woman who grew up in the foster care system.
For those who aren't with familiar with the show, I highly recommend you give it a watch, because as Sherry said herself, "These are real people. These stories need to be told." Freeform's "Good Trouble" is a spinoff of "The Fosters" and follows the lives of two sisters who make the brave move L.A. to start their careers. For Callie, played by Maia Mitchell, this means starting out as a clerk in a law office, and for her sister Mariana, played byCierra Ramirez, this means taking on the job of a software engineer at a tech start-up. During the pilot episode, the characters deal with everyday little dramas, such as having to use a community bathroom because money's tight, and hooking up with the same boy your sister has been crushing on hard. "Good Trouble" doesn't stop there, though. The pilot touches upon even heavier real-life issues, like working on the case of an innocent young black boy who was shot by police, finding your voice as a woman in the workplace, and coming out to your parents…and this is just the first episode! You'll have to watch to see what happens next!
This show is so relatable to people of all types. So much so that Zuri even mentioned she has received many messages from people who can relate to her character on a bunch of different levels. When entertainment is able to touch upon real world issues and make the kind of impact "Good Trouble" does, it is something we need to hang on to and never let go.
Aside from talking about the show, Zuri and Sherry shared some advice with us all on how to handle situations we've all been in…the first being what to do if you are being ghosted. Sherry is all of us because she advised to creep on their social media. Zuri is what we need to be, because she shared the helpful advice of just letting it go and knowing your worth! Heck yeah to that! And what happens when you accidentally send a screenshot of the message to the person who sent it to you (the worst!)? Well, being the Sherry we all know and love, she advises to play it off and act like you thought the message was so funny you just had to share it with someone else! The women even told us how to handle the awkward situation of liking a friend…I'll let you see this one for yourself in the interview!
The fun didn't stop there -- Sherry and Zuri joined host Nicole Koch in a game we like to call "Loaded Questions". In this game, the players are given a question in which they read silently to themselves but have to say their answer out loud. What they don't have to do is say what the question is; instead they can simply take a shot. Of course, there was never a dull moment during this game, especially because Sherry and Zuri were two of the contenders. When you watch Part 2 of the interview, you will know what I mean.
- Jordan Cioppa, YH Contributing Writer