"Star Wars: Resistance" Has Style, Laughs, and a Whole Lot of BB-8!
Written by Michael Gonzalez. Published: October 12 2018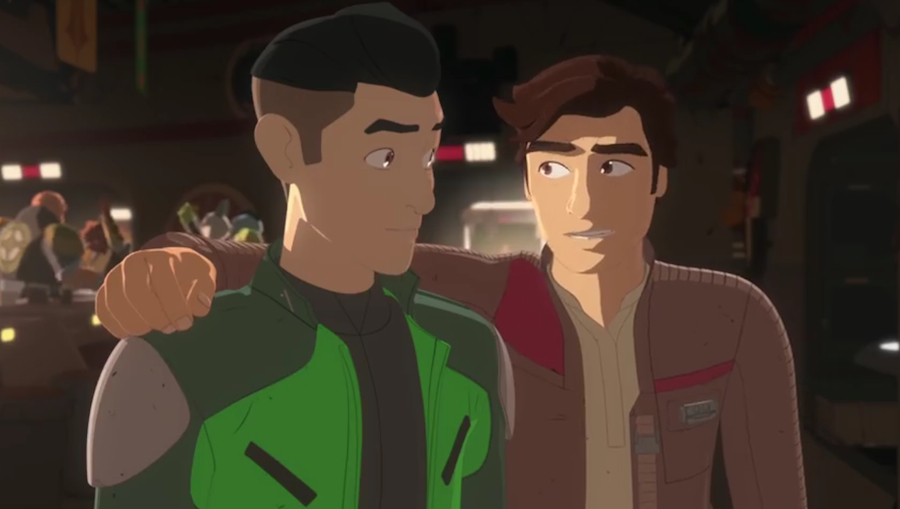 "Star Wars" fans still have to wait over a year for a new film, but they will surely have enough TV-based content to hold them over. The first episode of "Star Wars: Resistance" aired this past weekend, and while it appears to be a fun, lighthearted adventure exploring the rise of both the Resistance and First Order just prior to The Force Awakens, it certainly possesses the hallmarks of "The Clone Wars" and "Rebels", indicating that we may have another wonderful "Star Wars" animated series on our hands.
The show follows young pilot Kazuda "Kaz" Xiono (Christopher Sean), who is recruited by everyone's favorite hot-headed Resistance fighter, Poe Dameron (Oscar Isaac), to work as a spy on the Outer Rim planet of Castilion to investigate mysterious First Order activity. He is stationed on the Colossus -- a hovering, naval city whose main source of entertainment is high-speed star pilot racing. Poe leaves Kaz under the supervision of Jarek Yeager (Scott Lawrence), an ex-Rebellion soldier who seems abundantly reluctant to allow Kaz to pose as a member of his mechanic squad.
Kaz kind of stumbles into this job, as he does much of his time throughout the first 3 episodes of the series. He wants to do the best job he can to prove that he is a capable person, and his shenanigans prove that he is still growing as a person as well as a hero.
Most of Kaz's success come from the helping hands of those around him – Poe, Yeager, and even BB-8. When he exercises independent decision-making, he typically fails. This may frustrate some viewers, but as seen with "Star Wars: Rebels", as time goes on, Kaz will certainly learn from his mistakes and grow into a worthy hero in a Galaxy far, far away.
One of the biggest strengths of the show is the entertaining cast of characters surrounding Kaz. Neeku (Josh Brener), seemingly some kind of half-android/half-alien, whose tendency to take things literally is very reminiscent of Drax from The Guardians of the Galaxy, serves as the comedic relief for the show. He's a very innocent being, and perhaps a bit naïve, so his relationship with Kaz should become increasingly more interesting as Kaz delves deeper into the darkness that the First Order is brewing.
Other standouts include the aforementioned Yeager, whose backstory may be the most complex out of all the characters in the show. His trusty droid Bucket may be the oldest droid we've seen in the franchise but is arguably more spastic than even Chopper from "Rebels".Elijah Wood makes a guest appearance as the character Jace Rucklin, who is certainly not on the same page as Kaz and could end up becoming an antagonist or developing a redemptive arc.
One more character to spotlight is Torra Doza. While she doesn't get much screentime in the first 3 episodes, she is established as an expert pilot and, perhaps even more so, the daughter of Captain Imanuel Doza, who runs the city of Colossus. The captain lives in the city's central tower that Kaz hopes to gain access to in order to further his investigation, and the captain's ominous presence in the early stages of the show hints that he may perhaps be involved with the First Order. If this is true, it will certainly damper his daughter Torra's resilient enthusiasm and could push her to joining forces with Kaz and the Resistance.
In addition to "Resistance", fans will surely be hyped for Jon Favreau's live-action series "The Mandalorian", which will feature directors such as Taika Watiti,Bryce Dallas Howard, and Rick Famuyiwa and will be released in late 2019.
In the meantime, you can watch the pilot and the first 3 episodes on streaming services that include Disney XD, such as YouTube TV, as well as purchasable through Amazon and ITunes. New episodes air on Sundays at 10:00pm on Disney XD.
(Image via Lucasfilm/Disney)
- Michael Gonzalez, YH Contributing Writer