'Star Wars' Launches This Year's 'Force For Change' Campaign!
Written by Katie Marzullo. Published: April 05 2016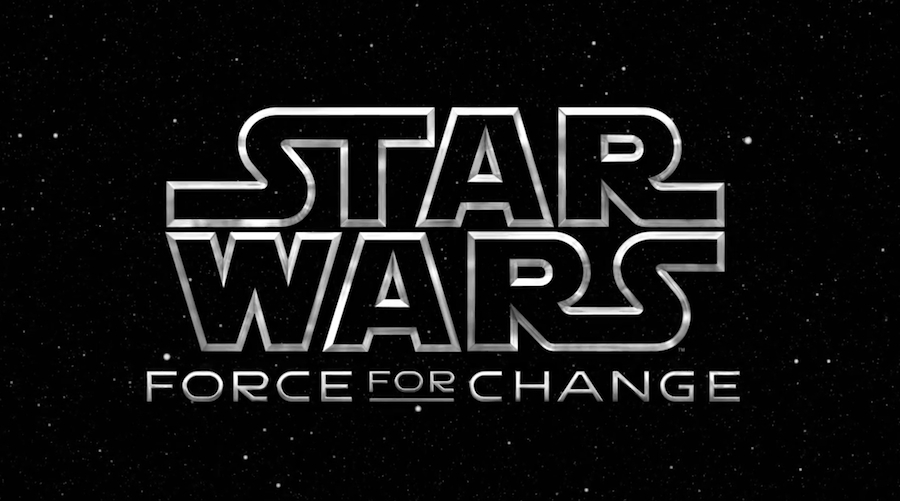 HappyStar Wars: The Force Awakens DVD/Bluray Release Day! (Even though I already downloaded my digital copy on Friday and have been watching it nonstop for 5 days, but still…)
Yes, the interminable 4-month-long wait is finally over and you can own the highest-grossing film of all time! The DVD/Bluray includes all kinds of cool special features, including deleted scenes, a behind-the-scenes breakdown of the climactic duel between Rey and Kylo Ren, and also a featurette about the Star Wars: Force for Change initiative. If you're like me and had your interest piqued during this particular clip, I have good news!
To mark the occasion of the DVD/Bluray release, TFA producerKathleen Kennedy and Star Wars legendMark Hamill have officially announced the launch of this year's Force For Change campaign to help make a positive impact on our own little star in the galaxy!
Sponsored by CrowdRise, the Force for Change initiative has already managed to raise $10 million in donations from the ever-generousStar Wars community (take THAT, Dark Side!) to benefitUNICEF, the American Red Cross, the Make-a-Wish Foundation, and the Boys & Girls Club of America.
This year's campaign starts today (April 5) and runs until Star Wars Day (May 4), and every donation you make will be matched dollar-for-dollar (up to $1 million) by Force For Change. Not only that, contributors will have the chance to earn all kinds of cool perks and prizes by donating, including signed copies of TFA or even an all-expense paid trip to one of the locations fromTFA!
Check out Ms. Kennedy and Mr. Hamill below to get the scoop on this year's campaign:
Get even more info and find out how to participate on the official Force For Change website!
Don't be a moofmilker – donate today!
(Screenshot via YouTube)
- Katie Marzullo, YH Staff Editor