Sofia Richie Grainge "It-Girl" Style Guide!
Written by Emma Cohen. Published: May 22 2023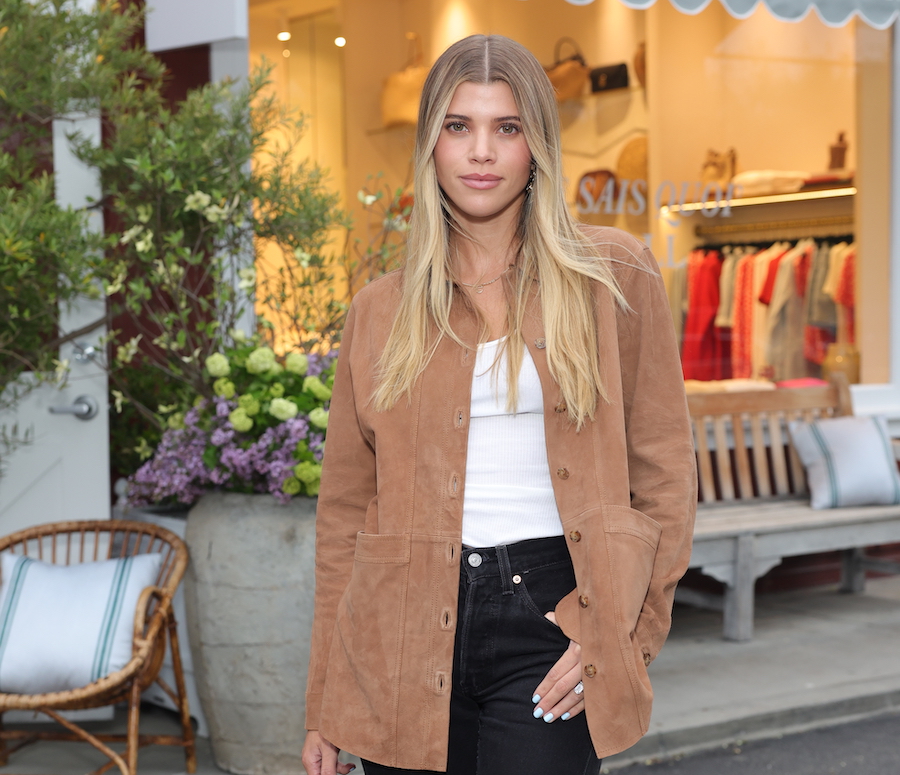 (Photo © Stefanie Keenan/FilmMagic for Sézane via Getty Images)
The people have spoken, and they named Sofia Richie Graingethe newest "it-girl" in the fashion world. She recently went viral on social media over her splashy wedding in the South of France, and this also led everyone to take notice of her impeccable style. Sofia embodies the "quiet luxury" trend and is known for her chic, effortless, understated ensembles with smart tailoring. Let's take a look at some of her most stylish outfits, as well as how to recreate them affordably!
1. Classic Chanel
Let's begin with this gorgeous Chanel number Sofia wore to the Chanel Cruise 2023/24 fashion show. She can regularly be seen rocking a Chanel moment on her Instagram, which is a brand that aligns with her taste in sophistication and simplicity. Do not worry, though; not all of us need to have access to a designer atelier to exemplify the signature Chanel girl look. You can get yourself a cost-effective tweed dress or a tweed blazer, throw on a little pair of heels, and you are good to go.
2. Laidback Beach Day
After her wedding, Sofia graced our Instagram feeds with photos of her tropical honeymoon while we all lived vicariously through her. This relaxed beach outfit can easily be replicated to make you look trendy and put-together for a chill Summer day. Her Prada Fantasia Button-front Peplum Shirt can be mimicked with a blue and white striped shirt dress, or you can take any casual striped button-up and size up for more of a dress look. As for her Prada Crochet Tote Bag, there are a plethora of comparable crochet bags on the market right now, like this similar cream-colored tote. 
3. Neutral Number
Sofia looked positively chic in the Khaite June Dress in the color custard. Not only does this silhouette extend the physique, but the smooth tailoring and tasteful draping are quintessential signs of quiet luxury. To put an inexpensive spin on this outfit, you can take a neutral wool skirt and pair it with a neutral, loosely-fitting sweater for a refined yet comfortable ensemble.
4. Chic Crochet
Crochet has been the trend of the Summer since 2022, and it's still going strong this year. Sofia is serving sun-kissed elegance in this Proenza Schouler Crocheted-Knit Maxi Dress. The wonderful thing about crocheted garments is that they can be dressed up or dressed down. She is dressing hers up with a Hermès Mini Kelly bag in a bold pink color that juxtaposes the colors on her outfit, yet it still remains a cohesive look with everything being in jewel tones. She also has Slingback Pumps and her signature sleek claw clip hairstyle, which is an easy way to elevate your crocheted dress if you are switching from daytime to nighttime. 
5. Effortless Evening 
Sofia's honeymoon attire was the gift that kept on giving. She stunned in this fairytale scenery with a cream-colored, one-shoulder T-shirt by Magda Butrym, a low-rise linen trouser by Christopher Esber, a bag from Loro Piana, and some statement earrings from Oscar De La Renta for a pop of color. This breezy, graceful outfit encapsulates her style, and like all the other pieces we have been looking at, it can be affordably recreated with some linen pants, a white one-shoulder top, and the accessories of your choice. 
6. Tried-And-True
You can never go wrong with blue jeans and a white tee; they are a staple of any closet for a reason. It's comfortable and consistently cool, and the mixture of cotton and denim has been an American favorite for decades. When in doubt, throw on this classic combo of jeans and a white shirt, and if you want to modernize it, you can opt for amuscle tee like Sofia. 
7. LBD Look
Speaking of classic, it doesn't get any more timeless than the little black dress (why else would One Direction have a song about it?). Sofia's black ensemble is longer than the average LBD and is perfect for any special occasions. She is wearing the Khaite Kali puff sleeve midi dress and carrying a striking red Hermès bag. To enhance your black dress, consider trying the red and black color pairing by going for a solid red purse to help you stand out. 
8. Soft Summer
This leisurely, flowy dress practically screams Summer. Here we see Sofia donning a River Island Cream Ri Studio satin cami midi dress with a Destree Albert medium quilted yellow handbag in tow. Although this specific dress does not appear to be available anymore, River Island still has several affordable satin dresses to choose from. If you want something that is similar to Sofia's and has a pale yellow color, this light yellow midi dress and thisecru midi dress are both great options. To top it off, you can add a yellow purse like she does to stick to the color palette. 
9. Monochromatic Moment 
An all-white get-up is a supreme Summer look, and contrary to a popular myth, it can be worn regardless of whether it is before or after Labor Day. Monochromatic white attire is airy, relaxed, and ideal for building upon or scaling back. Sofia is wearing white jeans and a white top with an oversized linen shirt, which you can easily replicate with a similar white linen oversized shirt, a pair of white wide-leg jeans, and the top of your choice.