"Social Distance": The Netflix Show Created Entirely In Quarantine!
10-16-2020 by Mary Shannon Donnelly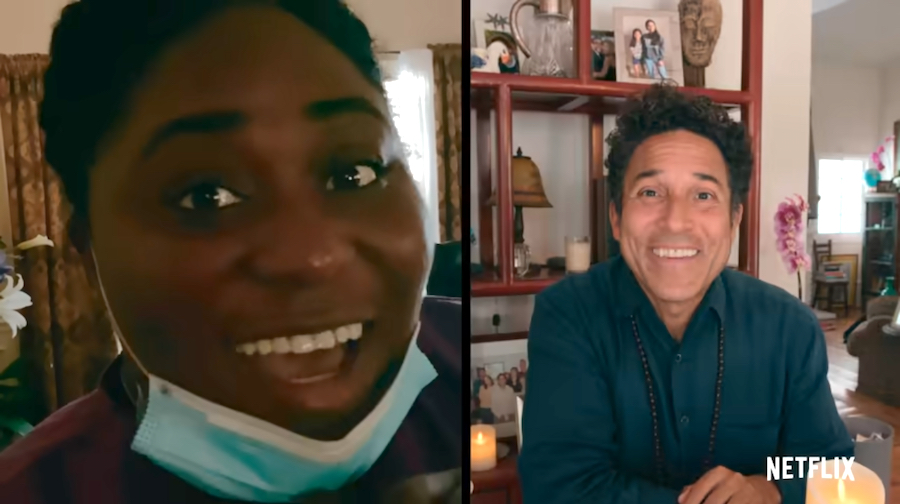 ( © Netflix)  
Netflix's new anthology series hits close to home for all of us, as it is based on the past seven months or so of all of our lives. COVID-19 has had a major impact on all of us, and we have all coped differently with this pandemic. Netflix's "Social Distance" stays true to its name, as the entire production was created socially distanced and focuses on life in the early days of the COVID-19 crisis. From casting to shooting, the entire show was created and edited remotely. It is an honest, serious, and intimate look at what each of us has been experiencing and feeling these last few months – which has felt like a lifetime.

Created and produced by "Orange Is the New Black" writer Hillary Heisman, the show features a few familiar faces, including "The Office"'s Oscar Nunez, Danielle Brooks from "Orange Is the New Black", and "Lukas Cage"'s Mike Colter. Since the show was filmed in isolation, many of the cast and crew's family members also make an appearance in these episodes. For example, Danielle Brooks's mother and Marsha Stephanie Blake's daughter are both featured in their respective episodes.
The 8-episode series takes place in the early months of the pandemic, April and May, which, as I am sure many of us remember, was a time of confusion, misinformation, and jumping to conclusions. Life was turned completely upside-down, with class and work on Zoom, having to stay quarantined with our family and friends, and not being able to leave our houses unless we were an essential worker or had to go to the grocery store. For these reasons, Netflix chose to shoot the entire production using Zoom and Nest to not only tell the stories of this time of our lives but also to make it as real and genuine as possible. Each episode tells the story of a new character and their family and shows the audience how their lives have changed, whether that is being forced to attend AA meetings on Zoom or tragically having to watch a funeral over the computer. Overall, the show focuses on the human connection during this crazy time, something many of us have struggled with when being forced into isolation.
Besides a look at what these past few months have been like for many of us, this show also reminds us of the seriousness of the COVID-19 pandemic. So, as a reminder – always wear a mask, remember to social distance, and if you have any questions about the CDC's guidelines, be sure to check out their website for afull list of their social distancing guidelines.
"Social Distance" is now streaming on Netflix.