"SNL" Shaking Things Up Ahead of Its 40th Season!
Written by Sarah Osman. Published: September 26 2014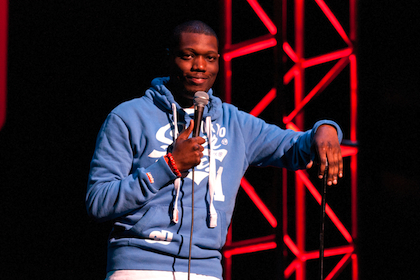 "Saturday Night Live" is about to undergo some changes in its 40th (!) season. A number of the players who were added last season are now leaving the show, including John Milhiser,Noel Wells, and Brooks Wheelan, while writer-turned-player Mike O'Brien is going to go back to just being a writer (this one's a shame, he's quite funny on stage). One of the show's regulars of many years is leaving as well -- the hilarious Nasim Pedrad will be leaving "SNL" to star alongside former "SNL" writer John Mulaney on his new FOX sitcom, "Mulaney", which premieres on October 5th. There are also rumors that long-time regKenan Thompson will be bowing after this season as well -- say it ain't so, Kenan!
As for the new additions to the cast line-up, 20-year-old stand-upPete Davidson will appear on the show (his screen credits include "Brooklyn 99" and "Jimmy Kimmel Live!"), and veteran writer Michael Che will finally get a chance to step in front of the camera as the new co-anchor on "Weekend Update", replacing Cecily Strong and becoming the first African-American co-anchor. (Don't worry, Cecily fans -- she's not going anywhere and her relief of "WU" duties will actually allow her to appear in more sketches!)
Perhaps the biggest change to the show is its announcer. Don Pardo had beeb the voice of "SNL" since the show premiered in the 1970s, but his recent passing left a major hole in the "SNL" family. Lorne Michaels has announced that Pardo will receive a tribute later this year, but in the meantime, former "SNL" cast member and impressionist extraordinaire Darrell Hammond will take over announcement duties. Hammond had previously stood in for Pardo when the latter was out sick, but we expect that he will most likely put his own unique spin on announcing duties.
And that's not all! "SNL" seems to have hit the jackpot with hosts this year. The always delightful Chris Pratt will host the premiere episode, followed by "SNL" alums Sarah Silverman and Bill Hader.
I'm particularly curious to hear Hammond take over as the head announcer. I feel like the show has lost a part of its soul since Pardo has passed on, but I remain hopeful that Hammond will carry out Pardo's legacy in style. I'm also sad to hear that O'Brien will no longer star in sketches; he's quite wonderful, especially as Heshi (Nasim Pedrad)'s son.
What are you looking forward to in the new season of "SNL"? Catch the season premiere this Saturday (September 27) at 11:30pm on NBC!
(Photo via Arnold Wells/WENN)
- Sarah Osman, YH Staff