Sleater-Kinney Selling Rare Limited Edition Drumsticks During Tour
Written by Kevin Donaldson. Published: March 16 2015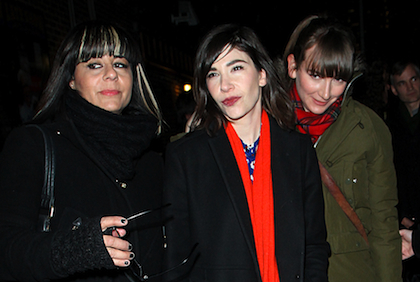 The all-female punk rock band Sleater-Kinney, featuring lead guitar shredder-turned-comedic actressCarrie Brownstein, is giving fans the opportunity at a rare event. They are selling a finite amount (1,500, to be exact) of limited edition Janet Weiss drumsticks. And, no, I am not referring to the character played bySusan Sarandon in Rocky Horror Picture Show, but the actual drummer of Sleater-Kinney.
What's so special about limited edition drumsticks? Well, these drumsticks happen to be made by ProMark, a well-known Houston-based drumstick company that makes special drumsticks for extraordinary drummers. Drummers like Rush's Neil Pertare of the status allowed the exclusive and rare privilege of having drumsticks specially made for them, so you know these Janet Weiss drumsticks are the real deal.
Something like this is the perfect gift for any drummer, but especially good for any fan of Sleater-Kinney, even if they aren't musicians in their personal lives. Where can you get these drumsticks? Well, Sleater-Kinney has never been a conventional band, and one of the things that Brownstein bonded over with her future best friend and "Portlandia" co-star, Fred Armisen, were stories of crashing on people's (sometimes strangers, because why not?) floors during tours done literally out of their band's vans. With that in mind, Sleater-Kinney is selling these ultra-rare drumsticks at their tour merchandise kiosks during concerts, so when the band comes to your town, you better be on the lookout for these drumsticks while they last. All purchases will include, ironically, a drumless version of one of their songs called "Bury Our Friends", and all of the proceeds will go to the Oregon Food Bank.
Check outthe band's website for upcoming Tour dates.
Before we parts ways, rather than take a peak at their newest music video for their single "No Cities to Love", let's take a look at Sleater-Kinney's latest performance on "Late Night with David Letterman", because a live performance is way better than a studio recording. The song is "A New Wave", off their new album No Cities to Love. Enjoy!
(Photo via HRC/WENN)
- Kevin Donaldson, YH Staff