SF Giants Clinch World Series Berth, and We See a Pattern Here...
Written by Nicole Koch. Published: October 17 2014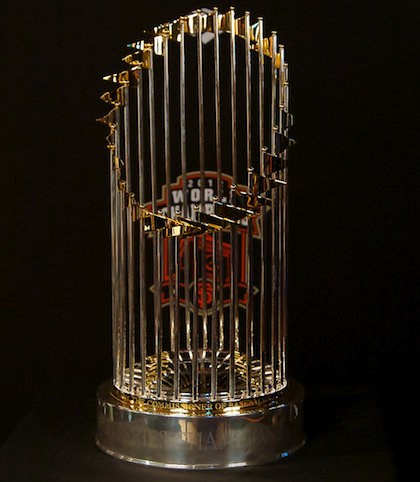 The San Francisco Giants are going to the World Series... again!
And they damn well deserve it. I'm even more proud than usual to be a Bay Area girl!
My favorite team has secured a spot in the 2014 World Series after beating the St. Louis Cardinals 6-3 last night at AT&T Park (and delivering some retribution for the beleaguered local Dodgers fans!). After going without a home run for nearly two weeks, the Giants scored all of their runs via the long ball. Youngster Joe Panik, 23, hit a two-run homer, which helped the Giants catch up to the Cardinals in the 3rd inning. Michael Morse, 32, tied up the game in the 8th inning with another homerun. Travis Ishikawa, 31, hit a 9th-inning, walk-off, series-clinching, three-run home run, and it handed the Giants their National League Championship Series Pennant! If that wasn't impressive enough, this is their third pennant in the last five years!
The Giants will fight for the World Series Championship title against the Kansas City Royals starting Tuesday Oct. 21st at Kauffman Stadium. If they steal the series, it'll be their third World Series win in the last five years… see a pattern here?
Speaking of patterns, the Giants have an even-number winning streak. They won the World Series against the Texas Rangers in 2010. Two years later, they win again, against the Detroit Tigers. And another two years later, they're playing again against the Kansas City Royals. Weirdly enough, they lost in 2011 and 2013, both odd numbers. The majority of their wins happen to fall on even years as well. Interesting…
The only month that the players and us fans should care about is October. As long as they make it to OrangeOctober, I'm confident that they will do what they do best -- win, win and win some more!
This is the first time since 2002 (Angels/Giants) that two Wild Card teams will meet in the World Series. And it's the first time it has happened since the newest Wild Card format came into play! Phew! What a crazy post-season.
And don't forget to watch the first game of the series next week! Lets go Giants!!!
(Photo via Alberto Reyes/WENN)
- Nicole Koch, YH Staff