"Riverdale" at Comic-Con '16: The Archies Go Noir
Written by Sarah Osman. Published: July 26 2016
Part of the fun of Comic-Con is learning about the new shows premiering in the fall -- or, as in the case of "Riverdale", midseason. CW's upcoming series, based on the iconic characters from the Archiecomics, isn't quite your typical take on Archie and his gang. It's a sardonic look at how surreal suburban life can be. Described as"Archie meets Twin Peaks", "Riverdale" focuses on a murder mystery and features the Archie characters doing some things they would probably never do in the original Archiecomics...
The cast and executive producer were on hand at Comic-Con to fill us in on this noirish update of the iconic comic books:
Series Creator Roberto Aguirre-Sacasa
YH: How is the show going?
RAS: It's been an adventure!
YH: Why exactly this material?
RAS: I've loved Archie all my life. I've always been interested in comic books, but from an early age, I started readingArchie and I never stopped. I write for Archiecomics, and I teamed up with the CEO and publisher and we wanted to do a live-action version of Archie. I've worked with a lot of great producers over the years -- I worked with Ryan Murphy for three seasons on "Glee", and he said, if you are going to create a TV show, you better be obsessed with whatever you create because you might be working on it for 7-10 years. These characters are one of my obsessions and one of my childhood passions.
YH: "Riverdale" has been described as "Archie meets Twin Peaks". Why were you inspired to take this material in such a different direction?
RAS: We had success with Afterlife with Archie, which people responded well to. That's a dark, almost horror-like version ofArchie. And honestly, the place where we first developed this was Fox, who wanted us to put our stamp on this. When Ryan [Murphy] did "Glee", he put his stamp on it by making it a musical with a wicked sense of humor. They wanted to know what the stamp was. I have always loved mystery and film noir, so I figured if there was a way that could be harnessed, then I could really say this is a new version that reflects everything I'm obsessed with.
Cast Members K.J. Apa (Archie), Lili Reinhart (Betty), Camila Mendes (Veronica), Cole Sprouse (Jughead), Madelaine Petsch (Cheryl Blossom), Ashleigh Murray (Josie), and Luke Perry (Fred Andrews)
YH: Can you tell us a bit about your characters?
MP: I play Cheryl Blossom. My brother dies in the first episode, which is the arc of Season 1. I play the lead villain on the show. She stirs up trouble wherever she goes, she's the head cheerleader. It's a really fun role!
AM: I play Josie McCoy, the lead frontman of Josie and the Pussycats. The difference between how I envision Josie and how she is originally characterized is that the comics have a very cute beginning, middle, and end; there's always an ending to every story. Even though Josie could come up with certain ideas, she struggles to carry through with them. I interpret Josie in 2016 to be far more clear and tactful about what she is doing. She has a very clear view of where she wants to end up. She sees herself as the Beyoncé of Riverdale, and she will do whatever it takes to get her and her Pussycats out of this small town. That comes into question when Archie shows up, because he wants to get help with his music and I tell him that I don't have room for him. That creates a conflict. His outer exterior distracts some of my Pussycats, and I have to wrangle them in. Another thing we will be exploring is what makes Josie so hard, and what makes her so disciplined. She has a lot more levels than the original, and I really enjoy playing that.
LP: I play Archie's dad, Fred Andrews. I'm a construction worker. We're the blue collar element in Riverdale. Archie aspires for more -- he wants to get places and do things, whereas I'm pretty happy with where I'm at. I would like him to come in the construction business with me, but I don't think that's what's on his mind. In the original graphic novels, Archie lived with a happy family -- he had a mom and a dad. That's not the case here. It's just him and his dad, his mom is gone. I like the wardrobe for Fred. I get to wear jeans all the time. I get to dress like I dress! I don't like the ones where your hair has to be perfect and you have to wear a suit. [laughs]
CS: I play Jughead. I do wear a crown -- it's actually a beanie that's pronged like a crown. The goal of this Jughead character is to not beat the fact that this character is a Jughead over the audience's juggie-heads. He's not going to be consuming seven cheeseburgers in a pyramid on-screen. But there are nice little nods to that. He's almost always eating something, or there's the remains of a finished dish in front of him. He has this beanie crown. It's a nod to his origin without beating it over your head in an annoying way. Jughead is still a sarcastic, sardonic observer. He's still selfish to some extent. I'm a little sad I didn't get to eat the seven cheeseburgers, since free food is free food.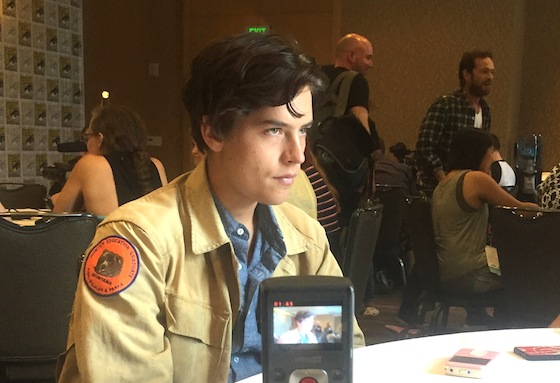 YH: Does the Betty/Veronica rivalry continue in "Riverdale"?
CM: In the pilot, Veronica is the new girl. She doesn't really know Betty or Archie, so she is starting to get to know them. While she immediately has a crush on Archie, she is becoming really good friends with Betty, and I think that's where the love triangle begins.
LR: The pilot lays the foundation for the love triangle, but in our show, it's important that friendship trumps any rivalry. In the comic books, they're butting heads all the time and it's a major rivalry. Our show isn't like that. We don't want these girls to be fighting all the time, especially over a guy.
CM: Friendship is different between women now.
LR: We don't need to show these women fighting or obsessing over a man. At the end of the day, they're friends, and they don't need to let a guy get in the way of that.
YH: What was your reaction after you first read the pilot?
MP: When I read it, I read it going in knowing that I would be playing Cheryl. I tried to read it from her perspective. I loved her from the moment I read her. I knew that I had to book this part. I found it so fun and creative. It's so different from what you usually get when you get a script. You usually read it and think, "Oh this is alright," but with this, I thought, "I have to be in this!" I feel like we all felt that way.
AM: I spent a lot of time nose-deep in the comics. I always wondered what it would be like if Archie and the gang were here with us now. Watching this story unfold and being able to imagine all of these characters that I grew up reading living in this world that we know, I just wanted to know what would happen next. I couldn't wait to see what was going to unfold with these people I have known and loved for so many years. It's like when you read a comic and you imagine it as a movie in your head, it's like seeing that jump right off the page -- you can't help but want to see what happens next.
CS: I liked it. I enjoy the content I've been given. It's challenging. The audition was two, three pages of Jughead's narration, which was challenging but cool and different for me. It's also super film noir, and I'm a huge fan of that genre, and I wanted to try my hand at it. I really liked Jughead's character. It was interesting and fun.
YH: K.J., what is it like to play such an iconic character?
KJA: It was nerve-wracking at the beginning, coming from New Zealand and playing such an All-American character. It was daunting for me because I was scared that the aggressive fans would be unhappy with a non-American playing this character, but it's not even been a problem.
YH: Ashleigh, how is Josie's sound different? How is it more modern?
AM: We are playing with it. She has a bit of aKesha-meets-Taylor-meets-Demisound. We're still kind of fleshing it out. It's very modern and hip. It has a nice dance feel to it. Josie and the Pussycats like to be that last thing you remember at the end of the night. You're tired, you're ready to go home, but then that one song comes on and you are ready for one more dance. It's lively and rockish.
YH: Why do you think Archie is relevant in 2016?
LP: He's the Every Kid. He's the Every Teen. And even though America is a drastically different place from when Archie was made, that dynamic doesn't go away. If you're a teenager and you don't know what to do and there are a lot of decisions that you need to make, there is going to be a lot of drama. Today, kids have a lot more to learn about than when Archie was originally conceived.
CS: TheArchie cast is kind of like a theater troupe. It enters into very many different universes. It's managed to stay relevant because it's doing cool and interesting things with the cast of characters. It's also a comic property that's not superheroes. It's always been a fundamentally teen cast. We're hitting a version of this (with our theater troupe) where we are addressing a lack of teen dramas on television, and we're doing so in a film noir way. It's very much like the film, Brick. I think it managed to stay relevant because people still find likenesses to the cast and archetypes of Archie. If zombies can come to Riverdale, I don't think this will be too far of a stretch.
KJA: It's so relatable. I remember when I read these comics before I started filming, I remember thinking, "I would love to be in this world." Everything is such a breeze. Being Archie is such a breeze.
(Top photo via Tony Forte/WENN)
- Sarah Osman, YH Contributing Writer