Reasons Why Millie Bobby Brown Is Our Idol!
Written by Katie Marzullo. Published: November 02 2017
(© Apega/WENN)
Is it weird for a 30-something woman to say she wants to be a certain 13-year-old girl when she grows up? Whatever, it's true.Millie Bobby Brown has been #GOALS in every possible way since she first showed up on our TV screens with a shaved head and bloody nose last summer in the premiere season of Netflix's "Stranger Things". And the recent release of Season 2 of the smash-hit show has only reignited our love for Eleven.
So what makes this girl so special? Listen up, mouth-breathers!
1. Future Oscar Winner
Calling it now. This girl is gonna be LOUSY with acting awards in the future. She's already been nominated for an Emmy, and surely it won't be her last. As her profile grows, so will her acting resume, and before to long she will hit upon that one role that takes her to Oscar glory. This is a girl who said a total of maybe 10 words all through Season 1 and yet blew everyone away with her evocative performance. No dialogue needed to give us all the feels. Don't believe me? Just look at her in this music video forSIGMA's "Find Me" ft. Birdy:
2. English Rose
To be honest, it did not surprise me at all when I found out Millie is British. There's just a nuance and sophistication with British actors that sets them apart from American actors, even when they're playing Americans. Perhaps it's the extra attention to detail they have to pay when trying to convincingly portray a different nationality, but you can't deny that Millie stands out amongst all her other (also awesome and talented) co-stars in a certain subtle way. It also makes her delightfully charming, as we found out when she stopped by the YH Studio last year:
3. Stylin'
Perhaps it's the hair, perhaps it's her youth, but Millie has very unique personal style that's refreshingly different from other actors her age. She never tries to be "too grown up" and always looks age-appropriate while also stylish and edgy.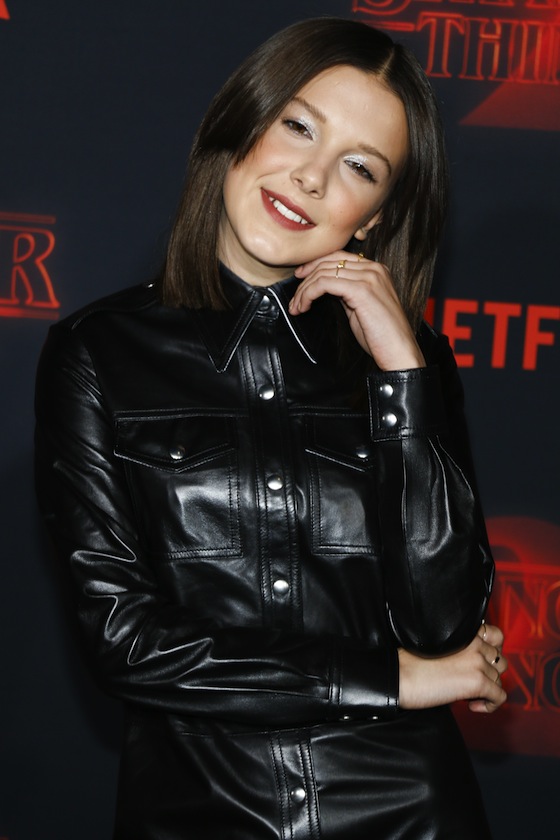 (© Adriana M. Barraza/WENN)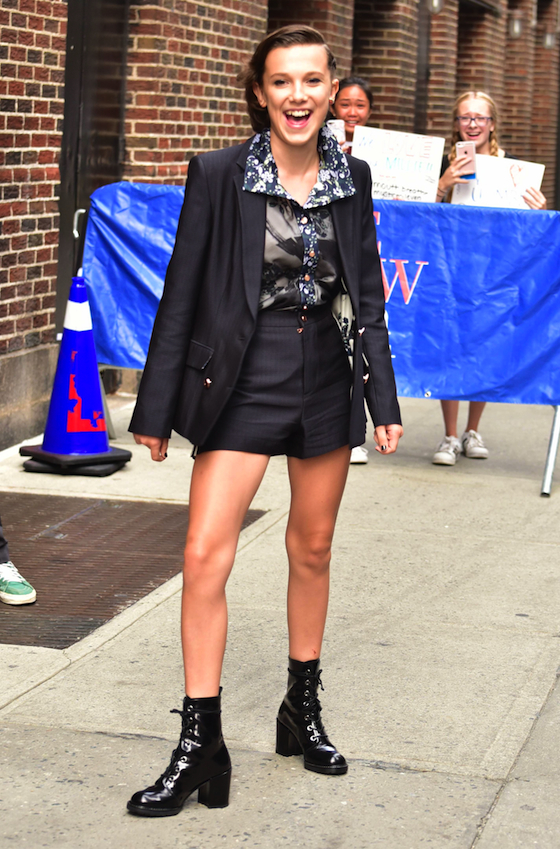 (© Adriana M. Barraza/WENN)
4. Rap Star In The Making
Among her many talents, Millie is apparently a master rap artist! She first unveiled her gifts last year on "The Tonight Show with Jimmy Fallon" where she spat some Nicki Minajrhymes:
Then she returned to "Fallon" this week with a new, original rap, recapping Season 1 of "Stranger Things" for those who needed to get up to speed before binging Season 2:
F-I-R-E. Add some Grammys to those Oscars mayhaps? EGOT, here we come!
"Stranger Things 2" is now streaming on Netflix!
(Image via Adriana M. Barraza/WENN)
- Katie Marzullo, YH Staff Editor