Q&A: Actress Audrey Whitby
Written by Amanda Baltazar. Published: June 20 2014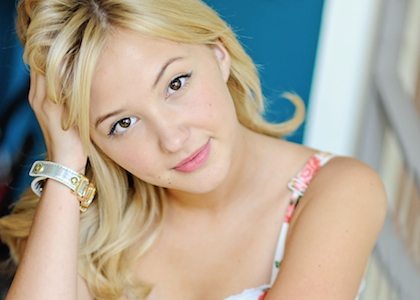 Everyone, watch out! The bright, young, talented Audrey Whitby is taking no prisoners! Well, at least in her film,Terry The Tomboy, premiering this Saturday, June 21. Audrey plays Britannica, the antagonist to the main character. But don't let her mean character fool you! This actress is very versatile in her acting, from her ruthless torment of Terry to her hilarious sketches on AwesomenessTV.
Check her out in the Worst Customer Service Girl sketch!
Audrey also co-hosts "IMO", a segment on AwesomenessTV, as well as sings and plays the Ukulele! You can check out Audrey singing and playing the uke on her YouTube channel.
We were lucky enough to chat with Audrey, where she told us about her new film and what she does when she's not acting!
YH:Tell us a bit about your character, Britannica.
AW: I describe Britannica as just plain mean. She will say anything painful to you through her perfectly pink lips. 
YH: Is there anything we should know before we watch the premiere?
AW: Well, you might get a chance to see Britannica's boyish side, and let's just say it gets a little messy. What more could you want from a movie about a tomboy! 
YH: We've seen you play a bunch of different roles on AwesomenessTV; which is your favorite character you've played so far and why?
AW: I love being Tangent Girl because I get to wear T-shirts with pugs and sparkly cat ears, and I can improv a lot and say the most ridiculous things and it is totally acceptable. 
YH: AwesomenessTV is the ultimate sketch comedy on the web and now on television. Do you have any favorite sketch comedies and comedians? 
AW: I could go on forever with this subject. My idols are the women of "SNL", and I could talk for hours about my admiration for all of them. Some of my main inspirations include Amy Poehler,Kristen Wiig, and Molly Shannon. I see a lot of their ridiculous physical comedy when I'm acting. Seriously, I specialize in comedic spazziness. 
YH: You've also had guest-starring roles on "Austin & Ally" and "Dog with a Blog"; do you have any favorite memories or funny stories about being on those sets?
AW: I had such a blast on both shows. The "Austin & Ally" cast is so nice and we had a lot of fun. I played a crazy person who wears crazy costumes the whole show. In one week, I was a catfish, a cowboy, and a small infant. A few of my favorite things! I also love the cast of "Dog with a Blog". ESPECIALLY the puppy who plays Stan. I have 6 dogs, so working with one was a dream come true. #crazydoglady
YH: What are the major differences between filming for television and for a web series?
AW: Filming a TV show is a more scheduled experience. Normally I know what I am getting into that day. Web stuff is, a lot of the time, last minute, and I show up and BAM, I'm having mutton chops glued on my face that day. I love doing both. I love my job, period. 
YH: Do you have any upcoming projects?
AW: I have more episodes of "The Thundermans" coming soon. If you like oblivious blondes and shiny things, then you will love my character Cherry. I love playing Cherry. She is an exaggerated version of myself. 
YH: You have your own YouTube channel where you sing, play the ukulele, and collaborate with other artists. Any chances of us seeing you sing on your upcoming projects?
AW: Not right now. To me, singing and playing ukulele is purely recreational. I enjoy sharing it with my followers ,though! It's a hobby for now. 
YH: If you could do a duet with any famous artist, who would it be?
AW:Kacey Musgraves and Katy Perryare currently partners in musical genius crime. I love them both so much, I would love to make their dynamic duo a terrific trio (if that is even a thing)! 
YH: What do you like to do when you're not acting or singing?
AW: I'm a professional when it comes to sitting on my couch with a Diet Coke and watching sitcoms. Any sitcom on TV right now, I guarantee you I have at least seen one episode. I tell my mom I'm doing acting research, but we both know I am just lazy. 
YH: You've had great success in your career, but if you could give your younger self advice, what would you say?
AW: I would tell myself to not take everything so seriously. To relax, take it all in, and enjoy everything. I try to take in everything nowadays. Including being dumped in chili for my new movie, Terry the Tomboy, on Nick this Saturday. Although I'm not sure how much I really "enjoyed" that!
Check out the trailer for Terry The Tomboy!
Don't forget to catch Audrey Whitby in Terry The Tomboy on Saturday!
(Photo via Tara Dzienny)
- Amanda Baltazar, YH Staff